Cheyenne Regional Medical Center
2020-2021 DNP Community Partner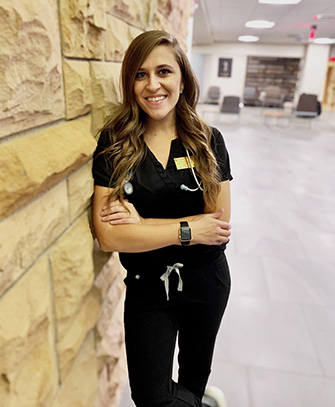 Pictured above: "I absolutely loved my rotation at the Cheyenne Children's Clinic [within CRMC]!" says Kristin Kapeles, DNP student. "Not only did the staff welcome me with open arms, but they fostered a learning environment for me where I could advance my clinical and critical thinking abilities. Collin Prince was my primary preceptor last spring, and I am fortunate to have spent time with such a passionate, intelligent, and empathetic provider. His love for pediatric care was palpable each clinical day, which contributed to my enthusiasm to learn and step into the nurse practitioner role. I am so grateful for CRMC's willingness to mentor UW nurse practitioner students, especially during these uncertain times. Supportive clinical sites, enthusiastic preceptors, and welcoming staff members are integral components of successful DNP training." 
----------
The DNP Program at the University of Wyoming Fay W. Whitney School of Nursing is pleased to recognize Cheyenne Regional Medical Center (CRMC) as its 2020-2021 Community Partner.
"For many years, Cheyenne Regional Medical Center (CRMC) has been a strong and committed partner of the DNP program," says program director Ann Marie Hart. "In particular, CRMC's Behavioral Health Services and Cheyenne Regional Medical Group have consistently welcomed our students for clinical rotations. Their providers have arranged amazing clinical experiences and provided personalized mentorship for students. Additionally, leadership from CRMC's Performance Improvement Department has worked with our students to help them lead quality improvement projects required as their final project in the DNP Program. Furthermore, CRMC embraces nurse practitioner (NP) providers, and over the years has hired numerous graduates from both our DNP program and former Master's NP program. UW's DNP program values its relationship with CRMC beyond measure. We could not produce high quality NPs without CRMC's support."
----------
Posted 08-28-2020/updated 6/3/2021