Capstone Mentoring
Spotlight on 2020 Event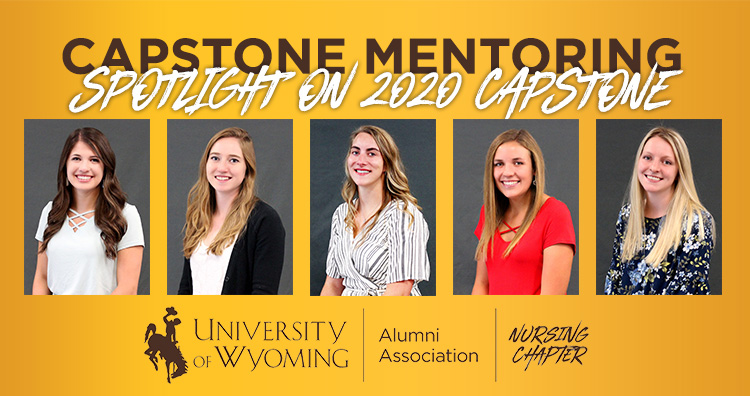 Pictured:
Left to right: Hayley Stromberg, Brianne Beale, Kelsey Kolkman, Elise Brooke, and Krista Schaff.
----------
Capstone Mentoring:
This event is sponsored by the UW Alumni Association Nursing Chapter, and is available to senior Basic BSN nursing students each spring semester.
The University of Wyoming Nursing Alumni Association works to engage current nursing students with our nursing alumni as mentors. The Capstone Mentoring program pairs students who want to participate with an alumnus of our nursing program, to talk through issues in capstone, to be encouraged by the alumni's knowledge and experience. 
Check out what five of last year's students said about their 2020 capstone mentoring experience below. Interested in being a mentor? Please email the UW Alumni Association Nursing Chapter at uwnursingalumni@uwyo.edu. 
Page updated 4/14/2021
Brianne Beale
The last semester of nursing school is beautifully terrifying: classes and hard work are finally coming to an end, but true career desires are just starting to emerge. I was one of those new grads who applied for dozens of opportunities, excited to explore everything nursing had to offer. My biggest challenge: narrowing it down to one job acceptance! My mentor helped me make the best decision for myself/my goals. She not only checked in with me, clarifying any expectations for capstone, but was so much more. I could bounce ideas off her as well as hear her own experiences as a new grad in order to find the right path for myself. I valued her opinion greatly, knowing she cared about my future as well. I am thankful for the mentorship program and appreciate a mentor who was so easy to talk to.
Elise Brooke
The capstone experience was a wonderful, challenging and growing experience. Having a capstone mentor provided an outlet for me to ask questions, talk through the joys and hardships I was experiencing, and to overall feel like I was not alone in the endeavor. I am grateful for this program!
Kelsey Kolkman
The mentoring program gave me reassurance in my times of doubt, encouragement in my times of failure, praise in times of success, and confidence in myself that I do have what it takes--even if I didn't see it, she did! My mentor was so kind and welcoming; she brought me into her world of nursing and submerged me into it.
Krista Schaff
The best quote I have from my mentor came when I asked her about applying to the resident program last spring: "There will always be someone there to help you if you need it." --and that made me feel so comfortable! Since starting the resident program, I've found she is absolutely right! There's always help if I need it, and so I'm not afraid to ask questions ever!
Hayley Stromberg
I have nothing but GREAT things to say about my mentor. I was lucky enough to see her quite often as I was on the same unit at the same hospital... she helped connect me to staff prior to starting and early on at my placement. We were able to catch up; she was able to help me out on days I was working or not; and we still text and talk to this day! She was a huge help with NCLEX study prep as well, by giving me tips and advice. She still is to this day a mentor to me. I have this capstone program to thank for connecting us for continued friendship and advice throughout the nursing community.