About UWAANC
University of Wyoming Alumni Association Nursing Chapter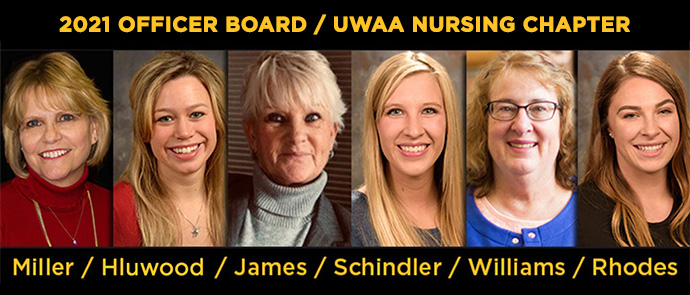 The above-pictured 2021 Officer Board was ratified by UWAANC vote early January 2021.
Scroll down for more about each officer.
Return to UWAA Nursing Chapter home:  http://www.uwyo.edu/nursing/alumni/uwaa-nursing-chapter/index.html
UWAANC's Vision Statement
Provide and support opportunities for mentoring, networking, and communicating with current students and alumni from the Fay W. Whitney School of Nursing (FWWSON) and establish connections with the FWWSON, UW, UWAA, and alumni across the nation and the world.
Being involved in the UW Alumni Association Nursing Chapter (UWAANC) allows us to give back for an education for which we are tremendously grateful. Below are some reasons to get involved:
Mentoring Opportunities
• Support transition from student nurse to professional nurse by connecting with senior students durig their capstone practicum in cities across Wyoming and northern Colorado • Assist in job placement and resume writing by reviewing student resumes in our Resume Blitz • Expose students to various areas of nursing in "Speed Mentoring" sessions • Offer suggestions for our NCLEX Tips flyer •  Nominate an outstanding mentor for the Memorable Mentor Award •  Enhance students' interviewing skills in mock interviews
Networking Opportunities
• Attend the UW Nursing Alumni Meet and Greet on Homecoming weekend • Interact with students and agency representatives at the annual Career Fair •  Attend FWWSON or Alumni Association events •  Connect with other nursing alumni via nursing chapter activities, events, and on-line communications
UW Benefits
Annual Membership in Nursing Alumni Chapter = Membership in UW Alumni Association
• Graduating seniors get one year of membership free!
• $25 rate for 2nd and 3rd years out
• $35 rate for 4th year and bweyond: Nursing Alumni Chapter Membership is lowest annual rate offered by UWAA
Membership includes discounts to stores/organizations such as Brown & Gold Outlet, Auto & Home Insurance, Elitch Gardens, Hilton Garden Inn Laramie, North American Van Lines, University Store, Fine Arts Ticket Office, Half Acre Gym access, and more! Membership also includes "UWYO Benefits Program"--customized member rates on a variety of benefits including dental, pet, and vision insurance, identity protection, and a network of retailers and service providers to help you bundle savings on apparel, electronics, entertainment, travel, etc. 
Current Board Members