Improving Healthcare in Honduras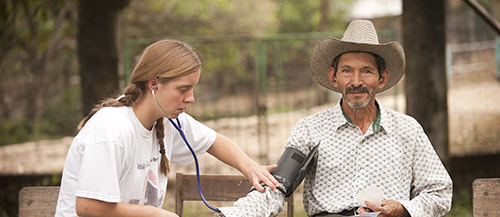 Overview of the Honduras Experience
The University of Wyoming seeks to serve the people of Agua Salada, Honduras by building a sustainable health care system for its community. Our goal is to provide a unique and valuable cross-cultural, interdisciplinary, service-learning experience for students from the health sciences disciplines and others throughout the UW community.
Our vision is to improve health outcomes among the people in this remote and mountainous region of Honduras by providing primary health care, public health, dental care, nutrition and education. Our efforts are in partnership with Shoulder-to-Shoulder, a private, non-profit, non-governmental organization that is well established in rural Honduras, having provided health care services to western Intibuca since 1990.
How to Get Involved - and Get Credit
Register for the 3-credit senior course offered in the fall of each semester (described below)

NURS 4792. Cultural and International Health Care Immersion.
Course description: An in-depth examination of cultural influences on health care systems, which will include both classroom and in-field immersion experiences.
Prerequisites: senior or graduate standing in student's major and instructor permission.
For more information, contact nursing instructor Linda Johnson at ledman@uwyo.edu