Banister named 2014 UWYO Distinguished Alumna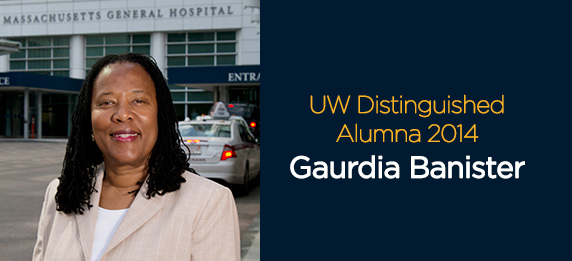 Banister, Casper native and health care executive, receives Distinguished Alumna award during UW Homecoming activities (10/18/14)
From UW News:
(http://www.uwyo.edu/uw/news/2014/09/three-to-receive-uw-distinguished-alumni-awards.html):
When Banister decided to attend UW, she knew she had ability in the sciences, but she did not know she would choose to become a nurse. But faculty at the nursing school provided strong mentoring and guidance, and Banister ended up excelling in the program [and was awarded the "Best Bedside Nurse Award" in 1980 when she graduated].
"The incredible, passionate, knowledgeable faculty supported me along the way. It is very powerful, as a student, when you know your faculty has confidence in you," she says. "Receiving that award ["Best Bedside Nurse Award"] made me feel so honored that I was perceived to be a nurse who desperately cared for and took good care of patients. That passion has stayed with me, the passion that whomever I am working with, that I am taking very best care of them."
Today, Banister is the executive director of the Institute for Patient Care at Massachusetts General Hospital (MGH) in Boston, one of the nation's largest hospital-based institutes. She oversees four centers, focused on patient and family learning, clinical and professional development, nursing research and innovation in patient care delivery.
She has been instrumental in developing the Dedicated Education Unit, a dynamic new model of clinical education for nursing students. Banister has been involved in efforts to diversify the MGH nursing workforce by developing models of clinical leadership development involving mentors for minority nursing students.
"I feel like I've had one of these careers in which opportunities presented themselves at certain times, and I've been able to be flexible and adaptable," she says. "I am feeling very good about where I am today. I always want to give back and be a voice and advocate for poor and underserved populations. I feel that UW is part of the foundation that helped launch me to this successful career I have had."
Banister was named Distinguished Alumna of the UW Fay W. Whitney School of Nursing in 2008. She also is a member of the "Friends of the Fay W. Whitney School of Nursing" development board.