UWYO Magazine spots McMurry/BRAND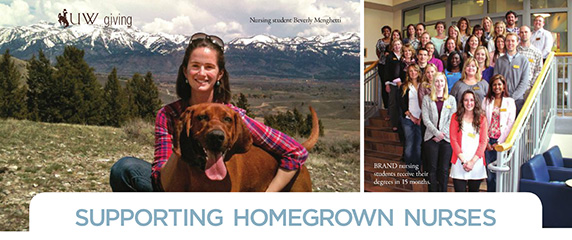 The May 2014 issue of the UWyo Magazine highlighted the McMurry Nursing Scholars program and the BRAND students who benefit from the McMurry family's generosity. Pictured above left is 2014 BRAND student and soon-to-be graduate Beverly Menghetti, a recipient of the McMurry scholarship. According to the UWyo article, the McMurry endowment supports four to five awards of $10,000 each to assist students like Menghetti with travel, housing and living expenses during their clinical rotations, which are statewide in the BRAND program.  BRAND - "Bachelor's Reach for Accelerated Nursing Degree" - is a program for students who already have a non-nursing baccalaureate degree and now desire to become a registered nurse. The accelerated bachelor of science in nursing program runs from May to August of the following year.
Check out the full article in the online magazine at http://online.publicationprinters.com/launch.aspx?eid=908b26f6-af64-4172-9208-dc43173e83be. Flip to page 60 (if you are reading bottom-of-the-page numbers) or 62 (if you are scrolling with the top-of-the-screen search arrows) to read the whole article about the McMurry's, Menghetti and the BRAND program.