2014 Dale Aspire Scholars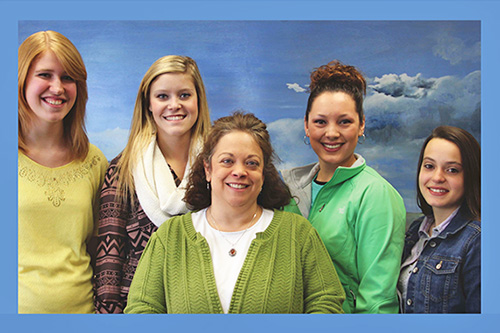 (l-r): Rebekah Davis, Taylor Clark, Sherrie Rubio-Wallace (faculty adviser), Jacey Day and Brianne Siebert.
A Focus on Leadership: Marcia Dale Aspire Scholars Program
The School of Nursing's "Aspire" program varies significantly from the other College of Health Science's Aspire programs through its unique focus on preparation for leadership. Nursing's Aspire, renamed the "Marcia Dale Aspire Scholars Program," takes in four students each spring from the freshman class after a rigorous application and interview process. (See the new 2014 class pictured above with Adviser Sherrie Rubio-Wallace.)
Eventually this young program will maintain a capped population of 16 students, from freshman to senior, enabling a special kind of mentoring amongst its new and older members. Junior student Amber Wright (in the "Inaugural" class of Aspire) says, "This program has allowed me to meet other future leaders on the same path as myself, and it has given me great role models and mentors."  Wright is already establishing herself as a role model to the younger students, stepping into the office of president for the Student Nurses Association this semester.
Faculty coordinator Sherrie Rubio-Wallace (pictured above) says the Aspire program does not employ a set curriculum, but presents topics for student self-development. For instance, students discuss Steven Covey's  "7 Habits of Highly Effective People" and write out their own personal mission and vision statement for personal growth in leadership and nursing. Another project focuses on each individual student's personal leadership style and what they "aspire" to be in the future. Topics such as mentoring, coaching, communication and working in teams are designed to get the students interacting and applying leadership development to their roles as students.
In addition to group discussions and self-development activities, Aspire students are invited to participate in events where notable healthcare leaders are present. Not only do the students have the opportunity to witness such leaders in action, but in some cases are able to meet and spend time with them personally—a goal of the nursing Aspire program, to benefit from the mentorship of established nursing leaders.
Newly accepted freshman Aspire student Rebekah Davis (pictured above) says, "The opportunity to have mentors is something I love about the Aspire program, and the opportunity to partner with other future nurses through the program is exciting. I think this will help me be a better leader and will shape me to become an even better nurse."
And that is exactly what the Marcia Dale Aspire Scholars program "aspires" to facilitate.