What we learned from Josh Hamilton
2015 Distinguished Alumnus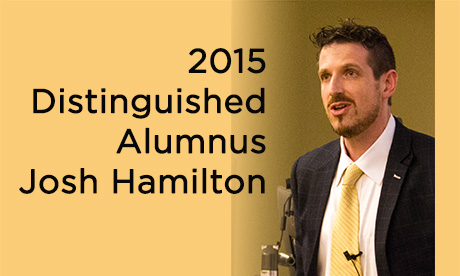 Josh Hamilton, DNP, RN-BC, FNP-C, PMHNP-BC, CNE, speaks to students, faculty, and staff during the College of Health Sciences Interprofessional Panel Discussion during Homecoming 2015 festivities.

----------
Change of plans leads to new agenda
for future Distinguished Alumni award presentations
Normally the UW School of Nursing Distinguished Alumni award recipient speaks at the May Nursing Convocation to that year's nursing graduates. But when the 2015 award recipient Josh Hamilton was not able to change international travel plans for that time, the school asked him to come during Fall 2015 Homecoming, a decision that has changed how the school will recognize future distinguished alumni due to the success of the 2015 event.
What a full day Hamilton had while he was in Laramie! The following listing of his activities will be similar to what will take place for future distinguished alumni:
Breakfast meeting with faculty
He met for breakfast with School of Nursing faculty who either went to school with him or are currently teaching in the Doctor of Nursing Practice Program's FPMHNP option (Family Psychiatric Mental Health Nurse Practitioner), a special focus of great interest to Dr. Hamilton.

Open House
Hamilton then attended the School of Nursing's Open House, during which faculty gave him a tour of the Clinical Simulation Center, and during which he was also able to visit with other alumni and faculty.

Archiving History through Videotaping
Following the Open House, a UW Video technician taped Hamilton to archive his history and to record his advice to students regarding preparation for nursing leadership. Hamilton's video will be posted on the nursing web site when available and used for nursing leadership classes in the future. He speaks about his passion, critical moments in his career, and the legacy he hopes to leave from his nursing practice. He gives advice to new students starting out in nursing and also to alumni interested in nursing leadership. He shares a memorable story from his time at UW and a memorable happening in his career.

Student Nurses Association
At lunchtime, Hamilton met with Student Nursing Association officers. The students were thrilled to have the opportunity to talk one-one-one with this noteworthy individual. SNA outgoing senior president Kali Howe said, "Having lunch with Josh Hamilton was very enjoyable. He shared a lot of his expertise and career involvement with us. He provided us with a lot of great advice for future employment and a few keys to success in the field of nursing. His diverse experiences broadened my horizons and intrigued me to explore all that nursing has to offer!"

College of Health Sciences Interprofessional Panel Discussion
Early afternoon, the College of Health Sciences hosted an Interprofessional Panel Discussion composed of distinguished alumni from the different schools within the college. The panel discussed interprofessional practice, talking about the professions with which they have worked, how they made such partnerships successful, and how they dealt with struggles they encountered. They also shared what they would like to see regarding Interprofessional Practice, gave suggestions for how to "get there" and gave suggestions for overcoming barriers.

College of Health Sciences Distinguished Alumni Reception
Late afternoon the College hosted a reception at the Hilton Garden Inn, where awards were presented to the different schools' distinguished alumni, and where the School of Nursing also presented the 2015 Distinguished Alumni Award to Hamilton.
Call for 2016 Distinguished Alumni Nominations
Please nominate a noteworthy UW nursing graduate for the 2016 award!  Your recommendation must support at least one of the following criteria:
Contributions to the nursing profession, including excellence in clinical practice, education, administration, and research

Outstanding contributions to the community

Leadership in professional organizations
Complete your nomination online by visiting www.uwyo.edu/nursing/alumni/alumni-distinguished/index.html. 
----------