Nurse Leader in Student Nursing
Leadership in Nursing Series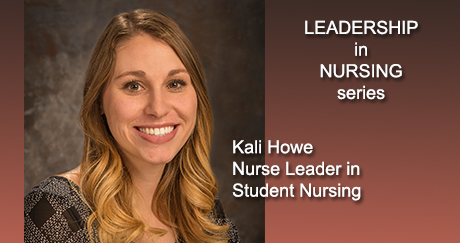 NOTE: On September 15 each fall, the University of Wyoming Fay W. Whitney School of Nursing mails out the school's annual Alumni Newsletter magazine/publication. The theme of the 2016 issue: Leadership in Nursing. The following spotlight is taken from that publication, where the goal is to recognize nurse leaders in diverse roles. Return to the web weekly for spotlights on other nurse leaders in their respective roles.
----------
Kali Howe, RN, BSN
Leader in Student Nursing
Kali Howe was president of the Student Nurses Association at the University of Wyoming as a junior in the nursing program in 2014-2015, then graduated in 2016. Kali already believes that "leadership is important across all levels," she says. "Just as your skills and experience grow with your nursing career, so do your leadership skills. It is important to start establishing a sense of leadership early on, so those skills will continue to develop and progress throughout your career.
Student Leader Opportunities
Howe describes how a becoming a student leader led her down a path to opportunities she could not have imagined: "Being a part of leadership at the student level has given me so many opportunities I would have otherwise missed out on such as:
traveling to Phoenix, AZ for the National Student Nurses Association Convention

attending the Student Policy Summit in Washington, D.C.

advocating for health policy on Capitol Hill

organizing events for UWSNA

networking with other nurses in leadership positions around the state and nation
Howe describes the impact of these opportunities: "They have served to heighten my awareness of the importance of leadership as I begin my career after graduation!"
Advanced Education contributes to nursing leadership
Howe sees another component of nursing leadership coming in to play in her future: "I hope to continue being involved in leadership efforts throughout my nursing career and down the road by advancing my education."
----------
Story posted 9/02/2016