Wyoming Primary Care Association: 2019 Awardee
Peter K. Simpson Advanced Practice Nursing Fan Award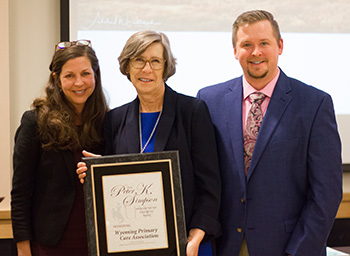 Pictured (l-r):
Dr. Ann Marie Hart, UW Nursing DNP Program Director; and representing Wyoming Primary Care Association--Jan Cartwright, Executive Director; and Scott Cheney, Clinical Project Manager.
----------
2019 APNF Awardee
The recipient of the 2019 Peter K. Simpson Fan award is the Wyoming Primary Care Association, an almost 20-year-old non-profit organization funded by the Health Resources and Services Administration (better known as HRSA).
Dr. Ann Marie Hart, UW Nursing's DNP Program Director, spoke the following as she presented the PKS Fan Award to the Wyoming Primary Care Association representatives:
How WPCA supports advanced practice nursing
"As I prepared these words," began Hart, "my head was swimming with examples of how the Wyoming Primary Care Association supports advanced practice nursing in Wyoming – from encouraging Wyoming's health centers to hire NPs and encouraging NPs to work at these safety net clinics, to working with the NP faculty and me to locate project sites for students, to helping with grant applications and HRSA-funded projects across the state, to learning about and expressing interest in post-graduate NP residency program, and to just simply being excited about the contributions NPs bring to health care."
Living out their mission
Hart continued..."In my struggle to capture some thoughts to share this afternoon, I visited the Wyoming Primary Care Association's website and within seconds, it struck me as to why the Wyoming Primary Care Association is so amazing and so supportive of NPs. Simply put, it's because the Wyoming Primary Care Association's staff (Jan Cartwright, Hanna Wickey, Kathy Johnson, Scott Cheney, and Grace Tena De Lara) live out their mission: to 'connect the people of Wyoming with quality health care – every person, every need, every neighborhood.'  This mission is a very TALL order, especially for the rugged, sparsely populated state of Wyoming, which is commonly referred to as a small town with VERY long streets. However, the Wyoming Primary Care Association realized long ago that advanced practice nurses are a critical part of their mission to connect. And ever since then, they've unabashedly reached out to and supported us."
An important contact for graduating NP students
Hart concludes, "To our first- and second-year students who are still in the 'thick' of the program and to our third-year students who are almost out the door, regardless whether you are in the FNP or PMHNP track, the Wyoming Primary Care Association should be in your contacts list. They will either help you solve your problem or they will refer you to someone else who can solve it."
Congratulations, Wyoming Primary Care Association!  
----------
More about the Peter K. Simpson APNF Award: How the award came about
Peter K. Simpson's background
Peter K. Simpson - best known as "Pete" - is a native of Cody, Wyoming. He is a retired historian, politician, and a member of the Simpson political family. Pete worked in academia for many years, including Casper College, Sheridan College, and finally UW, where he served in multiple prominent roles, including the vice president for development, the executive director of the UW Foundation, and vice president for institutional advancement. After his retirement in 1997, Pete remained in Laramie and taught history and political science on an adjunct basis. His political career involved serving on the Wyoming legislature. During his four-year stint in the legislature, he was a member of the House Appropriations Committee.
Pete has remained active in his retirement years. He makes frequent trips to Laramie and UW. He enjoys acting and regularly seeks out thespian opportunities with his wife, including leads in plays and musicals such as "The Music Man", "Our Town" and "On Golden Pond". 
Simpson inspires new award
Despite his strong academic, political, and acting accomplishments, Pete is best known for being a wonderful, kind man, who loves Wyoming and its people. Thus in 2012, when Loretta Ford (founder of the NP profession) agreed to visit UW, the school of nursing invited Pete to interview Loretta in a public forum. Despite having never met Dr. Ford, Pete did a wonderful job with this interview and seemed to thoroughly enjoy Loretta's playful sarcasm. That evening, Pete joined the school for the 9th Willow Ceremony and shared how much he admired and respected NPs. He then surprised the audience by proclaiming that he was adding a new credential to his title – "A.P.N.F. – Advanced Practice Nursing Fan." Thus, in honor of Pete and his admiration of Advanced Practice Nurses, the DNP Program created the Peter K. Simpson, Advanced Practice Nursing Fan Award to honor an individual who is not an advanced practice nurse, but who shares Pete's admiration and respect for such.  
----------
Article posted 05/09/2019