Chief of Staff to US Surgeon General to Speak at UW Nursing Event
April 16, 2019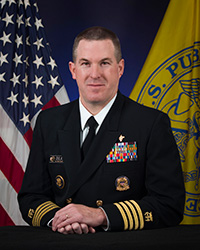 Capt. Joel Dulaigh
Captain Joel Dulaigh has been named 2019 Whitney Distinguished Lecturer and speaking at the annual University of Wyoming Fay W. Whitney School of Nursing day-long event as follows:
- Date: Wednesday, April 24, 2019
- Event: School of Nursing Research & Scholarship Day
- Time: 8:15 a.m.
- Location: Wyoming Union Center Yellowstone Ballroom
- Presentation: "Public Health in America: The Priorities of the U.S. Surgeon General"
- Online Streaming: Also streamed online through WyoCast as follows; 
(https://wyocast.uwyo.edu/WyoCast/Play/5f7dd4ced6d1454e83eca549f4a31fe11d)
----------
ABOUT DULAIGH
Captain Joel Dulaigh is a career officer and an Acute Care Nurse Practitioner in the United States Public Health Service. He currently serves as the Chief of Staff to the United States Surgeon General, Vice Admiral Jerome Adams.

Captain Dulaigh began his uniformed service career in 1988 with the Army National Guard before accepting a commission as a nurse officer in the United States Navy in 1995. After his first assignment at Naval Medical Center Portsmouth, VA, he was selected for duty under instruction and was sent to The University of Texas – Houston Health Science Center, after which he was assigned to Naval Hospital Guam. From there, he served as a nurse with the White House Medical Unit from 2002 – 2005.
Following his tour at The White House, CAPT Dulaigh resigned his active duty commission and transferred to the Naval Reserve where he served four years while working in critical care and cardiology at St. Mary's Hospital in Grand Junction, Colorado. In 2009, he returned to active duty with a branch transfer to the Commissioned Corps of the U.S. Public Health Service. He has served over 30 years in uniform. Immediately prior to his current assignment he was the Director of Diving Medicine for the National Oceanic and Atmospheric Administration. His tenure there included chairing the NOAA Diving Medical Review Board, advisory member of the NOAA Diving Control and Safety Board, member of the NOAA Health Services Executive Leadership team, and co-director of the National Oceanic and Atmospheric Administration/Undersea and Hyperbaric Medical Society Physicians Training in Diving Medicine program. Additionally, he has been a member of Rapid Deployment Force – Team Three serving as the deputy group supervisor for the mid-level provider group and deploying to hurricane Irene, superstorm Sandy, and hurricane Maria.

Joel received his Bachelors of Science Nursing degree from Mesa State College, Grand Junction, Colorado in 1993. In 2000, he obtained his Nurse Practitioner from the University of Texas – Houston Health Science Center. He is an active member of the American Association of Nurse Practitioners as the USPHS liaison to the AANP and in 2017, he was inducted as a Fellow of the AANP.

----------
ABOUT the School of Nursing Research & Scholarship Day event
Capt. Dulaigh's presentation will kick off the annual nursing event on April 24th, followed by coffee and a light breakfast in his honor. The remaining activities of the day follow:
From 10 a.m. to 3 p.m. 
Doctor of Nursing Practice graduates-elect will present their findings from their individual Quality Improvement Projects, performed with nearby clinical agencies. Read what students have shared with us as their biggest impression so far from their study on their particular quality improvement projects.

1:30 p.m. and 2:30 p.m.
Also presenting research at the event will be (1) members of "The Strategies of Risk Reduction Lab" on their research, "Healthcare Professionals Use and Perceptions of the Term 'Prediabetes'" [presentation scheduled at 1:30 p.m.];
and nursing faculty Dr. Paula Belknap on "Differences in Critical Thinking with Simulation Accompanying Lecture in Associate-level Classrooms"
[presentation scheduled at 2:30 p.m.].

3:30 p.m.
Closing up a packed day will be the annual "Willow Ceremony", which was instituted to encourage Doctor of Nursing Practice students as they continue to prepare for their chosen Family Nurse Practitioner or Psychiatric Mental Health Nurse Practitioner career.  Awards also presented at this ceremony include the DNP Program Community Partner of the Year Award, the Excellence in Advanced Practice Nursing Award, and the Peter K. Simpson "Advanced Practice Nursing Fan Award".