Gold-AACN White Coat Ceremony for Nursing Held August 25
Fay W. Whitney School of Nursing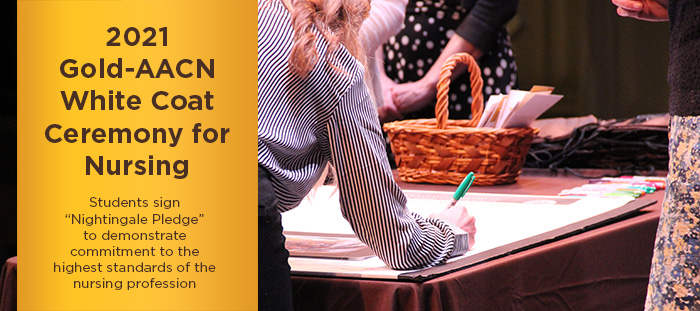 Students introduced into the profession of nursing
Students entering into the junior year of the nursing major at the University of Wyoming Fay W. Whitney School of Nursing took part in a special ceremony Wednesday afternoon, August 25th, in the Arts & Sciences Auditorium at the University of Wyoming.
Thank you to the following individuals for...
serving as MC throughout the ceremony (Nursing Dean Sherrill Smith);

offering welcome to students from the College of Health Sciences (CHS Assoc. Dean Michelle Hilaire)

guiding students through the Nightingale Pledge (Nursing faculty Christina Warren)

announcing students as they signed the pledge (Nursing faculty Ashley Lair)

assisting students in signing the pledge (Nursing staff/advisor LeAnn Amen)

playing organ music to accompany the ceremony (community musician, organist "Punch" Williamson)

Ceremony name change
The ceremony, formerly called "The Nightingale Ceremony", was this year supported by The Arnold P. Gold Foundation, and thus was named "The Gold-AACN White Coat Ceremony for Nursing".  The overall point of the ceremony continues to be to stress the importance of upholding the high ethics in this "most respected" profession of nursing.  Students, faculty and staff sign "Nightingale Pledge" posters, hung in the hallways of the school outside the simulation center as a reminder of the commitment each has made. Read further below for the wording of the pledge and picture of the finished, signed work enclosed in glass in the school hallway.
Speakers discuss the Nightingale Pledge
To help students more deeply understand the pledge and what it "looks like" in the clinical setting, nursing Dean Sherrill Smith introduced two speakers who shared their perspectives of the pledge. The first speech came from recent alumna Morgan O'Conner, BSN '20, and the second from current Student Nurses' Association President Natalie Birdsley. Read further below for more about the speeches each delivered.
Community Partner Award show students importance of clinical agencies
Also part of the event was the naming of community partner awardee of the year, celebrating an agency that works with our school to give our students an excellent clinical education. Dean Sherrill Smith introduced the 2021 Community Partner for the Basic BSN and BRAND nursing programs, Banner Wyoming Medical Center. Read further below for specifics.
Preceptor of the Year Awards show students importance of nursing staff
Preceptor of the Year Awards were also given out by Dean Sherrill Smith at this ceremony. Preceptors are nurses in our clinical agencies who agree to take students under their wings and get their feet wet working with real patients (instead of simulated patients!). Both community partners and preceptors are vital for educating students to be ready for the workforce. Read more below about the Preceptor of the Year awardees, Tara Legler from Banner Wyoming Medical Center, and Whitney Smith from Campbell County Health.
------------
08/30/2021