2021 Gold-AACN White Coat Ceremony for Nursing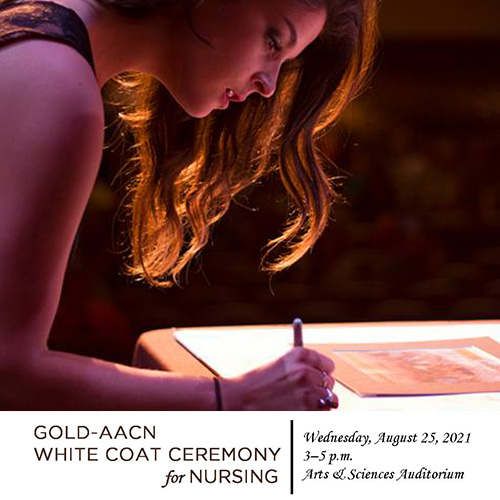 ---
On Wednesday, August 25, the annual ceremony introducing students into the profession of nursing will take place on the University of Wyoming campus in Laramie. The ceremony, normally named "The Nightingale Ceremony," this year has a new title: The Gold-AACN White Coat Ceremony for Nursing, thanks to support from the Arnold P. Gold Foundation.
The ceremony will include discussions about The Nightingale Pledge, which students will come forth to sign during the event (as pictured with this article). Two speakers have been invited to speak to the students about the importance of the school's Nightingale Pledge: alumna Morgan O'Connor, RN, BSN ('20), from Swedish Medical Center's Med Surg Trauma ICU in Colorado; and Natalie Birdsley, current president of the UWYO Student Nurses Association.
Also on the program will be a presentation of the Community Partner of the Year Award to Banner Wyoming Medical Center, and Preceptor of the Year Awards to Tara Legler from Wyoming Medical Center; and to Whitney Smith from Campbell County Health.
We look forward to the newest class of nursing students desiring to enter the "most respected" profession - and will share about this event in days to come.
---
Story placed: 8/24/2021