UW FWW School of Nursing
Visit: Health Sciences 351
Mail: Dept. 3065
1000 E. University Ave.
Laramie, WY 82071
Phone: (307) 766-4312
Fax: (307) 766-4294
Email:
mailto:uwnursing@uwyo.edu
Preceptor Info
Thank you so much for desiring to help our students! The School of Nursing has included Preceptor Orientation Modules on this page that will be helpful for both prospective preceptors as well as current preceptors, so please check those out under #1 below.
If you are already a preceptor for us...
...you have been directed to this site for forms. Please refer to the links below for whichever program you will be precepting, and select the forms you need.
If you are not a preceptor but would like to become one...
...please contact the appropriate individual with the program for which you would like to precept:  Basic BSN:  Holly Miller (hmiller@uwyo.edu); BRAND: Candace Tull (ctull@uwyo.edu); NP Program: Candy Stidolph (stidolph@uwyo.edu).
General Preceptor Information

BSN Preceptor Forms, Handbook, and Contact Info:
1st Preceptor of the Year!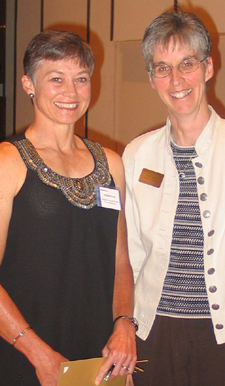 The first Preceptor of the Year Award was given in 2010 by Dean Burman (r) to Marilyn Krysl of Ivinson Memorial Hospital.