In-flight emergency care
Amy Sorensen, RN, BSN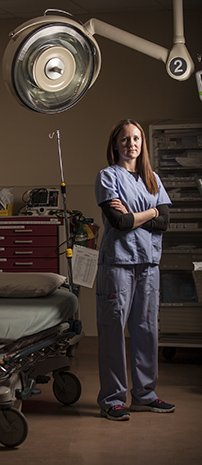 January 15, 2014
Recent UW nursing graduate and Wyoming Medical Center nurse Amy Sorensen (BSN '12) earned some special press over a safe landing for the pilot of a United Airlines jet last month. Sorensen's medical background brought her from the passenger seat into the cockpit to help care for a pilot experiencing a heart attack during a flight from Iowa to Colorado.
Sorensen's clear thinking, quick action, and as Sorensen herself said, remembering to "go back to the basics of being a nurse" brought a sense of stability to a very unstable situation until the plane landed. Emergency medical personnel transferred the pilot to an Omaha hospital. According to the January 6, 2014 article on the front page of the Casper Star Tribune, the pilot was expected to recover.
Read the full story at http://bit.ly/19uHiZ3.
------------------