Bachelor of Science in Nursing Degree Program:
"Basic BSN" Option
Basic BSN is a four-year on-campus Bachelor of Science option for students who desire to become a registered nurse.
Program Overview:
The "Basic BSN Program" is an on-campus nursing program for students who want to become a registered nurse and earn the Bachelor of Science in Nursing degree. This program includes two years of prerequisite coursework (typically) as a pre-nursing student and two years in the nursing major. The school accepts up to 48 students into the nursing major each fall. The University of Wyoming Fay W. Whitney School of Nursing boasts a "small school" atmosphere. Learning facilities include state-of-the-art classrooms and Clinical Simulation Center. While classes are based in Laramie, clinical sites are mainly in Laramie and Cheyenne with travel being the responsibility of the students. The capstone practicum in the spring semester of the senior year may require a student to travel to and/or live in one of our Wyoming communities for clinical placement.
Special announcement: Exciting changes coming in 2016!
---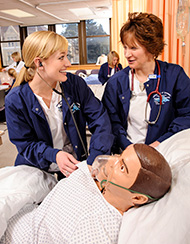 Phone: 307-766-4292
Basic BSN Program announces 2016 changes
Exciting changes include freshman admission into nursing major.