Weber Family Scholarship Helps Future Pharmacists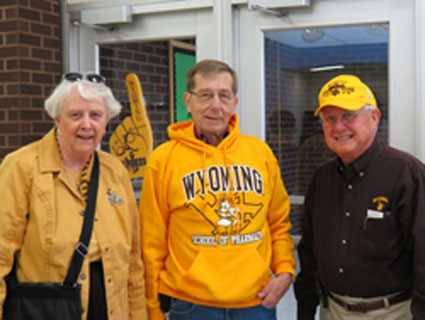 Allan Weber, center, with John and Joyce Vandel
The pharmaceutical industry gave so much to Allan and Sharon Weber and it was only natural of them to want to give something back. Using their estate, they will create the Allan E. and Sharon J. Weber Family Memorial Scholarship at the UW School of Pharmacy to help foster excellence and to provide financial support to students entering the program.
"I felt there just really wasn't a lot of financial incentives for people who wanted to do something other than practice pharmacy at the end of their undergraduate year," explains Allan. "So we constructed the scholarship in a way that provides support for people who are at least considering graduate careers either in research or teaching."
Like most high school kids, Allan didn't know what he wanted to be when he grew up. An aptitude test suggested that he be an undertaker or a pharmacist, so he decided to go into pharmacy.
"It was one of those things where I had two or three choices," says Allan. "One was an undertaker, which didn't particularly appeal to me, and the second was pharmacy, which I thought, 'Well, that's kind of a nice career. You get to stand behind a counter all day.' I went into pharmacy and was always more interested in the chemistry side as opposed to the retail side."
Allan was born in Rock Springs, where he lived for 13 years, and then his family moved to Hanna where he graduated high school in 1959. He graduated from the University of Wyoming in 1963 with a bachelor's in pharmacy.
Allan worked while attending school. The work wasn't in pharmacy, but was in chemistry and that gave Allan the hands-on chemistry experience he needed to make him successful in the industrial pharmacy field.
"The university was a good time for me," explains Allan. "I liked the School of Pharmacy and the professors there. Coming from Hanna, I'd never heard of a Ph.D. or graduate school before. All the professors fostered the possibility of going on to graduate school and doing something other than retail pharmacy. They at least made us aware of the opportunities that were out there."
Despite the possibility of going on to graduate school after receiving his bachelor's, Allan wasn't sure that was the path he wanted to take. He stayed in Laramie for another 6–8 months, working for the Bureau of Mines, then moved to Denver to work for an engineering company that was doing chemistry work in the oil fields. He was only there for a few months when his draft number was called, and then he spent the next three and a half years on a Navy destroyer near Vietnam.
After Vietnam, he returned to a biomedical research job in Denver, where he stayed for a year and a half before heading to the University of Washington in Seattle to get his Ph.D. in pharmaceutical chemistry. After earning his degree, he went to work for Abbott Laboratories, where he worked for 12 years in the pharmaceutical division.
During this time, his team developed the second injectable bioengineered protein drug—the first was insulin—that was used to help patients with heart attacks and clots. Bioengineering was still a novelty in the 1970s, so he helped blaze the trail for future research. His other accomplishments while at Abbott Laboratories include approval by the Federal Drug Administration (FDA) of approximately 20 drug products.
He later moved to the Ross division of Abbott, which was the pediatric division of Abbott Laboratories located in Columbus Ohio. His team developed a pulmonary medication for premature infants; it was the first drug of the therapeutic class approved by the FDA for use in premature infants. He stayed in this position for 3 years before deciding he no longer wanted to work for a big company. After a short stint at a startup, he worked for a biotech company in Philadelphia for 5 years and then for a consulting firm in New Jersey.
He and his wife then moved to New Hampshire, and he started his own consulting firm. He assisted several international companies with pharmaceutical process development and prepared the necessary FDA registration documentation. The majority of medications he consulted on were cardiac drugs to help treat high blood pressure. He remained in this position until his retirement in 2006, and then his family moved to Maryville, Tennessee. 
He and his wife Sharon met while working at Abbott Laboratories. She began her career as an executive administrative assistant, then moved into a clinical research position at Abbott. When they moved to New Jersey, she work for Johnson and Johnson on clinical research studies for the clinical trial process for new drugs. She remained in this position until she retired. Sharon recently passed away after a long and courageous battle with cancer.
Allan and Sharon hope that students will continue to learn long after they've left school and get a broad range of experience. This scholarship will provide much-welcomed support to students in the School of Pharmacy, and it will give them the foundation of knowledge and expertise that will allow them to be successful in their careers and the world.