School of Pharmacy
Health Sciences Center, Room 292
1000 E. University Ave., Dept. 3375
Laramie, WY 82071
Phone: (307) 766-6120
Fax: (307) 766-2953
Email:
uwpharmacy@uwyo.edu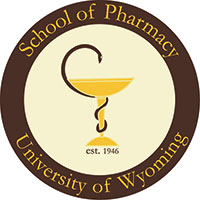 Research
Faculty and research scientists at the UW School of Pharmacy conduct world-class basic and applied research in the pharmaceutical sciences, pharmacy practice, health-care systems, drug-delivery systems, and treatment of disease.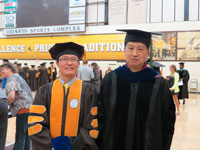 Research News from C-CRAM

The University of Wyoming Center for Cardiovascular Research and Alternative Medicine (C-CRAM) is celebrating nine years of outstanding research contributions in the treatment and prevention of cardiovascular disease and metabolic diseases. During 2013, members of C-CRAM presented at regional and national meetings, including INBRE, ADA, and AHA. Members of C-CRAM also published over 50 high impact journal publications. At left, Alex Xu, pictured with Professor Jun Ren, became the first Ph.D. graduate from the UW BMS Ph.D. program.
Yinan Hua Receives 2013 AAiPS Research Award

Yinan Hua, M.D., M.S., a graduate student in the UW Biomedical Sciences Ph.D. program, is the recipient of a 2013 American Association of Indian Pharmaceutical Scientists (AAiPS) Research Award for her research titled, "Cathepsin K knockout alleviates aging-induced cardiac dysfunction by blocking caspase-independent apoptosis."
The College of Health Sciences Grand Rounds/Research Day on April 12 featured research presentations by School of Pharmacy students and faculty. Yinan Hua placed third in the oral presentations and Jenna Allais placed third in the competitive student poster award submissions. Other award-winning posters in the student category were Xihui (Alex) Xu and Ben Pacheco.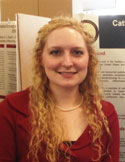 Dawn Anne Davison Presents During Wyoming Undergraduate Research Day

Dawn Anne Davison, a fourth year Pharm. D. student gave oral and poster presentations of her research titled, "Cathepsin K Inhibition Alleviates Antimycin A-Induced Cardiomyocyte Apoptosis," during the Wyoming Undergraduate Research Day in April. Davison worked in the lab of Dr. Sreejayan Nair and was supervised by Yinan Hua (student in the Biomedical Graduate Sciences program).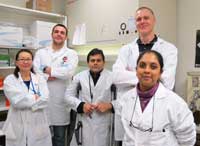 Baskilab Researchers Presents Posters at Biophysical Society Meeting

Dr. Baskaran "Baski" Thyagarajan's research group attended the 57th Annual Meeting of the Biophysical Society February 2–6 in Philadelphia, Pennsylvania. During the meeting, the Baskilab group presented two posters about exciting results from their recent research concerning antinociceptive potentials of neurotoxin and differential mechanisms of atorvastatin.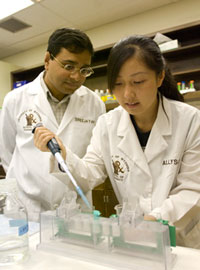 Researchers from the Center for Cardiovascular Research and Alternative Medicine (C-CRAM) recently presented at the IDeA National Meeting, the American Diabetes Association National Meeting, and the American Heart Association Annual Meeting.
Members of C-CRAM also published over 40 high-impact journal publications in 2012 encompassing basic to clinical research. In addition to other news, Jun Ren, M.D., Ph.D., FAHA, has been elected to the editorial board of Diabetes and Sreejayan Nair, Ph.D., has assumed the position of Director for the Biomedical Ph.D.Program at UW.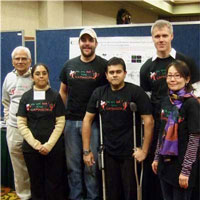 Baskaran Thyagarajan, M.Pharm., Ph.D., and researchers from BaskiLab presented at the Front Range Neuroscience Group Annual Meeting at the Hilton Fort Collins in Fort Collins, Colorado, on November 28. Dr. Thyagarajan gave a presentation at the meeting during the "new Lab DATA BLITZ" titled, "TRP Channel Proteins: Truly Remarkable Proteins in Physiology and Disease." The research team also presented three posters at the meeting.
Baskaran Thyagarajan, M.Pharm., Ph.D., presented an invited talk on "Capsaicin: A Novel Antidote against Botulinum Neurotoxin A" during the 17th World Congress of the International Society on Toxinology & Venom Week 2012, 4th International Scientific Symposium on All Things Venomous in Hawaii in July. Dr. Thyagarajan was also invited to present his talk on Botulinum Neuro Toxin, Tool & Therapy: "Take A Shot To Shoot A Frown," at the 6th Annual Dartmouth Botulinum Research Symposium at the Botulinum Research Center at the University of Massachusetts-Dartmouth, Massachusetts in August.
Fay W. Whitney School of Nursing Assistant Professor Mary Anne Purtzer, Ph.D., RN, and Associate Professor of Pharmacy Administration Carol J. Hermansen-Kobulnicky, Ph.D., R.Ph., were awarded a $7500 UW Faculty Grant-in-Aid titled, "Integrating Cancer Patient Self-Monitoring into Practice: Are We Ready?" Together with Cara A. Harshberger, Pharm.D., BCOP, the research team will conduct the study at the Cancer Center of the Rockies, which is part of University of Colorado Health (formerly Poudre Valley Health System).
A manuscript by Mary Anne Purtzer, Ph.D., RN, and Carol J. Hermansen-Kobulnicky, Ph.D., R.Ph., titled, "Being a Part of Treatment": The Meaning of Self-Monitoring for Rural Cancer Patients, has been accepted for publication and is currently "in press" in Cancer Nursing: An International Journal for Cancer Care.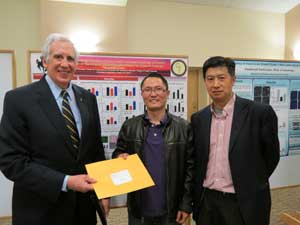 The April 12th Grand Rounds/Research Day was a great success. Keynote speakers Robert H. Eckel and John L. Ivy addressed many interested students, faculty, staff, and Laramie residents about Type II Diabetes, the topic of the event.
Students and faculty also had the opportunity to present posters outlining the results of their ongoing, cooperative research. The School of Pharmacy was well-represented during the event.
Share This Page:
Center for Cardiovascular Research and Alternative Medicine (C-CRAM)
C-CRAM was founded in April 2004 with the purpose of fostering greater interdisciplinary activities in the fields of alternative and cardiovascular medical research and increasing the overall research endeavors in the areas of cardiovascular and alternative medicine at the University of Wyoming.
The University of Wyoming is one of 22 institutions funded by the National Institutes for Health IDeA Networks for Biomedical Research Excellence (INBRE) Program. INBRE funding is intended to enhance biomedical research capacity, expand and strengthen the research capabilities of biomedical faculty, and provide access to biomedical resources for promising undergraduate students throughout the eligible states.
Biomedical Sciences Graduate PhD Program
The Biomedical Sciences PhD program is designed to position graduates for long-term competitive success in the rapidly changing and multifaceted health-related arena in the 21st century. It is a research and discovery focused program balancing depth and breadth of content knowledge with "enabling" skills including problem solving, innovation, entrepreneurship, communication and leadership.