Graduate Assistantship Information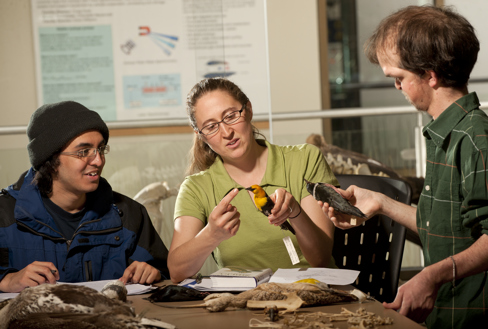 Program in Ecology graduate students are invited to apply for one year of funding through PiE Graduate Assistantships each spring.  Priority for these GAs goes to senior PiE students (post-preliminary exams) who have not received a PiE GA before.  These GAs are intended to serve as bridge funding, not as full support for a PhD program. There are two types of Assistantships available this year, described below.
Descriptions of Assistantships
Standard & Expanded Teaching Assistantship
All TAs teach fall and spring semesters in the LIFE program, usually for the LIFE 1010 (intro biology) course. The Standard TA will help lead labs, grade, etc. as a typical TA would. 
The Expanded TA will take a more leadership role in the process of developing and delivering lectures, evaluating and more for the General Ecology course in the LIFE program.  Only one Expanded TA is awarded; the student works closely with the primary instructor(s) on this TA.  The Expanded TA does take more time than the Standard TA, but will give you great experience with teaching courses.  Interested students can email Chris North with questions.
Application deadline: 12:00 pm, Monday, March 19, 2018
Funding timeframe: September 2018 - May 2019
 
To apply (for both Standard and Expanded):
Complete online form
Email letter from advisor (or have you advisor email the letter) explicitly stating your need for a GA to Craig Benkman
Make sure to include your CV on the application form
Expanded TA applicants: Include a statement, up to one page, describing your interest in this particular TA 
Curatorial Assistantship
One PiE student is selected each year for the Curatorial Assistantship (CA).  This student works with the Curator and the Collections Manager of the Museum of Vertebrates, located in the UW Berry Biodiversity Conservation Center.  Duties of this position include specimen preparation, database entry, assession of specimens into the Museum, assisting with collecting when necessary, and outreach when necessary.  Previous natural history museum or collections experience is preferred, however, no experience is necessary.  Applicants may request or elect to be on this CA for one semester or the full year; please indicate that in your application.  Funding for this CA comes from an allocation to the the Biodiversity Institute through Academic Affairs. Interested students can email Matt Carling or Beth Wommack with questions.
Application deadline: 12:00 pm, Monday, March 19, 2018
Funding timeframe: September 2018 - May 2019
 
To apply:
Complete online form
Email letter from advisor explicitly stating your need and abilities to fulfill this GA to Craig Benkman