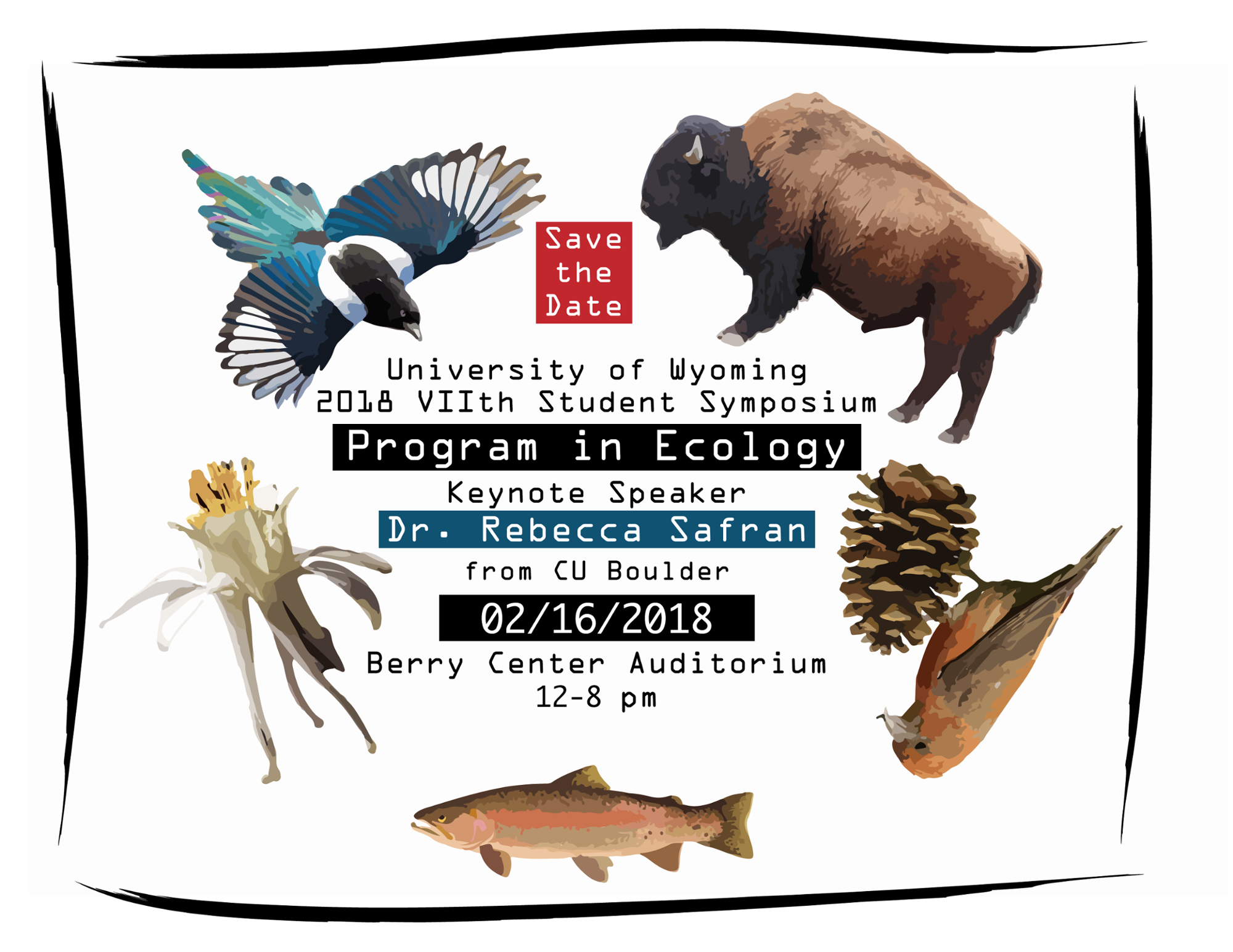 The seventh annual Ecology Student Symposium will be held February 16, 2018 in the Berry Biodiversity Conservation Center at the University of Wyoming. The Symposium, coordinated and hosted by the PhD students of the Program in Ecology, will feature student research currently underway in the Program in Ecology.
The event is free and open to the public - all are welcome to attend!
Agenda
12:00 pm-12:20 pm – Refreshments: veggies, fruit, and cheese platters and coffee
12:20 pm-12:50 pm - Opening remarks: Dr. Gary Beauvais, Interim Director of the UW Biodiversity Institute and Director of the Wyoming Natural Diversity Database; and Dr. Merav Ben-David, PiE Program Co-Founder and Outgoing Director
12:50 pm - 1:45 pm - Keynote talk by Dr. Rebecca Safran, Associate Professor in Ecology and Evolutionary Biology at CU Boulder: "The role of adaptation in speciation: a comparative, integrative, perspective"
1:45-2:00 pm – Questions and Break
2:00 pm-3:15 pm - Session 1: Student Speakers
Lisa Barrett, Gabe Barrile, Courtney Duchardt, Kristina Harkins, and
Chloe Mattilio
3:15 pm-3:30 pm - Break
3:30 pm-4:45 pm - Session 2: Student Speakers
Libby Megna, Elizabeth Traver, Rebecca Upjohn, Rebecca Wilcox, and
Megan Wilson
4:45 pm-5:00 pm – Closing Remarks: Dr. Mark Clementz, Director of PiE
5:00 pm-6:00 pm - Poster Session
Gordon Custer, Jimena Golcher-Benavides, Michele Larson, Liana
Lynch, Hilary Madinger, Bryan Maitland, Kennan Oyen, Jessica Rick,
and Lauren Stanton
6:00 pm-7:00 pm – Dinner in the Berry Center lobby
7:00 pm - Best Student Talk & Poster Prizes
7:30 pm-8:00 pm - Silent auction closes, Reception
See the Full Program with Abstracts here.
__________________________________________________________________________
Keynote Speaker: Rebecca Safran
Our guest keynote speaker, Dr. Rebecca Safran, is currently an Associate Professor in the
Department of Ecology and Evolutionary Biology at the University of Colorado, Boulder. Her
research focuses on the interactions between phenotype and behavior and how these shape patterns
of variation, using barn swallow populations as her main study system. Dr. Safran's innovative
work also examines the role of sexual selection in adaptation and reproductive isolation.
About PiE and the symposium
The Program in Ecology (PiE) is an interdepartmental cross-college doctoral program that
provides advanced, integrated training in the science of ecology. PiE is the largest
interdisciplinary PhD program at the University of Wyoming that includes 42 faculty, 15 affiliates,
51 current students and 52 alumni.
Departments with faculty in PiE (* indicates student(s) presenting today)
Botany*
Ecosystem Science and Management*
Haub School of Environment and Natural Resources
Geography and Recreation
Geology and Geophysics
Mathematics
Molecular Biology
Philosophy
Plant Sciences*
Veterinary Sciences
Zoology and Physiology*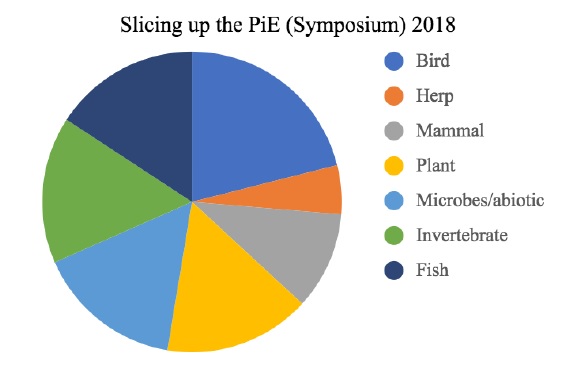 The Berry Center is located just west of the Geology Building on Lewis Street between 9th and 10th Streets. Call 766-6240 or email Juliet Slutzker with any questions.
Save