Student Symposium 2016
Program in Ecology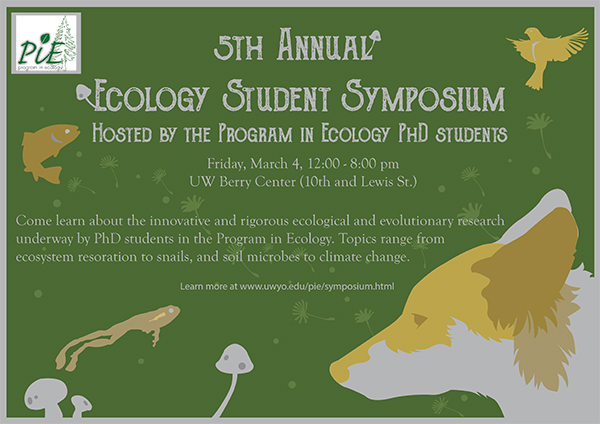 Ecology Student Symposium 2016
The fifth annual Ecology Student Symposium will be held March 4, 2016 in the Berry Biodiversity Conservation Center at the University of Wyoming.  The Symposium, coordinated and hosted by the PhD students of the Program in Ecology, will feature student research currently underway in the Program in Ecology, ranging from soil microbes and climate change to short-horned lizard ecology to Arabian wolf movement in Israel.
The event is free and open to the public - all are welcome to attend!
Agenda
12:00 pm – Welcome, Introduction, Dr. Bill Gern, Vice President for Research and Economic Development, University of Wyoming
12:10-1:00 pm – Keynote Speaker: "Speciation and diversity in African cichlid fish radiations," Dr. Katie Wagner, Biodiversity Institute, Department of Botany, and Program in Ecology, University of Wyoming
1:30-2:30 pm – Session 1, Student Speakers:
"Wavering water in the West: Predicting the effects of climate change on wetlands and amphibian diversity," Charlotte Gabrielsen (Melanie Murphy lab)
"The interaction of disturbance and climate change across Rocky Mountain forests for the last 2000 years," John Calder (Bryan Shuman lab)
"Influence of specific electrical conductivity on native and invasive snail growth rate and mortality," Michele Larson (Amy Krist lab)
"Population genetic structure in native and introduced Catostomus species in the Upper Colorado River basin," Liz Mandeville (Alex Burkle lab)
2:45-3:45 pm – Session 2, Student Speakers:
"Distribution and connectivity of Greater Sage-Grouse in a multiple-use landscape," Beth Fitzpatrick (Melanie Murphy lab)
"Does oil and natural gas development and hydrology interact to affect fish populations?" Richard Walker (Annika Walters lab)
"Interactions Between Olive Baboons and Invasive Prickly Pear Cactus in Central Kenya," Anne-Marie Hodge (Jake Goheen lab)
"Impacts of environmental change on carbon cycling & community structure across western drylands," Christopher Beltz (Indy Burke lab)
4:00-4:45 pm – Session 3, Student Speakers:
"Song divergence and environmental niche divergence among North American passerines," Libby Megna (Matt Carling lab)
"The interplay between habitat and behavioral isolation in crossbills," Cody Porter (Craig Benkman lab)
"Midas cichlids viewed from the predators perspective – does it hurt to be gold?" Jimena Golcher-Benavides (Katie Wagner lab)
4:45-5:00 pm – Closing Remarks, Dr. Bob Hall, Program in Ecology Director
5:00-7:00 pm – Poster Session
"Sage-Grouse as a Tool of Surrogate-Species Conservation: Limited Utility at Finer Spatial Scales," Jason Carlisle (Anna Chalfoun lab)
"Raccoon Understanding of Cause and Effect Using the Aesop's Fable Paradigm," Lauren Stanton (Sarah Benson-Amram lab)
"Linking climate and habitat with nutritional condition and recruitment in moose," Brett Jesmer (Jake Goheen lab)
"Structure, Diversity and Regeneration of Forests along Different Management and Disturbance Gradients in Central Terai and Siwalik of Nepal Himalaya," Ramesh Sapkota (Pete Stahl lab)
"Culverts in the Boreal Forest: Prioritizing Restoration for Native Freshwater Fishes," Bryan Maitland (Frank Rahel lab)
"A Bayesian model to estimate the 3D shadowing correction in sonic anemometers," John Frank (Brent Ewers lab)
"Variation in chlorophyll fluorescence and ecophysiological parameters in Arabidopsis thaliana correlate with circadian rhythms under light stress," Yulia Yarkhunova (Cynthia Weinig lab)
"Finding the balance: landscape management for multiple bird guilds in thunder basin grasslands, Wyoming," Courtney Duchardt (Jeff Beck lab)
5:00-8:00 pm - Reception/Social
The Berry Center is located just west of the Geology Building on Lewis Street between 9th and 10th Streets. Call 766-6240 or email brenna.marsicek@uwyo.edu with any questions.