The eight annual Ecology Student Symposium will be held February 15, 2019 in the Berry Biodiversity Conservation Center at the University of Wyoming. The Symposium, coordinated and hosted by the PhD students of the Program in Ecology, will feature student research currently underway in the Program in Ecology.
The event is free and open to the public - all are welcome to attend!
Agenda
12:00 p.m. - 1:45 pm. - Opening Remarks & Keynote Address

Gary Beauvais, UW Opening Remarks
Jill Mikucki, UTK Keynote Address

1:45 p.m. - 2:00 p.m. - Break Snacks and beverages provided in the Berry Center lobby

2:00 p.m. - 2:45 p.m. - Research Talks Session 1

·         Cody Porter: Cultural evolution promotes rapid character displacement in sympatric Crossbills

·         Macy Ricketts: A microscopic solution to a mammoth problem: How can microbes in soil profiles help us understand the past?

·         Robb McMinn: Quantitative variation in circadian period among populations of Boechera stricta

2:45 p.m. - 3:00 p.m. – Break Snacks and beverages provided in the Berry Center lobby

3:00 p.m. - 3:45 p.m. - Research Talks Session 2

·         Dan Albrecht-Mallinger: Extremely extreme or tolerably tolerable: Climate drivers of manakin demography

·         Lisa Barrett: Captive Asian elephant performance on the floating object task

·         Liana Lynch: Bark beetle impacts on soil nitrogen seven years after infestation

3:45 - 4:00 p.m. – Break Snacks and beverages provided in the Berry Center lobby

4:00 p.m. - 4:45 p.m. - Research Talks 3

·         Alice Stears: Identifying plant traits that predict species-level drought tolerance in western grasslands

·         Lauren Azevedo Schmidt: Utilizing paleobotanical field collection methods to compare modern leaf and insect herbivore interactions to fossil data sets

·         Melanie Torres: Local and landscape factors influence functional connectivity in an amphibian metapopulation: evidence from multiple lines of genetic inquiry


4:45 p.m. - 5:00 p.m. - Closing Remarks
Mark Clementz, PiE Program Director Closing Remarks


5:00 p.m. - 8:00 p.m. - Poster Session and Social (Complimentary Food and Drink provided by O'Dwyer's)
Abby Hoffman Microbial activity in seasonal snowpack in the Snowy Range, WY
Ali Ceretto - Do plant associated microbes exhibit diel cycling?
Chloe Mattilio - Injury detection of dry beans in a synthetic auxin simulated herbicide drift
experiment
Paul Dougherty - Using measurements of museum specimens to infer variation in fitness across an avian hybrid zone
Elizabeth Traver - East versus west aspect influences the microbial community and soil development
on an exposed ridge in Wyoming
Gordon Custer - Resilience of soil microbial activity to herbicide application in an agricultural field

6:45 p.m. - 7:00 p.m. - Awards Presentation

#SymPIEsium2019


Best Talk
Silent auction winners
Best Poster
PiE Bake-off champion

 ____________________________________________
Keynote Speaker: Jill Mikcucki
Our guest keynote speaker, Dr. Jill Mikucki is an American microbiologist, educator and Antarctic researcher, best known for her work at Blood Falls demonstrating that microbes can grow below ice in the absence of sunlight. She is a leader of international teams studying study ecosystems under the ice.
PiE and the symposium
The Program in Ecology (PiE) is an interdepartmental cross-college doctoral program that
provides advanced, integrated training in the science of ecology. PiE is the largest
interdisciplinary PhD program at the University of Wyoming that includes 42 faculty, 15 affiliates,
51 current students and 52 alumni.

Departments with faculty in PiE (* indicates student(s) presenting today)
Botany*
Ecosystem Science and Management*
Haub School of Environment and Natural Resources
Geography and Recreation
Geology and Geophysics
Mathematics
Molecular Biology
Philosophy
Plant Sciences*
Veterinary Sciences
Zoology and Physiology*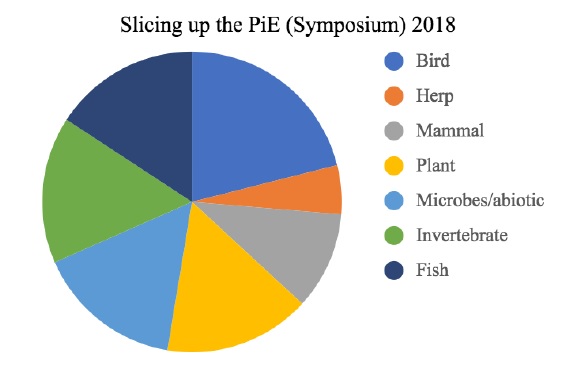 The Berry Center is located just west of the Geology Building on Lewis Street between 9th and 10th Streets. Call 766-6240 or email Zoe Nelson with any questions.
Save