Program in Ecology Students
Students in Program in Ecology study a diverse set of ecological questions, ranging from scales of DNA and microbes to plant and vertebrate systemics, to landscape ecology and everything in between.  All Ph.D students in Program in Ecology also have a home department.  In Spring 2011, six (6) departments and three (3) colleges across campus were represented in PiE. 
>>Apply to the Program in Ecology
Abdullahi Ali
Advisor: Jacob Goheen
Publications
I am interested in wildlife ecology and conservation of arid ecosystems. My PhD dissertation  focuses on the population ecology of hirola (Beatragus hunteri), an antelope restricted to the Kenya-Somalia border and one of the most endangered mammals in Africa. I am exploring competition between hirola and livestock (e.g., goats, camels) across a gradient of livestock densities, and I will use demographic data to make quantitative predictions about hirola populations under different land-use scenarios. In addition, I am analyzing remotely-sensed imagery to determine the causes of hirola declines; this information will be used to guide management strategies through the Hirola Management Committee of the Kenya Wildlife Service. All of my work involves capacity building and education of local communities within Ijara and Fafi Districts in Eastern Kenya.
Ali featured in Kenya's The Standard, May 13, 2011
---
Timothy Aston
Advisor: Brent Ewers
I'm interested in how past climate change, driven by variation in the earth's orbit, has affected the ecophysiology and community structure of Mediterranean ecosystems. The Cape floristic region on the southern tip of Africa has experienced lower levels of climate change over the last few million years than both of the northern hemisphere Mediterranean ecosystems, which is thought to have contributed to the areas exceptionally high biodiversity. As a result of its fairly wet climate, the Cape, like many of the world's most bio-diverse areas, has a poor palaeoecological record. I aim to develop tools to assess the relative amount of past climatic change using aspects of an areas modern biology.
---
Otgonsuren Avirmed
Advisor: Indy Burke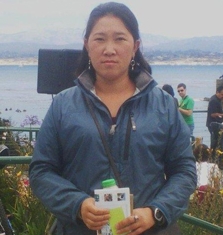 I am interested in understanding the dynamics of soil carbon in the severely disturbed lands. Recovery of the carbon lost during the drastic disturbance, especially the quantity of carbon that is stored in the stable pools of SOM is the subject of my research. I aim my research to the disturbance caused by oil and gas extractions. I hope my research will contribute to the knowledge of how semi-arid grassland soils respond to different disturbances, how they recover from disturbances and what will be the role of reclamation in overall recovery of these disturbed soils.
---
Adi Barocas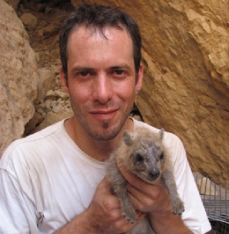 Advisor: Merav Ben-David
Publications
I am interested in various aspects of animal, particularly mammal, social behavior.  I study the associations between group living animals, their relation to ecology, and how they affect survival and fitness.  I believe that behavior has implications for animal conservation, and this intersection between two different fields should get more research attention.  I also look at the genetic variability in wild animal populations as a tool for management and conservation, using genotyping and mark-recapture techniques.  My main current project deals with diverse river otter populations in Alaska.
---
Shawn Billerman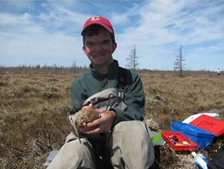 Advisor: Matt Carling
My research interests lie in investigating speciation (especially avian speciation) by studying the interactions of species at hybrid zones.  I am particularly interested in how behavior, ecology, and genetics all play a role in patterns of species divergence.  To address these questions, I will look at the hybrid zone between the Red-naped Sapsucker (Sphyrapicus nuchalis) and Red-breasted Sapsucker (S. ruber), which meet in the mountains of northern California, Oregon, and Washington.  By sampling at several distinct geographic transects throughout the hybrid zone, patterns of introgression between populations will be more apparent.  Genetic data will be collected using next-generation sequencing techniques, which will allow me to sample a huge diversity of genes throughout the genome.
---
Amanda Brennan
Advisor: Elise Pendall
Top of Page

My research interests encompass global change biology and ecosystem productivity.  I am particularly interested in mechanisms that lead to plant invasion and how disturbance affects soil nutrients and microbial communities under elevated CO2 and warming.  I conduct most of my research at the Prairie Heating and CO2 Enrichment (PHACE) experiment as well as mixed grass ecosystems in Southern Wyoming and Northern Colorado.
---
Clay Buchanan
Advisor: Jeffrey Beck
I am interested in wildlife ecology, and the effects of human disturbance on wildlife populations.  Currently, I am focused on the quantification of wildlife response to disturbance events.  My doctoral research is evaluating wildlife resource selection in a developing coal bed natural gas field in northeastern Wyoming.  More specifically, I am attempting to identify shifts in elk resource selection, the resulting fitness consequences, and the mechanisms driving any observed shifts.
---
John Calder
Advisor: Bryan Shuman
I am using paleoecology to investigate the interactions of climate change and disturbance on vegetation. To do this I will use drought records from the Rockies in northern Colorado coupled with charcoal records as a proxy for fire disturbance. By looking at multiple sites with different fire regimes I hope to be able to tease out any possible interactions with drought and fire.
---
Jason Carlisle
Advisor: Anna Chalfoun
Publications
Website

My research interests lie within the broad field of wildlife ecology, specifically in the use of quantitative and spatial tools to understand basic ecological processes and encourage enlightened wildlife management.  Currently, my research is focused on the community of sagebrush-associated wildlife here in Wyoming.  I am assisting wildlife managers in testing the efficacy of a wildlife management strategy which implicates the greater sage-grouse (Centrocercus urophasianus) as an umbrella species for the conservation of other wildlife species of concern in Wyoming's sagebrush shrublands.  Application of the umbrella species theory has the potential to streamline and improve habitat management practices in this iconic landscape.
---
Janet Chen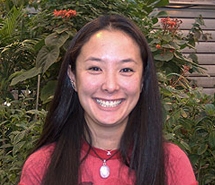 Advisor: David Williams
Publications
My research investigates plant nitrogen availability, acquisition and allocation for a variety of mixed grass ecosystems across North America. We are currently using a combination of molecular as well as stable isotope techniques to identify the pattern and mechanisms of plant nitrogen use strategies for the Prairie Heating and CO_2 Enrichment (PHACE) experiment as well as a number of other greenhouse studies.
---
Morgan Churchill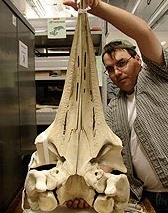 Advisor: Mark Clementz
Publications
My research interests are focused on the evolution and paleoecology of marine mammals. In particular, I am interested in factors relating to the initial adaptative radiation of mammals into aquatic habitats, as well as patterns of faunal succession resulting in our modern marine mammal communities. My current research emphasis focuses on the investigation of the evolution and ecology of fossil pinnipeds (seals and walruses) in the North Pacific, using stable isotopes and morphometric techniques.
---
Christa Cooper
Advisor: Jeffrey Lockwood
My research interests revolve around human-nature interactions. More specifically, I am interested in how society, culture and individual perceptions and knowledge influence conservation ideology and environmental management. This encompasses large scale, global concerns such as climate change, regional issues such as forest management to smaller scale concerns such as urban wildlife and the urban-wilderness interface. My dissertation research explores visitor reactions to the pine beetle impacted forests in the Rocky Mountains. By combining science with the humanities, I hope to gain insight into better addressing current and future ecological concerns and bridge the gaps between science and society.
---
Jamie R. Crait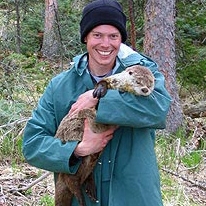 Advisor: Merav Ben-David
I study the effects of nonnative species on river otters and aquatic-terrestrial linkages in Yellowstone National Park.  Otters in Yellowstone Lake depend on native cutthroat trout as prey.  However, introduced lake trout have contributed to a severe decline in the lake's cutthroat trout population.   I am using DNA from otter hair and scat to monitor changes in Yellowstone Lake's otter population since the cutthroat trout decline.  I am also measuring nitrogen (N) isotopes in tree rings collected from otter scent-marking sites to investigate whether otter-derived N contributions to plants have changed with the cutthroat trout population.
---
Reilly Renshaw Dibner
Advisor: Daniel Doak
Publications
My research interests are in landscape ecology-the study of spatial variation across the landscape-and how perspectives gained through this type of inquiry can inform conservation at different scales.  I am particularly interested in the relationships between horned lizards and their primary prey, harvester ants, and how the distribution and life history traits of these taxa vary throughout their ranges.  These patterns are affected by many biotic and abiotic factors, and I focus on habitat composition and trophic dynamics to explain some of this variation.
---
Carolyn Eckrich
Advisor: Merav Ben-David
My research interests lie within the field of population ecology with an emphasis on mammalian population dynamics and demography. My Ph.D. research focuses on the responses of small mammals to forest management practices in Southeast Alaska. I will be investigating top-down and bottom-up influences on populations within various habitat types and across the landscape. I will use spatial analysis, predator-prey models, and stable isotope analysis to explain variability within these populations.
---
Jason Edwards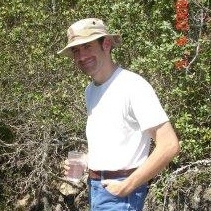 Advisor: Steve Prager and William Reiners
I am interested in ecosystem response to climate variation in time and space, and how vegetation structure and composition control patterns of evapotranspiration, photosynthesis, and respiration. My study site is the French Creek watershed in the Snowies, just west of Laramie. This site includes lodgepole pine and mixed conifers from near lower tree line up to high elevation zones spanning over 1000 m in elevation. I am using the ratios of heavy and light oxygen and carbon isotopes from leaf cellulose and tree rings to elucidate heavy isotope relationships in the watershed. In particular, I am focused on lodgepole regrowth following disturbance.
---
Beth Fitzpatrick
Advisor: Melanie Murphy
I am interested in many aspects of ecological research with a focus on population and community ecology. More specifically, my research addresses species-habitat/landscape relationships in areas of development. For my dissertation research I am investigating the influence of energy development on landscape connectivity and distribution of Greater Sage-grouse for prioritizing reclamation efforts in Wyoming.
---
John Frank
Advisor: Brent Ewers
Publications
Top of Page

I have operated the GLEES AmeriFlux site in the Snowy Range for the U.S. Forest Service, Rocky Mountain Research Station since 1999.  Over that time we've been studying the exchange of energy, momentum, carbon dioxide, and water vapor between the ecosystem and the atmosphere.  In recent years an outbreak of spruce beetle has caused considerable mortality within the subalpine forest.  I decided to go back to school to study the changes in the ecosystem in response to the bark beetle epidemic.
---
Charlotte Gabrielsen
Advisor: Melanie Murphy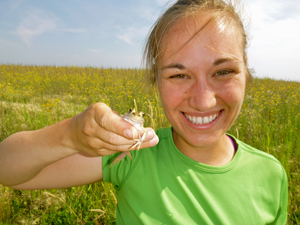 My primary research interests are in landscape ecology and landscape genetics. I am also particularly interested in investigating anthropogenic influence on landscape connectivity. My current research will explore how climate change influences wetland hydroperiod in the Plains and Prairie Pothole Region. To address this question, I will use remotely sensed data and field measurements to predict hydroperiod over several different climate change scenarios. Additionally, I will relate wetland plant, amphibian, and microbial biodiversity to hydroperiod predictions to model changes to biodiversity. Lastly, I aim to address how predicted change in wetland hydroperiod may influence fine-scale spatial genetic structure of Northern Leopard Frog, a species in decline across its range, by limiting suitable breeding habitat across the landscape.
---
Caley Gasch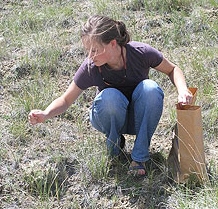 Advisor: Peter Stahl
Publications
I am broadly interested in the recovery of soil microbes, biogeochemical processes, and vegetation following drastic soil disturbance, and how reclamation practices may facilitate recovery of ecosystem function.  My dissertation research is examining the spatial and temporal variability of key soil characteristics of disturbed and recovering rangeland soils.  Most of my research questions relate the degree of soil disturbance and recovery time to the degree of environmental heterogeneity in the soil and vegetation.  I utilize chemical, biochemical, and molecular methods to assess soil biogeochemical characteristics and microbial community structure and function.
---
Zach Gayk
Advisor: Craig Benkman
I am fascinated by the range of diversity in color, morphology and ecology exhibited by birds. To explain the origin of this diversity, I am broadly interested in the process of speciation and adaptation via natural selection. To account for the emergence of traits in an ultimate context, much of my interest lies in coupling traits with an ecological or genetic mechanism that explains their occurrence. Here, I will be investigating the ecological causes of variation in the state of reproductive isolation attained by different call types within the North American red crossbill complex (Loxia curvirostra). Hopefully this research will be useful for explaining how and why speciation has proceeded to different stages in North American red crossbills, especially in a context which reflects ecology, behavior and life history.
---
Dan Gibson-Reinemer
Advisor: Frank Rahel
I study the potential impacts of climate change to river fishes. I'm particularly interested in range expansions of warmwater and coolwater fishes as areas that were once too cold become thermally suitable.  More broadly, I'm also interested in identifying factors that may limit climate-induced range shifts across taxa.
---
Susma Giri
Advisor: Michael Dillon
I am fascinated by the influences of the environment on animal physiology. My dissertation research seeks to identify the effects of various environmental factors in bee physiology, specially metabolism, fatty acid content and composition.
---
Kristen Gunther
Advisor: Ann Hild
---
Embere Hall
Advisor: Anna Chalfoun
Embere is interested in the ecological effects of climate change, and how wildlife may adapt to a changing environment through exploitation of unique habitats or behaviors. As climate change continues to manifest, it is essential to develop management strategies that consider new paradigms, including the role that plasticity may play in species conservation. Embere examines American pika (Ochotona princeps) responses to climate change in alpine ecosystems. Results of her research will contribute to enhanced management programs that can minimize biodiversity loss under rapid climate change.
---
Eriek S. Hansen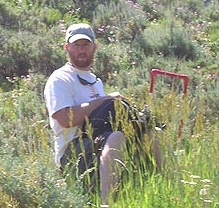 Advisor: Frank Rahel
Publications
I am interested in fish ecology and management.  My dissertation research is focuses on surface ice in rivers and climate change, and how small bodied fish behaviorally and energetically respond to the presence or absence of surface ice.  I am also investigating how fish habitat patches (e.g., macrophytes and woody debris) change in response to disturbance events (i.e., spring floods) using a long-term mapping dataset.
---
Monia Haselhorst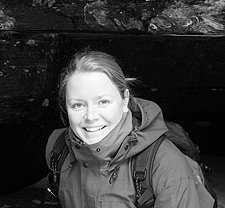 Advisor: Alex Buerkle
Publications
Website
My research is focused on the processes of plant adaptation and speciation. I seek evolutionary and biographic explanations for why a plant is living where it is, how it ended up there and what made it possible for it to adapt to its environment. I am undertaking an integrated approach to pursue these questions and am working in the areas of ecological genetics and physiological ecology. An initial focus involves the dynamics of hybridization in North American Spruce and how hybrids can contribute to our understanding of the genetics of ecological differences between species.
---
Anne-Marie Hodge
Advisor: Jake Goheen
Publications
My main research interests involve the ecological mechanisms underlying niche partitioning and species co-existence, with a focus on predatory mammals. My master's research involved investigating complementary niche partitioning among sympatric carnivores in the eastern Andean foothills of Ecuador. For my doctoral research, I am studying top-down versus bottom-up influences on the structure of a highly diverse mesopredator assemblage in central Kenya. I will be teasing apart the effects of two anthropogenically induced challenges to mesopredator populations: climate change and declines in populations of apex predators. I will also assess how intraspecific variation in diet selection by mesopredators will be affected by the drying of East Africa as global climate change progresses.
---
Erin Hotchkiss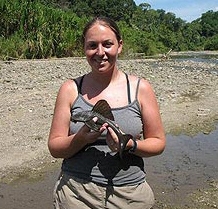 Advisor: Robert Hall
Publications
My research links biological processes with carbon and nutrient cycling in freshwater ecosystems. The biological processes I am interested in range from single species (inorganic carbon production by an invasive snail population) to functional groups (microbial denitrification and organic carbon uptake) to ecosystems (drivers of freshwater ecosystem metabolism). My dissertation research will identify the patterns and drivers of carbon cycling in streams and rivers. I will also use predictive models to quantify how changes in land use, species, and climate will alter ecosystem-level fluxes of carbon and nutrients.
Website
---
Guinevere Z. Jones
Advisor: Scott Shaw
My research has an entomological foundation and currently focuses on vertical stratification of insects within the high altitude cloud forests of the Eastern Ecuadorian Andes. My concentration is on the relationship between neotropical cloud forest plants, their lepidopteran herbivores and the hymenopteran parasitoids that use the caterpillars as hosts.
---
Rachel A. Jones
Advisor: Stephen Jackson
My research focuses on reconstructing environments of the southeastern United States using palynology, macrofossil evidence, and charcoal analysis.  I am also interested in using analog methodologies as a proxy to identify particular ecosystems in the past. I use these methods with a variety of archeological and anthropological data sources, to identify correlations between changes seen in past vegetation with those in past human populations. Current research focuses on the mixed deciduous forests of the Ozark Highlands of southern Missouri, as well as the longleaf pine savanna that covers much of the Gulf Coastal Plain.
---
Doug Keinath
Advisor: Dan Doak and Matt Kauffman
---
Yao Liu
Advisor: Stephen Jackson
Publications
My primary research interest lies in the quantitative interpretation of paleoecological proxies - what information paleoecological proxies tell us (quantitative reconstruction), and how sure we are (uncertainty estimation). I am pursuing the interest via several studies using fossil pollen data, asking that: How old are existing ecosystems in eastern North America, and how did they turnover in the past 21,000 years? What are the effects of temporal resolution of pollen sampling on resolving past ecological changes? I approach my research questions by combining field and lab studies, statistical analyses, and model simulations.
---
Ariuntsetseg (Ariuna) Lkhagva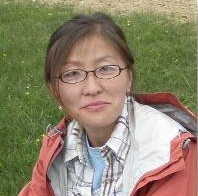 Advisor: William Lauenroth
My research focuses on to understand variations of annual net primary production of arid and semi-arid ecosystems of Mongolia where plant growth mostly limited by precipitation and temperature and a distribution of the resources for plant growth is highly variable among years. My recent researches mostly consider on plant strategies or plant response to climate change, especially alteration of precipitation regime, because Mongolia is considered as one of the hot spots of climate change.
---
Allison Louthan
Advisor: Daniel Doak
Species distributions are determined by both abiotic stress and biotic interactions, but the relative importance of these factors in constraining species' geographic ranges is poorly understood. My research compares the importance of biotic interactions for population persistence at different levels of abiotic stress. I use an elevational gradient to represent abiotic stress, with more stressful conditions at higher elevations, and obtain baseline demographic rates from plant populations across this gradient. Additionally, I conduct experimental manipulations of plant density, pollination, and herbivory at each of these populations. Together, these data will allow me to construct a series of demographic models that incorporate the effect of these biotic interactions on plant populations across elevations.
---
Liz Mandeville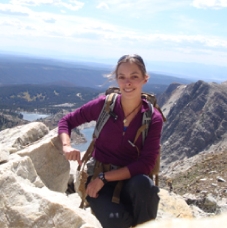 Advisor: Alex Buerkle
I am interested in speciation, adaptation, and hybridization in aquatic systems, primarily in fish. I am working initially on sucker hybridization in the upper Colorado river basin, and plan to continue working on fish with interesting evolutionary histories somewhere in the mountain west. I am also currently collaborating with Tom Parchman on a constructing a large linkage map for lodgepole pines.
---
Lynn Moore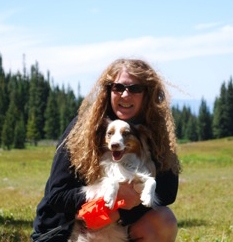 Advisor: William Lauenroth
My research is focused upon the interactions between temperature, precipitation, and the seasonal cycle of plants on a semiarid grassland.   The plants of the shortgrass steppe are an ideal system to elucidate these interactions because it is a temperate system, it is water limited, and as a grass dominated system, the effects of temperature and precipitation will be more pronounced than other effects such as photoperiod or endogenous controls. I am focused on how changes in phenology may influence the inter and intra annual growing season patterns of the shortgrass steppe at the individual and ecosystem scale.
---
Kellen Nelson
Advisor: Dan Tinker
Publications
---
Christopher North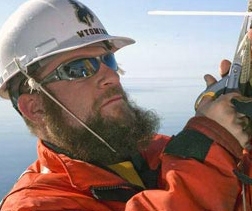 Advisor: James R. Lovvorn
Publications
Our work in the Bering Sea examines the effects of global warming, particularly decreases in the extent and duration of sea ice cover, on the bottom-dwelling (benthic) community. Reorganization of the benthic community due to climate change could have major impacts on species of conservation interest, such as the spectacled eider, gray whales, and walruses. Important snow crab and ground fish fisheries, among the most productive in the world, will also be impacted. Our group is building a food web-based ecosystem model to help managers plan for the changing future. I'm looking at the effect of climate change on the prey base, including abundant clams, which are the main food for many benthic predators (eiders, walruses, crabs, etc.). I'm also investigating the diet of sea stars and snails which are largely understudied but potentially important predators of the shared prey base.
---
Aaron Pratt
Advisor: Jeffrey Beck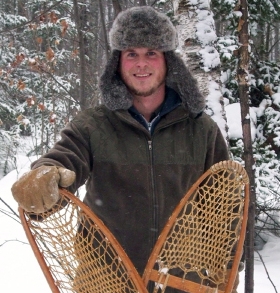 My experience and interests are in the field of wildlife ecology and management.  This has included working on large carnivores, ungulates, raptors, and upland game birds.  The project I am involved with here is looking at the response (demographic rates, movements, habitat use) of greater sage-grouse to bentonite mining in the Bighorn Basin.  We also have a secondary objective which is to describe the migration ecology of this population.
---
David Reed
Advisors: Bob Kelly and Brent Ewers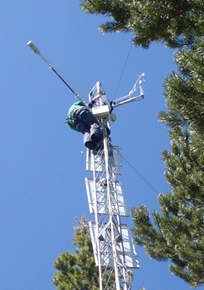 I am broadly interested in biosphere-atmosphere interactions and understanding the biological and physical controls of mass and energy fluxes between plants and the atmosphere. I work in lodgepole pine and sagebrush ecosystems, the primary land cover types of South East Wyoming, using eddy covariance to measure carbon, water and energy exchange. I am working on understanding the carbon, water and energy response of current ongoing bark beetle mortality in lodgepole pine ecosystems and how changed precipitation from climate change would alter biogeochemical cycling in sagebrush.
---
Matthew Rubin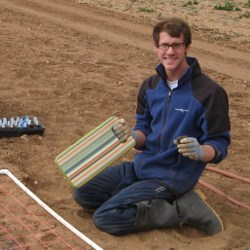 Advisor: Cynthia Weinig
Publications
My research focuses on elucidating the genetic basis of the circadian clock. Specifically, I am interested in understanding the role of seasonal cues in entrainment of the clock and how the genetic architecture of the clock changes over the course of the year. I am currently growing the model plant species Arabidopsis thaliana under ecologically-relevant conditions to identify genomic regions underlying variation in circadian phenotypes and examining the role of trait correlations on the evolution of quantitative traits.
---
Kurt Smith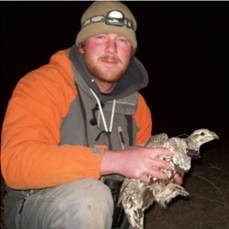 Advisor: Jeffrey Beck
Publications
I am broadly interested in fish and wildlife ecology, conservation, and management. My dissertation research seeks to identify response of Greater sage-grouse to treatments in Wyoming big sagebrush.
---
Michael Tabak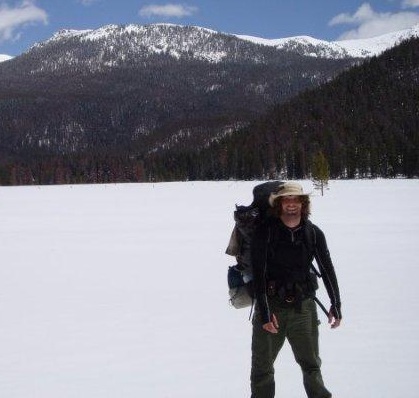 Advisor: Carlos Martinez del Rio
I am interested in physiological adaptations in vertebrates. My current project is on a recent evolutionary radiation of suboscine birds (genus Cinclodes). I am specifically interested in mechanisms used that allow some species to reside at high elevations (up to 5000m). I am examining hemoglobin and erythrocytes along an altitudinal gradient to determine adaptations and acclimatizations. As a side project, I am currently learning genetic techniques at the Smithsonian Genetics Lab. I am sequencing DNA for three species of birds from the Falkland Islands. I hope to determine evolutionary divergence, gene flow, and mutation rates in these species.
---
John Whiteman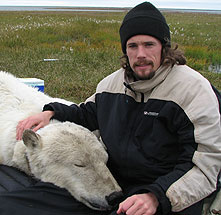 Advisor: Merav Ben-David
Publications
My current interests include physiological ecology, the ecology of mammals, and the scientific basis for conservation. I am intrigued by the influences of environment and interspecific interactions on the behavior and physiology of individual organisms, and ultimately, populations. For my dissertation, I am evaluating the physiological capabilities of polar bears to survive extended periods of fasting and reduced activity. My conclusions will be incorporated into population models to predict how sea ice loss in the Arctic may affect the polar bears of northern Alaska.
Website
---
Yulia Yarkhunova
Advisor: Cynthia Weinig
My dissertation research focuses on the genetic basis of ecophysiological traits. More sprecifically, I'm studying how different Brassica rapa croptypes (cabbages, turnips, brocolletos and seedoils) vary in the expression of different ecophysiological traits like photosynthesis, stomatal conductance, biomass accumulation etc. For my current project, I'm growing Brassica rapa and associating those traits with circadian rhythms.
Share This Page: