Program in Ecology Students
Students in Program in Ecology study a diverse set of ecological questions, ranging in scale from DNA and microbes to plant and vertebrate systematics, to landscape ecology and everything in between.  All PhD students in Program in Ecology also belong to a home department.
>>Apply to the Program in Ecology
---
Jesse Alston
Advisor: Jake Goheen and Doug Keinath
Home Department: Zoology & Physiology
I am an academic generalist whose research generally centers on how weather and climate influence animal ecology. For my dissertation, I am using a combination of field research and analysis of an extensive morphometric data set to characterize how temperature affects torpor use and behavior in bats, and how relationships between temperature and torpor expression may contribute to biogeographic patterns of body mass, reproduction, and sexual segregation. My recent work also includes the influence of heat on moose movement, the predictability of ecosystem response to apex predator restoration and removal, and the importance of open access publication for conservation science.
Visit Jesse's website for more about his research.
---
Rachel Arrick
Advisor: Melanie Murphy & Doug Keinath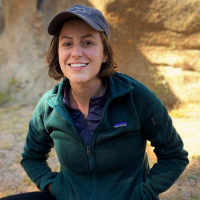 Home Department: Ecosystem Science and Management
Broadly, I'm interested in conducting research to better inform current conservation and management practices for sensitive taxa, particularly amphibians. My PhD research is focused on learning more about habitat use, survival, disease ecology, and the community changes in the microbiome of the endangered Wyoming toad after release from captivity.
---
Dave Atkins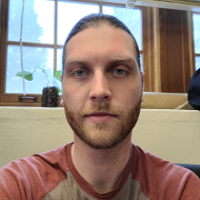 Advisor: Daniel Laughlin
Home Department: Botany
My research is focused on the effects that functional traits have on demographic fitness in perennial graminoid species. I investigate how inter- and intra-specific variations in key function traits related to drought tolerance and plant energy economics affect vital rates in plant populations. These variations reflect different life history strategies and ultimately differences in demographic fitness observed along environmental gradients.
---
Lauren Azevedo Schmidt
Advisor: Ellen Currano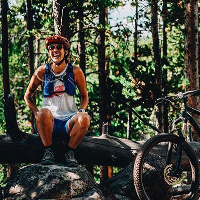 Home Department: Botany
I study plant and insect interactions using leaf pseudofossils (leaves deposited in sediment) from modern temperate and tropical ecosystems. By studying pseudofossil assemblages we can better understand how leaves are preserved in the fossil record and aid in our calibration of the fossil record. Understanding fossil assemblages more clearly can allows us to better interpret how modern climate change will influence our plant and insect communities.
Visit Lauren's website for more about her research.

  
---
Jeff Baldock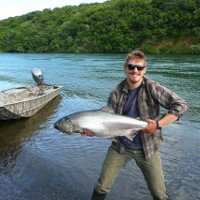 Advisor: Annika Walters
Home Department: Zoology & Physiology
I am primarily interested in the opportunities (and costs) that heterogeneous landscapes confer to animal populations, particularly with respect to aquatic ecosystems across multiple spatial and temporal scales. I aim to connect ecological theory with applied science to develop tractable management strategies that ensure the long-term conservation of ecologically, culturally, and economically valuable species. The focus of my dissertation is intentionally broad, combining multiple studies of Snake River cutthroat trout in northwestern Wyoming. I use observational field studies, statistical modelling techniques, and genomic tools to investigate large-scale population dynamics and eco-evolutionary processes.
Visit Jeff's website for more about his research.
---
Gabriel Barrile
Advisor: Anna Chalfoun and Annika Walters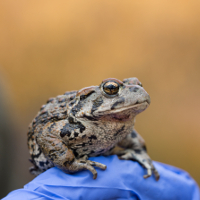 Home Department: Zoology & Physiology
I am interested in evaluating how behavioral responses to environmental change influence demographic parameters, with the goal of integrating individual movement and habitat choices into our understanding of population dynamics. My current research investigates amphibian movement and habitat selection in relation to disease and landscape alteration, particularly how behavioral responses to these stressors influence population-level processes.
Visit Gabe's website for more about his research.
---
Christy Bell 
Advisor: Lusha Tronstad
Home Department: Zoology & Physiology
---
Jonathan Bowler
Advisor: Thomas Minckley
Home Department: Geography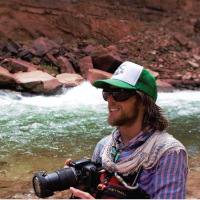 My research interests reside in the human dimensions of socioecological systems. I am particularly interested in how the artificial manipulation and transportation of natural resources affects the relationship between society and the environment. The project I am involved with focuses on these ideas in the American West as they relate to the Colorado River Basin. Through an interdisciplinary, natural history approach we will investigate the social, political, economic, legal, and cultural dimensions of Western expansion, resource manipulation, and persistent conflict from the time of initial scientific contact to the present day. Through fieldwork engaging modern science, humanities, and traditional ecologic knowledge into a public dialogue, we will facilitate the development of a baseline shift in ecological integration to move towards a sustainable, resilient, equitable and just future in the West. 
---
Matt Butrim
Advisor: Ellen Currano
Home Department: Geology
I am interested in learning how we can extrapolate from fossilized leaves to a broader understanding of an ecosystem at large.  Leaves are just one part of a plant, but they can carry a lot of information about how that plant interacts with its environment.  To that end, I'm interested in researching the relationships between fossil leaf functional traits, climate, and leaf architecture.
Visit Matt's website to learn more about his research.
---
Samuel Case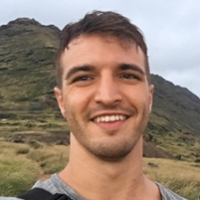 Advisor: Corey Tarwater
Home Department: Zoology & Physiology
Broadly, my research interests concern the impacts of bird behavior on ecological communities. For my PhD, I'm studying the role of introduced game birds in seed dispersal networks of Hawaiian forests. Two non-native game bird species, the Kalij Pheasant and Erckel's Francolin, are well established in forest habitat of Oahu, where all native seed dispersers are extinct. To evaluate the potential for these birds to contribute to conservation objectives, I'm studying their diet, foraging behavior, and effects of gut passage on seed condition. I also aim to understand how mechanisms of movement ecology and sociality affect seed deposition patterns. My work is a part of the Hawaii VINE Project, a larger investigation of seed dispersal networks in novel ecosystems of Hawaii.
---
Alessandra Ceretto
Advisor: Cynthia Weinig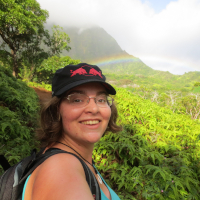 Home Department: Botany 
My research investigates whether microbial communities associated with the rhizosphere and phyllosphere of plants exhibit diel cycling, related to the circadian period of the associated plant. Wyoming native plant species Boechera stricta is under investigation. Current projects investigate reproducibility in the field, the magnitude of microbial changes across different latitudes, and the role plant exudates play in rhizosphere diel cycling.
---
Gordon Custer
Advisor: Linda van Diepen
Home Department: Ecosystem Science and Management
My current research examines dynamics of soil microbes with respect to their functionality and community composition following disturbance.  My specific interests include: environmental microbiology, bioinformatics, data science, teaching and of course microbial ecology.
---
Paul Dougherty
Advisor: Matt Carling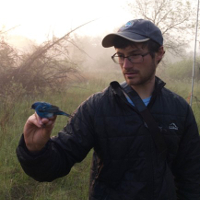 Home Department: Zoology & Physiology
My research aims to improve our understanding of the evolutionary processes that generate and maintain biodiversity, particularly in birds. I am currently focusing on the avian hybrid zones of the Great Plains, which feature dramatic differences in molt and migratory behavior between parental taxa. By characterizing patterns of introgression and hybrid phenotypes, I hope to identify the most important mechanisms of reproductive isolation in these systems. In addition to evaluating their role in mediating introgression, I am investigating how a taxon's molt and migratory behaviors influence its response to anthropogenic landscape and climate change.
Visit Paul's website for more about his research.
---
Beth Fitzpatrick
Advisor: Melanie Murphy
Home Department: Ecosystem Science and Management
I am interested in many aspects of ecological research with a focus on population and community ecology. More specifically, my research addresses species-habitat/landscape relationships in areas of development. For my dissertation research I am investigating the influence of energy development on landscape connectivity and distribution of Greater Sage-grouse for prioritizing reclamation efforts in Wyoming.
---
Jesse Fleri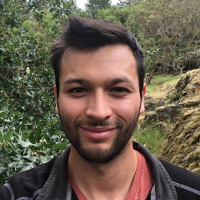 Advisor: Daniel Laughlin
Home Department: Botany
I am a spatial community ecologist that works at the interface of conservation and management. My background tends to focus on plants and insects but I have broader experience working with birds, pathology, and geomorphology. For my masters, I investigated the effect of non-native earthworms on threatened plant communities in the Pacific Northwest. During my masters I picked up a passion for ecological modelling and now found myself dancing on the edge of data science and ecology. For my PhD, I'll be applying trait-based models to restore ecosystem resilience and function across spatial scales.
Visit Jesse's website for more about his research.
---
Jimena Golcher-Benavides
Advisor: Katie Wagner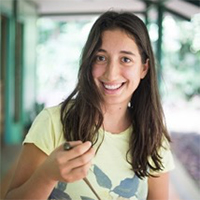 Home Department: Botany
I am most interested in the role microhabitats play in the development of early reproductive barriers between fish populations, emergence of complex traits and evolution of phenotypic diversity in the wild. African cichlids have undergone diversification in sympatry and at a very fast rate but the potential underlying causes for this variation are not completely known. Gradients in water biogeochemistry across depth and surface area in lake environments seem to facilitate the initial isolation of closely related fish. For my PhD, I plan on identifying actual mechanisms leading phenotypes to fit better in specific environments and therefore potentially explain present fish diversity at a broader spatial scale or predict future differentiation. 
Visit Jimena's website for more about her research.
---
Jiemin Guo
Advisor: Dave Williams
Home Department: Botany
---
Katherine Gura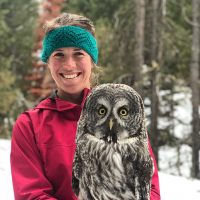 Advisor: Anna Chalfoun
Home Department: Zoology & Physiology
My research evaluates the mechanisms underlying variation in movements and demography by irruptive, facultative-migrant species using the Great Gray Owl (Strix nebulosa) as a model system. Specifically, I am assessing how variation in prey abundance and climatic conditions influence the seasonal movements, habitat selection, productivity, and survival of this understudied forest raptor. My research can lead to improved understanding and management of species that either rely on or must respond to variable resources and environmental conditions, which are becoming more extreme with changing climate.
---
Kristina Harkins
Advisor: Merav Ben-David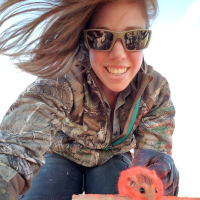 Home Department: Zoology & Physiology
My broad research interests include community ecology, niche partitioning, and habitat relationships. I am currently investigating small mammal and plant community assemblages by exploring the inter-species relations and their relative importance as drivers of species reliance on different habitats. The small mammal communities of Wyoming's basins present a good model system to study habitat relationships and biodiversity because they contain a mix of common, generalist species and rare, specialist species that co-occur over a large landscape composed of a broad range of vegetation and habitat types that are both intact and fragmented.
---
Anne-Marie Hodge
Advisor: Merav Ben-David and David McDonald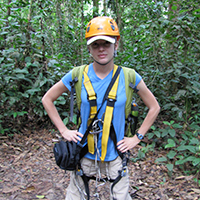 Home Department: Zoology & Physiology
My main research interests involve the ecological mechanisms underlying niche partitioning and species co-existence, with a focus on predatory mammals. My master's research involved investigating complementary niche partitioning among sympatric carnivores in the eastern Andean foothills of Ecuador. For my doctoral research, I am studying top-down versus bottom-up influences on the structure of a highly diverse mesopredator assemblage in central Kenya. I will be teasing apart the effects of two anthropogenically induced challenges to mesopredator populations: climate change and declines in populations of apex predators. I will also assess how intraspecific variation in diet selection by mesopredators will be affected by the drying of East Africa as global climate change progresses.
---
Abby Hoffman
Advisor: Dave Williams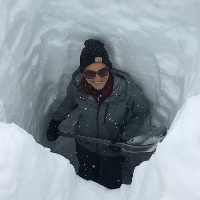 Home Department: Botany
I am broadly interested in understanding nutrient cycling and anthropogenic alterations to nutrient cycling across a range of ecosystems and scales. My dissertation research focuses quantifying microbial assemblages and activity in seasonal and perennial snow in Wyoming. In particular, I aim to understand how microbes in the snow pack transform atmospheric nitrogen deposition and whether microbial activity in the snow alter C and N inputs to downstream terrestrial and aquatic ecosystems. I use a broad range of approaches including DNA sequencing, stable isotopes and modeling to answer questions about microbial processes and nutrient cycling at different spatial and temporal scales
Visit Abby's website for more about her research.
---
Bridger Huhn
Advisor: Brent Ewers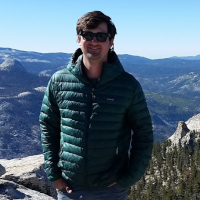 Home Department: Botany
I am broadly focused on plant physiology and how to gain insight into the mechanisms of plants' responses. My current research involves modeling sugarbeet growth and determining what measurable physiological processes are linked to the growth rate. I am hoping to further our understanding of mechanisms underlying vegetation responses to a changing environment brought on by climate change. There is a multitude of excellent plant physiological models and I am attempting to reparameterize them to work on many taxa for the benefit of agricultural and ecosystem sciences.
---
Ellen Keaveny
PiE Student Co-President (2020-2021)
Advisor: Michael Dillon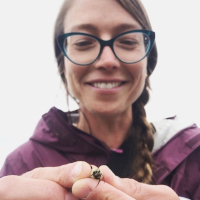 Home Department: Zoology & Physiology
Broadly, I am interested in how organisms cope with environmental variation from changes in their cellular composition to responses at the population level. Currently, we are identifying how bumble bees respond to temperature variation over short and long-term timescales. Upcoming work will focus on the effects of temperature on floral resources (pollen), and to what extent diet influences physiology. We hope to better understand how bumble bees alter their cellular composition across variable conditions as we identify the cascading effects of climate on these crucial pollinators.
---
Melanie LaCava
Advisor: Holly Ernest
Home Department: Veterinary Sciences
I am interested in applying genetic and genomic techniques to the study and conservation of wildlife populations. For my dissertation research, I am using population genomic approaches to study pronghorn and mule deer in Wyoming. I am also combining population genomics with disease ecology to study disease dynamics of chronic wasting disease in Wyoming mule deer.
Visit Melanie's website for more about her research.
---
Tayler LaSharr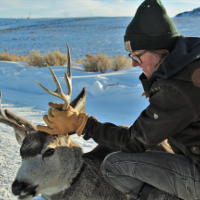 Advisor: Kevin Monteith
Home Department: Zoology & Physiology
Broadly, my research interests are focused on how animal nutrition and life-history interact to influence individual behaviors, and how that ultimately scales up to affect populations. My current research is focused on the effects of severe winter conditions on mule deer, and the potential carryover effects of nutritional stress on behavior and reproduction later in life.
---
Jonathan Lautenbach
Advisor: Jeffrey Beck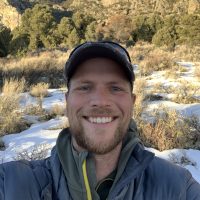 Home Department: Ecosystem Science and Management
Generally, I am interested in habitat ecology and habitat management. My current research is focused on the ecology of sharp-tailed grouse in south-central Wyoming. Little research has been conducted on this population of sharp-tailed grouse and through my research I am seeking to understand sharp-tailed grouse habitat selection, demographic rates, and sub-species status of this population. Specifically, I am going to look at what vegetation types sharp-tailed grouse select and how this impacts demographic rates and what subspecies this population belongs to.
---
Liana Boggs Lynch
Advisor: Urszula Norton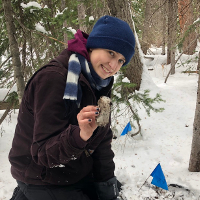 Home Department: Plant Sciences
My research examines the effects of bark beetles on the broader conifer ecosystem, including the soil microbial diversity and functional capacity, ectomycorrhizal fungi relationships, and the long-term soil nutrient cycling and regeneration of conifers after outbreaks of this endemic species. I am interested in microbial ecology, biogeochemistry, soil fertility, forest ecology, statistics, and environmental microbiology.
---
Chloe Mattilio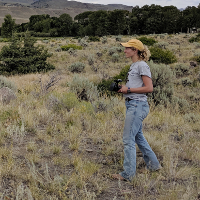 Advisor: Dan Tekiela
Home Department: Plant Sciences
Non-indigenous invasive plants threaten the native vegetation, fauna, and human pursuits in western lands, and impacts and management goals vary based on the invasion status. My projects include using UAS remote sensing for the early detection of invasive plants in rangelands in the Greater Yellowstone Ecosystem and in Wyoming forage fields, satellite remote sensing for invasive plant mapping in the Yampa River watershed in Colorado, and developing a prioritization tool for invasive plant population management for Fremont County, Wyoming.
---
Robby McMinn
Advisor: Cynthia Weinig
Home Department: Botany
---
Libby Megna
Advisor: Matt Carling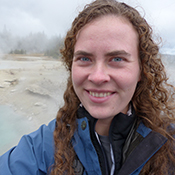 Home Department: Zoology & Physiology
I am obsessed with birds in general, and bird behavior and evolution more specifically. During my master's work on a gull colony in Washington I realized how fascinating hybridization is, and that hybridizing species can help us understand the process of speciation. Despite the fact that gulls are really cool, I have switched study systems and am currently conducting a comparative study of reproductive isolation in songbirds. Several pairs of closely related passerine species hybridize quite extensively but other pairs do not hybridize even though they sing similar songs, have similar ecologies, and share geographic ranges. I am hoping to associate patterns of environmental niche divergence, song divergence, and genomic divergence with patterns of hybridization or its converse, complete reproductive isolation. Ideally, I will be able to identify consistent patterns in the evolution of reproductive isolation across North American passerines. 
Visit Libby's website for more about her research.
---
Francisco Molina
Advisor: Jake Goheen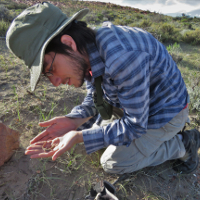 Home Department: Zoology & Physiology
My research is centered on large mammal predator-prey interactions. I seek to improve our understanding of the environmental factors that affect the responses of herbivores to predation risk and how this, in turn, influences the indirect impact that carnivores have on vegetation (i.e., behaviorally-mediated trophic cascades). My study system involves pumas (Puma concolor) and guanacos (Lama guanicoe) in the Patagonian Steppe of Argentina.
Visit Francisco's website for more about his research.
---
Anna Ortega
Advisor: Matt Kauffman
Home Department: Zoology & Physiology
---
Eric Quallen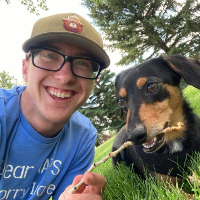 Advisor: Merav Ben-David
Home Department: Zoology & Physiology
My research interests lie at the interface between animal behavior and population dynamics. Specifically, I study wild and captive least chipmunks (Tamias minimus) to see how individual behavior and learning mechanisms (e.g. social learning, trial and error) impact population-level success in small mammals. Understanding how animal behavior influences the fitness of large groups of individuals can help managers better conserve and protect these species by accounting for population dynamics that result from changes in knowledge transfer rather than, or in addition to, environmental factors.
---
Claudia Richbourg
Advisor: Ellen Currano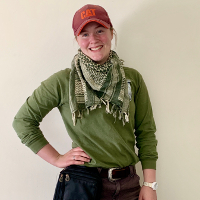 Home Department: Botany
I am interested in the early Eocene paleobotanic record, which here in Wyoming's Wind River Basin captures the Early Eocene Climatic Optimum (EECO). This event is characterized by some of the warmest temperatures in the past 65 million years, making it an ideal place to examine the plant response to warming in both vegetation structure and community composition. Because this climate event is so significant, it also lends itself well to analyzing the plant-insect interactions and their variability over the warming period.
Visit Claudia's website for more about her research.
---
Jessica Rick 
Advisor: Katie Wagner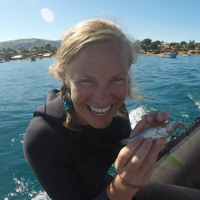 Home Department: Botany
I am primarily interested in the use of genomic tools to solve problems related to genetic structure, gene flow, and adaptation in wildlife ecology and conservation biology. In a changing environment, a population's ability to evolve and adapt is vital to survival, and I am interested in studying both the history and the current state of a population to understand how it might change in the future. My current research focuses on combining genetic and environmental inferences to elucidate the evolutionary and demographic history of four species of Nile perch relatives in East Africa's Lake Tanganyika.
Visit Jessi's website for more about her research.
---
Macy Ricketts
Advisor: Naomi Ward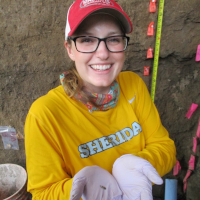 My research investigates the role climate change plays in microbial community assembly across spatial and temporal gradients in order to understand how past and present climate influence the environmental microbiome. I am currently utilizing microbial biomarkers and high throughput sequencing to develop a high-resolution paleoclimate reconstruction of the LaPrele mammoth kill site in eastern Wyoming. I am also using these techniques to characterize alpine microbial communities along an elevational gradient in Wyoming's Snowy Mountains.
Visit Macy's website for more about her research.
---
Anne Scholle
Advisor: Jerod Merkle
Home Department: Zoology & Physiology
My research explores the roles of cognition and sociality in group dynamics and collective decision making in migratory ungulates. I will use GPS data, camera traps, and drones in my data collection.
---
Emily Shertzer
Advisor: Anna Chalfoun
Home Department: Zoology & Physiology
I am interested in the effects of human-induced habitat change on survival and fitness of animals across the full life cycle. Specifically, I am studying survival and fitness during understudied life stages, including the post-fledging and over-wintering stages, in sagebrush-obligate songbirds that breed near energy development.
---
Christina Sluka
Advisor: Merav Ben-David and Sarah Benson-Amram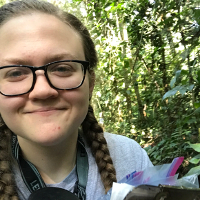 Home Department: Zoology & Physiology
I am broadly interested in cognitive ecology and animal behavior. My research focuses on the morphology, social structure, and cognition of wild raccoons in urban and rural spaces. I am interested in understanding what makes a successful urban species, how these animals learn to navigate these spaces, and how urban and rural environments may shape different cognitive and morphological traits. Here, I am looking to find a more efficient way to evaluate wild raccoon cognition using olfactory stimuli and to determine if urban environments may alter brain and skull morphology in wild raccoon populations across the US.
---
Lauren Stanton
Advisor: Sarah Benson-Amram and David McDonald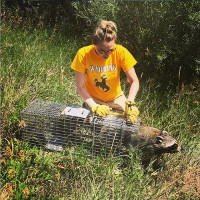 Home Department: Zoology & Physiology
My research interests lie in the cognitive mechanisms that facilitate adaptation. Specifically, I seek to understand how various aspects of cognition, such as innovation, learning, behavioral flexibility and personality, allow animals to cope with changing environments. I believe that, given our world's current biodiversity crisis, it is increasingly important for us to examine how an animal's ability to solve novel problems can increase its survival in a changing world. I will begin my dissertation research by investigating the advanced cognitive abilities of a familiar and highly adaptive species, the raccoon. By building an understanding of the skills raccoons employ when problem-solving, I hope to shed light on the cognitive processes used in successful adaptation to a variety of environments. Comparative studies between different populations, or among close relatives of raccoons, will further this understanding.  I anticipate that the results of my work will have important implications not only for wildlife conservation, but also for the welfare of ex-situ populations of animals living in captivity.
Visit Lauren's website for more about her research.
---
Alice Stears
Advisor: Daniel Laughlin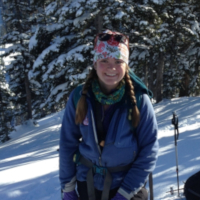 Home Department: Botany
I am broadly interested in how variation in the physical environment across time and space impacts individual plant growth, survival and reproduction, and in turn, alters plant populations and communities. An improved understanding of these processes helps inform our predictions of how ecosystems will respond to a changing climate. My work focuses specifically on identifying plant functional traits (i.e. phenotypes) in western grassland plants that increase a species' ability to survive and grow in drought years.
---
William Swain
Advisor: Holly Ernest and Jennifer Malmberg
Home Department: Veterinary Sciences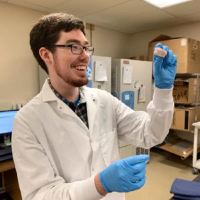 I was raised in San Rafael, Marin County (part of the SF Bay Area) and was extremely fortunate to be constantly exposed to the awesome open spaces and wildlife native to the region—from birds of prey, deer, and snakes in my (literal) backyard to seasonally spawning Coho salmon just a short drive away. I developed a fascination for microbiology and infectious diseases during high school, which I carried with me through my undergraduate studies as a Regents Scholar at UC Davis. While working in a zoonotic disease lab as an undergrad, I began to become increasingly curious about the overlapping interfaces between human, animal, and environmental health, which led me to discover the burgeoning concept of "One Health." After graduating from UC Davis and working as a bacteriology lab tech at the California Animal Health and Food Safety Lab, I moved to London as a Fulbright Alternate to complete an MSc program jointly offered between the Royal Veterinary College and London School of Hygiene and Tropical Medicine, which helped me to further develop my interdisciplinary One Health skills. From there, I decided to return to the U.S. to dive deeper into disease ecology and the genetic bases of wildlife diseases by beginning a PhD here at the University of Wyoming.  My research involves Wyoming elk population genomics and Chronic wasting disease ecology.
Visit Will's website for more about his research.
---
Megan Szojka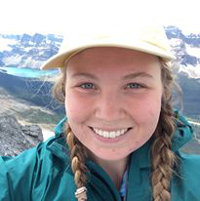 Advisor: Lauren Shoemaker
Home Department: Botany
I am a community ecologist studying how species coexistence shifts in the context of climate change. I'm interested in understanding how dispersal and species interactions are altered along a temperature gradient, with implications for predicting biodiversity change. My recent work has focused on uncovering the role of transient species on stable community dynamics. I build on existing ecological frameworks with the aim to bridge theory to applied restoration and management efforts across systems.
Visit Megan's website to learn more about her research.
---
Melanie Torres
Advisor: Melanie Murphy
Home Department: Ecosystem Science and Management
Amphibians are experiencing global population declines and extinctions. As someone who grew up catching frogs and salamanders, my research endeavors are driven by a desire to understand the local and landscape factors influencing amphibian populations. Using the species found in the Rocky Mountains as my study system, my dissertation incorporates landscape genetics to assess amphibian rarity based on their niche breadth and functional connectivity. Additionally, I'm interested in how disease can shape a population's distribution and ability to disperse.
---
Elizabeth Traver
Advisors: Linda van Diepen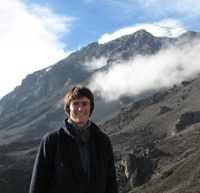 Home Department: Ecosystem Science and Management
I have wandered around academia for a while, but feel that I have finally found my niche.  I have always been interested in the abiotic / biotic interface but did not feel like I have found the right approach until I started working with soil microbes.  I also love the outdoors and mountainous landscapes, so looking at microbial community dynamics in the forefields of retreating glaciers could not be a better fit.  My current research is in soil science but it is really the play of communities and environment that intrigues me.  Sampling a soil chronosequence in the forefield of a retreating glacier, I will use DNA sequencing for genetic identification as well as enzyme assays to tease out soil microbial functional groups, then look at soil biogeochemical characteristics and plant – mycorrhizal associations.  
---
Rebecca Upjohn
Advisors: Tim Collier and Brian Mealor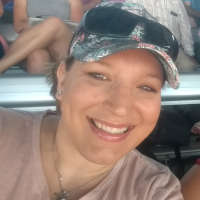 Home Department: Ecosystem Science and Management
Currently, my research interests span multiple fields: plant ecology, restoration ecology, plant physiology, soil chemistry, and weed management.  My PhD dissertation research has focused mainly on how the invasion and management of Russian olive impacts co-occurring native species, particularly from the perspective of soil nutrient enrichment.  Data from these studies may help restoration specialists select the best species for restoration projects involving alkaline WY soils and predict which secondary invaders might complicate restoration efforts.  In my free time, I am also an artist specializing in life drawing and scientific illustration.
---
Tana Verzuh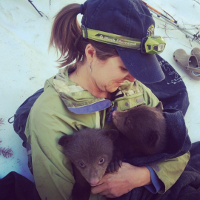 Advisor: Jerod Merkle
Home Department: Zoology & Physiology
Tana's research focuses on the reintroduced bison population in Banff National Park, Canada, aiming to understand the underpinnings of how animals learn a novel environment and how that knowledge influences space use and home range formation.
---
Sarah Waybright
PiE Student Co-President (2020-2021)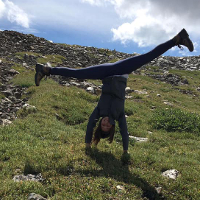 Advisor: Michael Dillon
Home Department: Zoology & Physiology
Broadly, I explore how temperature affects bumble bee physiology. Currently, I am exploring the ways winter temperatures shape bumble bee energy use and survival, and ultimately how winter experiences shape bumble bee growing season fitness and abundance. Understanding physiological responses to winter temperatures allow for predictions to be made about the energetic requirements necessary for bumble bees to survive winters with more extreme and more variable temperatures, such as those predicted to occur in a warming world. I use lab experiments to explore bumble bee physiological repsonses to temperature and ultimately to make predictions about bumble bee success in the face of climate change.
---
Megan Wilson
Advisor: Tim Collier and Scott Shaw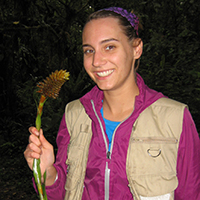 Home Department: Ecosystem Science and Management
I'm interested in reclamation and restoration science associated with energy development and how different reclamation practices affect the insect community and in turn, higher trophic levels.  My research is primarily focused on insects of importance to sage grouse chicks.  I'm interested in manipulating the plant species originally used to reclaim the land, to include more forbs and shrubs, to potentially increase the biomass of insect species vital to sage grouse development.  I'm also very curious about the effect ants have on a reclaimed community through seed dispersal and predation and possible protection of plants from herbivores.  
---
SaveSaveSaveSaveSaveSaveSaveSave