Program in Ecology Students
Students in Program in Ecology study a diverse set of ecological questions, ranging from scales of DNA and microbes to plant and vertebrate systemics, to landscape ecology and everything in between.  All Ph.D students in Program in Ecology also have a home department.
>>Apply to the Program in Ecology
Ellen Aikens
Advisor: Matt Kauffman and Kevin Monteith
I am fascinated by all things related to movement ecology. From seed dispersal to trophic cascades, movement plays a fundamental role in ecological processes. For my PhD, I will focus on understanding mule deer migration in the Wyoming Range.  To disentangle the mechanisms underlying migration, I will evaluate the forage maturation hypothesis as it relates to phenology tracking during migration. Additionally, I hope to understand how movement strategies affect body condition and reproductive success of migratory mule deer. With this information in hand, I will investigate how changing environmental conditions might affect mule deer populations in the future. My goal as a PhD student is to contribute to both applied and theoretical ecology.   
Visit Ellen's Google Scholar Profile and her Personal Research Site. 
---
Dan Albrecht-Mallinger
Advisor: Corey Tarwater
---
Timothy Aston
Advisor: Brent Ewers
I'm interested in how past climate change, driven by variation in the earth's orbit, has affected the ecophysiology and community structure of Mediterranean ecosystems. The Cape floristic region on the southern tip of Africa has experienced lower levels of climate change over the last few million years than both of the northern hemisphere Mediterranean ecosystems, which is thought to have contributed to the areas exceptionally high biodiversity. As a result of its fairly wet climate, the Cape, like many of the world's most bio-diverse areas, has a poor palaeoecological record. I aim to develop tools to assess the relative amount of past climatic change using aspects of an areas modern biology.
---
Lisa Barrett
PiE Student Co-President
Advisor: Sarah Benson-Amram
My research focuses on comparative cognition of animals. Specifically, I am investigating personality and problem-solving abilities of zebra finches and Asian elephants as part of Dr. Sarah Benson-Amram's Animal Behavior & Cognition Lab.
---
Gabriel Barrile
Advisor: Anna Chalfoun and Annika Walters
Humans are drastically altering the stage on which wildlife perform, forcing organisms to respond to rapidly-changing environments. But wait, how do critters respond? Well, some can't or don't, and inevitably die-off (an unfortunate response from many life-forms). Others 'get out of Dodge', dispersing to new environments (not all organisms, however, have the physical ability to disperse and/or there is little to no suitable habitat in which to emigrate). The next response is Darwin's favorite; populations evolve in response to selective pressures, eventually adapting to new environmental circumstances. Finally, individuals can respond to stressors in the short-term via phenotypic plasticity (i.e., changes in behavior, morphology, physiology, etc.). I'm interested in studying these wildlife responses to environmental change, particularly the capacity of organisms to change behavior in adaptive ways, especially in cases where the rapidity of change appears to outpace the timeline necessary for selection. I'm currently assessing the ability of amphibians to change their behavior in response to a deadly disease in hopes of advancing our understanding of phenotypic plasticity as well as informing global amphibian conservation.
---
Jonathan Bowler
Advisor: Thomas Minckley

My research interests reside in the human dimensions of socioecological systems. I am particularly interested in how the artificial manipulation and transportation of natural resources affects the relationship between society and the environment. The project I am involved with focuses on these ideas in the American West as they relate to the Colorado River Basin. Through an interdisciplinary, natural history approach we will investigate the social, political, economic, legal, and cultural dimensions of Western expansion, resource manipulation, and persistent conflict from the time of initial scientific contact to the present day. Through fieldwork engaging modern science, humanities, and traditional ecologic knowledge into a public dialogue, we will facilitate the development of a baseline shift in ecological integration to move towards a sustainable, resilient, equitable and just future in the West. 
---
Samuel Case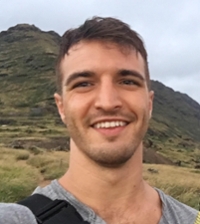 Advisor:
Corey Tarwater
Broadly, my research interests concern the impacts of bird behavior on ecological communities. For my PhD, I'm studying the role of introduced game birds in seed dispersal networks of Hawaiian forests. Two non-native game bird species, the Kalij Pheasant and Erckel's Francolin, are well established in forest habitat of Oahu, where all native seed dispersers are extinct. To evaluate the potential for these birds to contribute to conservation objectives, I'm studying their diet, foraging behavior, and effects of gut passage on seed condition. I also aim to understand how mechanisms of movement ecology and sociality affect seed deposition patterns. My work is a part of the Hawaii VINE Project, a larger investigation of seed dispersal networks in novel ecosystems of Hawaii.
---
Michael Curran
Advisor: Peter Stahl
My research interests are broadly within the field of restoration ecology. My focus mainly deals with land reclamation and ecosystem restoration associated with land disturbance due to oil and natural gas production. I am interested in how techniques used in the practice of land reclamation in different areas affect the outcome of ecological restoration projects.
---
Gordon Custer
Advisor: Linda van Diepen
My current research examines dynamics of soil microbes with respect to their functionality and community composition following disturbance.  My specific interests include: environmental microbiology, bioinformatics, data science, teaching and of course microbial ecology.
---
Courtney Duchardt

Advisor: Jeff Beck
Generally, I am very interested in avian community ecology and habitat management, especially in working systems. My research is focused on avian communities in the Thunder Basin Grassland of eastern Wyoming, a system which provides habitat for both sagebrush, shortgrass, and mixed grass bird species. I am interested in understanding the optimal size and configuration of habitat patches to maintain each suite of species, and how this information can be used for management purposes. I am also interested in the nesting and behavioral ecology of the Mountain Plover (Charadrius montanus), a shortgrass species that prefers disturbed habitat, and is often associated with prairie dog colonies.
---
Paul Dougherty
Advisor: Matt Carling
---
Doug Eddy
Advisor: Matt Carling
I began at UW as a master's student, and investigated the impact of avian malaria infection on songbird (Junco hyemalis) physiology. My interest and fascination with evolutionary biology in general and the process of speciation in particular led me to continue in the Carling lab as a PhD student. I'm now attempting to use avian systems to learn about pattern and process behind either the creation or maintenance of reproductive isolation. I hope to discover something new while also imparting enthusiasm about the natural world to students, colleagues, and anyone else who will listen to me ramble. 
---
Beth Fitzpatrick
Advisor: Melanie Murphy
I am interested in many aspects of ecological research with a focus on population and community ecology. More specifically, my research addresses species-habitat/landscape relationships in areas of development. For my dissertation research I am investigating the influence of energy development on landscape connectivity and distribution of Greater Sage-grouse for prioritizing reclamation efforts in Wyoming.
---
Brady Godwin
Advisor: Holly Ernest
I am interested in using genetics to answer ecological questions. For my PhD, I will study the population genetics and disease ecology of hummingbird species found in Wyoming and Colorado, and hope to investigate their potential as sentinel species. A significant part of my PhD work will be to help begin a hummingbird health monitoring program throughout the Rocky Mountain West based at the University of Wyoming. If you have any interest in participating in this, and/or know of locations frequented by hummingbirds in the summer in Wyoming or nearby, please let me know at bgodwin@uwyo.edu! ​
---
Jimena Golcher-Benavides
Advisor: Katie Wagner
I am most interested in the role microhabitats play in the development of early reproductive barriers between fish populations, emergence of complex traits and evolution of phenotypic diversity in the wild. African cichlids have undergone diversification in sympatry and at a very fast rate but the potential underlying causes for this variation are not completely known. Gradients in water biogeochemistry across depth and surface area in lake environments seem to facilitate the initial isolation of closely related fish. For my PhD, I plan on identifying actual mechanisms leading phenotypes to fit better in specific environments and therefore potentially explain present fish diversity at a broader spatial scale or predict future differentiation. 
---
Kristen Gunther
Advisor: Ann Hild
My research interests have to do with how ecosystem science is communicated. I study the transmission of ecological information, and the influence that communicatory tactics have on reception and knowledge among ecosystem managers. I am interested in finding out whether "priming" approaches can be used to influence how technical scientific information is received, and in turn potentially foster increased dialogue between scientists, managers, and other stakeholder groups. Currently, I am working on a project related to adaptive management approaches and ecosystem resilience.
---
Jiemin Guo
Advisor: Dave Williams
---
Matt Hayes
Advisor: Kevin Monteith
---
Anne-Marie Hodge
Advisor: Jake Goheen
My main research interests involve the ecological mechanisms underlying niche partitioning and species co-existence, with a focus on predatory mammals. My master's research involved investigating complementary niche partitioning among sympatric carnivores in the eastern Andean foothills of Ecuador. For my doctoral research, I am studying top-down versus bottom-up influences on the structure of a highly diverse mesopredator assemblage in central Kenya. I will be teasing apart the effects of two anthropogenically induced challenges to mesopredator populations: climate change and declines in populations of apex predators. I will also assess how intraspecific variation in diet selection by mesopredators will be affected by the drying of East Africa as global climate change progresses.
---
Charley Hubbard
Advisor: Cynthia Weinig
I am generally interested in the value of plant-soil microbe interactions, in the context of local adaptation. To investigate, I use Wyoming populations of Boechera stricta to assess the impact soil microbes have on plant performance in the face of biotic and abiotic stressors. I am also interested in the genetic and physiological drivers of soil community structure.
---
Brett Jesmer
Advisors: Matt Kauffman and Jake Goheen
I am motivated by the question, "how does an animal's environment shape its physiology, behavior, fitness (reproduction and survival), and ultimately its population's dynamics?" I find it fascinating that, like humans, wild animals within a species, or even within a population, vary widely in their individual ability to tune their behavior and physiology in accordance with local environmental conditions in a way that allows them to bolster survival and reproduction. My research integrates tool sets from the fields of remote sensing, genetics, stable isotopes, and endocrinology with classical field approaches, to elucidate how animals behaviorally and physiologically cope with climatic variation and resource (food) limitation. By taking advantage of climatic and resource gradients found among several moose and mule deer populations in the Intermountain West, my dissertation research aims to identify environmental factors that challenge their survival and reproduction, and advance our understanding of how animals persist in variable environments. Results from this research will provide wildlife managers with the information they can use to manage and conserve large herbivores.
---
Mark Kirk
Advisor: Frank Rahel
---
Melanie LaCava
Advisor: Holly Ernest
I am interested in applying genetic and genomic techniques to study wildlife populations, with a foundation in conservation. For my PhD, I will be applying molecular techniques to study the genetic health of pronghorn populations across the state of Wyoming. I also hope to incorporate other disciplines into my research, including landscape ecology and disease ecology.
---
Mallory Lai
Advisor: Brent Ewers
---
Michele Larson
Advisor: Amy Krist
I will be studying factors associated with the invasion success and persistence of invasive gastropods in the Greater Yellowstone Ecosystem. One part of my dissertation research will focus on determining the influences of conductivity and calcium concentrations on the growth and survival of native and invasive gastropods to determine if conductivity is a limiting resource for the expansion of invasive gastropods. I will also be conducting field experiments on the dilution effect which looks at the influence of P. antipodarum on the level of parasites found in native snails. Additionally, I will be conducting a field study at multiple geographic locations to determine if trematode parasite diversity in snails can be used as a bioindicator of overall macroinvertebrate diversity in a stream or pond. And finally, I will be looking at the influence of eutrophic conditions on the spread of invasive snails.
---
Liana Lynch
Advisor: Urszula Norton
---
Hilary Madinger
Advisor: Bob Hall
My research interests are broadly within stream ecology and aquatic biogeochemistry. Specifically, I am interested in using quantitative measurements of stream biogeochemistry to explain spatial and temporal variation in stream nutrient processing and aquatic microbial production.
---
Bryan Maitland
Advisor: Frank Rahel
I am a conservation biologist interested in the ecology and conservation of wild fish and aquatic ecosystems. My research is motivated by a love and fascination for the watery world and the animals (both human and non) that live in and depend on it, as well as a serious concern for the persistence of biodiversity in a changing world. I have studied zooplankton communities and island geology in the Caribbean, riverscape fragmentation impacts to native fish assemblages in Canada's Boreal Forest, and now, in my doctoral work, I will use food web approaches to elucidate mechanisms and processes that generate patterns of fish diversity found in river and stream systems that originate in the Rocky Mountains and flow onto the Great Plains.
---
Chloe Mattilio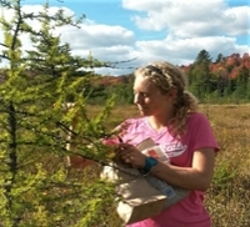 Advisor:
Dan Tekiela
Primum non nocere, "first, do no harm" may be a principal bioethical principle, but what's there to do when the harm has already been done? The introduction of non-indigenous plants has had enormous implications, both environmental and economic, and my research aims to minimize the intensity, spread, and negative impacts of invasion. Current work includes the detection of invasive plants by aerial imagery, prediction and management prioritization mapping, and facilitating assisted succession of disturbed sagebrush habitat. I am fascinated by the beauty and balance of the botanical world, and the guiding intent of my research is to contribute to the restoration of the ecological integrity of plant communities.
---
Robby McMinn
Advisor: Cynthia Weinig
---
Libby Megna
Advisor: Matt Carling
Website
I am obsessed with birds in general, and bird behavior and evolution more specifically. During my master's work on a gull colony in Washington I realized how fascinating hybridization is, and that hybridizing species can help us understand the process of speciation. Despite the fact that gulls are really cool, I have switched study systems and am currently conducting a comparative study of reproductive isolation in songbirds. Several pairs of closely related passerine species hybridize quite extensively but other pairs do not hybridize even though they sing similar songs, have similar ecologies, and share geographic ranges. I am hoping to associate patterns of environmental niche divergence, song divergence, and genomic divergence with patterns of hybridization or its converse, complete reproductive isolation. Ideally, I will be able to identify consistent patterns in the evolution of reproductive isolation across North American passerines. 
---
Christopher North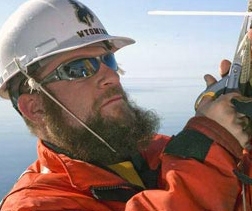 Advisor: James R. Lovvorn
Our work in the Bering Sea examines the effects of global warming, particularly decreases in the extent and duration of sea ice cover, on the bottom-dwelling (benthic) community. Reorganization of the benthic community due to climate change could have major impacts on species of conservation interest, such as the spectacled eider, gray whales, and walruses. Important snow crab and ground fish fisheries, among the most productive in the world, will also be impacted. Our group is building a food web-based ecosystem model to help managers plan for the changing future. I'm looking at the effect of climate change on the prey base, including abundant clams, which are the main food for many benthic predators (eiders, walruses, crabs, etc.). I'm also investigating the diet of sea stars and snails which are largely understudied but potentially important predators of the shared prey base.
---
Kennan Oyen
Advisor: Michael Dillon
I am interested in the mechanistic bases for physiological responses to extreme temperatures and how these mechanisms can inform our understanding of insect ecology. I have developed methods for assessing critical thermal limits of bumblebees and am interested in how these thermal limits may affect bumblebee distributions and activity patterns across altitude and latitude. I have also long been interested in how insects cope with extremely low temperatures, particularly during overwintering, a topic I began exploring as an undergraduate in Alaska.
---
Chris Petranek
Advisor: Michael Dillon
---
Cody Porter
Advisor: Craig Benkman
I am interested in understanding the ecological dynamics of speciation and adaptive radiation – especially in the early stages of divergence, when we can directly study the links between adaptation and reproductive isolation. One of the questions I have become interested in recently is why (from an ecological perspective) sympatric speciation is rare in groups that seem primed to diversify in sympatry. I investigate these and other questions primarily in sympatric ecotypes of the Red Crossbill (Loxia curvirostra complex). Other topics I am interested in include the evolution of assortative mating, the role of direct versus indirect selection in the evolution of reproductive isolation, and the importance of lineage persistence in macroevolution. 
---
Aaron Pratt
Advisor: Jeffrey Beck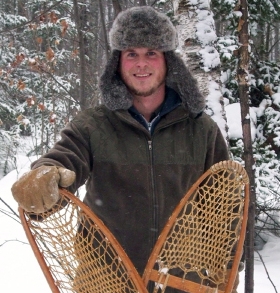 My experience and interests are in the field of wildlife ecology and management.  This has included working on large carnivores, ungulates, raptors, and upland game birds.  The project I am involved with here is looking at the response (demographic rates, movements, habitat use) of greater sage-grouse to bentonite mining in the Bighorn Basin.  We also have a secondary objective which is to describe the migration ecology of this population.
---
Jessica Rick 
Advisor: Katie Wagner
 I am primarily interested in the use of genomic tools to solve problems related to genetic structure, gene flow, and adaptation in wildlife ecology and conservation biology. In a changing environment, a population's ability to evolve and adapt is vital to survival, and I am interested in studying both the history and the current state of a population to understand how it might change in the future. My current research focuses on combining genetic and environmental inferences to elucidate the evolutionary and demographic history of four species of Nile perch relatives in East Africa's Lake Tanganyika. 
---
Macy Ricketts
Advisor: Naomi Ward
My research investigates the role climate change plays in microbial community assembly across spatial and temporal gradients in order to understand how past and present climate influence the environmental microbiome.
I am currently utilizing microbial biomarkers and high throughput sequencing to develop a high-resolution paleoclimate reconstruction of the LaPrele mammoth kill site in eastern Wyoming. I am also using these techniques to characterize alpine microbial communities along an elevational gradient in Wyoming's Snowy Mountains.
---
Robert Rust
Advisor: Thomas Minckley
I've long been interested in the past as a conduit to understand current and future ecosystem processes and management. This is the foundation of my research. For my Master's I investigated the effects of differing fire regimes, drought and their disturbance interactions on vegetation diversity changes through the Holocene in sub-alpine forests of Wyoming. The fields of paleoecology and paleoclimatology drive my passion for current ecological understanding and I feel should be more broadly utilized in ecosystem management.
---
Ramesh Sapkota
Advisor: Pete Stahl
I am interested to work in the field of Restoration Ecology. My PhD research will focus on investigating forest community assemblage and quantifying the changes in forest dominance and other environmental variables due to forest degradation in Nepal. I hope to understand the nexus between change in forest structure and increased human pressures. I will try to investigate successful techniques for restoring degraded forest ecosystems in my study areas.  
---
Heather Speckman
Advisor: Brent Ewers
---
Lauren Stanton
PiE Student Co-President
Advisor: Sarah Benson-Amram
My research interests lie in the cognitive mechanisms that facilitate adaptation. Specifically, I seek to understand how various aspects of cognition, such as innovation, learning, behavioral flexibility and personality, allow animals to cope with changing environments. I believe that, given our world's current biodiversity crisis, it is increasingly important for us to examine how an animal's ability to solve novel problems can increase its survival in a changing world. I will begin my dissertation research by investigating the advanced cognitive abilities of a familiar and highly adaptive species, the raccoon. By building an understanding of the skills raccoons employ when problem-solving, I hope to shed light on the cognitive processes used in successful adaptation to a variety of environments. Comparative studies between different populations, or among close relatives of raccoons, will further this understanding.  I anticipate that the results of my work will have important implications not only for wildlife conservation, but also for the welfare of ex-situ populations of animals living in captivity.
---
Alice Stears
Advisor: Daniel Laughlin
I am broadly interested in understanding relationships and interactions between climate and plant community structure, particularly in the context of contemporary climate change. For the first part of my dissertation, I am working to understand the extent to which combinations of plant functional traits (i.e. phenotypes) mediate plant functional group survival and community composition in response to extreme climate and weather events like drought in habitats across the American West.
---
Melanie Torres
Advisor: Melanie Murphy
As an amphibian ecologist, my research endeavors are driven by two concepts: (1) determining the variables that influence local amphibian population declines, and (2) providing research results and concepts that can be used to aid amphibian conservation efforts. My work as a PhD student is focused on determining the range of resources available (niche breadth) and the dispersal capabilities to resource patches (connectivity) for various amphibian species in southern Wyoming. The species in the study span from the abundant Tiger Salamander (Ambystoma mavortium) to the ever decreasing populations of Boreal Toad (Anaxyrus boreas boreas). In addition, I am interested in how the presence of the lethal amphibian chytrid fungus (Batrachochytrium dendrobatidis) influences these amphibians' niche breadth and connectivity. 
---
Elizabeth Traver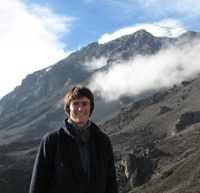 Advisors: Linda van Diepen
---
Rebecca Upjohn
Advisors: Ann Hild and Tim Collier
Currently, my research interests span multiple fields: plant ecology, restoration ecology, plant physiology, soil chemistry, and weed management.  My PhD dissertation research is focused mainly on  the stoichiometric flexibility of native and exotic species and how this might affect restoration of areas invaded by Russian olive.  I will be conducting a field survey, a field experiment and a greenhouse experiment that each investigate a different chapter of the stoichiometric flexibility "story".  Data from these studies may help restoration specialists select the best species for restoration projects involving alkaline WY soils and predict which secondary invaders might complicate restoration efforts.
---
Richard Walker
 Advisor: Annika Walters
My primary research interest lies within the broad realm of aquatic ecology.  I am mostly fascinated in understanding how disturbances, natural or anthropogenic, influence the ecology of headwater streams.  My current research projects cover a broad range of topics but are particularly focused on how organisms survive and adapt in stressful environments.  I am continually in pursuit of projects that examine the resistance and resilience of aquatic organisms to stream drying.  For my dissertation project, I will be evaluating how multiple stressors interact to affect ecological change in headwater streams across multiple levels of ecological organization (e.g. physiology, population dynamics, community structure, and some ecosystem level responses).  To address my research questions, I plan to synthesize multiple years of fish presence/absence data, implement in-situ manipulative experiments in headwater streams of the Green River in the Wyoming Range, as well as conduct controlled laboratory experiments in which multiple stressors will be manipulated to assess their interactive effects.  With these projects I hope to gain a better understanding of how multiple stressors interact within headwater streams to influence ecological change.  Furthermore, I plan to disseminate our finding to managers and conservationists in hopes that they can better inform and change environmental policies that protect highly vulnerable ecosystems like headwater streams.
---
Rebecca Wilcox
Advisor: Corey Tarwater
Seed dispersal is an ecosystem function critical for maintaining the structure of habitats and ecosystems. However, these unique mutualisms are under threat from climate change and invasive species. My dissertation research focuses on identifying the factors that drive temporal and spatial mismatches between exotic avian disperser movement patterns, habitat selection and dispersal of native plants in Hawaii. With this research I hope to improve our understanding of why mismatches occur between native plants and exotic dispersers and integrate spatiotemporal variation into how we model seed dispersal systems. Ultimately, advancing the way that we model and assess the health of these novel and dynamic ecosystems.
---
Megan Wilson
Advisor: Tim Collier and Scott Shaw
I'm interested in reclamation and restoration science associated with energy development and how different reclamation practices affect the insect community and in turn, higher trophic levels.  My research is primarily focused on insects of importance to sage grouse chicks.  I'm interested in manipulating the plant species originally used to reclaim the land, to include more forbs and shrubs, to potentially increase the biomass of insect species vital to sage grouse development.  I'm also very curious about the effect ants have on a reclaimed community through seed dispersal and predation and possible protection of plants from herbivores.  
---
Save
Save
Save
Save
Save
Save
Save
Save
Save