Saturday University
Saturday U is sponsored by the Wyoming Humanities Council, the University of Wyoming, and the University of Wyoming Foundation, joined by local supporters. In Jackson, these are Central Wyoming College, the National Museum of Wildlife Art, and the Teton County Library Foundation. In Gillette, these include Gillette College and the Campbell County Library.  In sheridan, this includes Sheridan College 
Each Saturday U term features lectures from three outstanding University of Wyoming professors. Following the lectures, all three professors will participate in a final roundtable discussion. Participants may attend one, two, three, or all four sessions. No registration is required, and there is no charge. Participants who attend all three terms are eligible to earn college credit from Central Wyoming College.
Upcoming Terms
Upcoming Terms in Jackson
Winter Term 2013 - March 2, 2013
Upcoming Terms in Gillette
Spring Term 2013 - April 6, 2013
Upcoming Terms in Sheridan
Spring Term 2013 - February 9, 2013
Summer Term 2013 - July 2013 (stay tuned for date)
Other Information 
Directions to Gillette College can be found here.
Follow us on FACEBOOK!
Please return to this website in the future for updates and additional information.
Share This Page:
Winter Term 2013 - Jackson Speaker
Dr. Jerry Parkinson, William T. Schwartz Professor and Former Dean, University of Wyoming College of Law. Join Dr. Parkinson as he explores "The Black 14 Incident: A Defining Moment in the History of the University of Wyoming and Its Intercollegiate Football Program". In the 1960's the University of Wyoming football team was among the nation's elite, having defeated Florida State in the Sun Bowl and competed against LSU in the Sugar Bowl. All of that changed in 1969 when 14 African-American student-athletes were dismissed from the team for seeking to wear black armbands during a game. The impact of that decision affected the fortunes of the football program for years and led to a series of court decisions involving an epic clash between the free speech and religious guarantees of the First Amendment. This presentation takes us behind the scenes of this remarkable chapter in UW and State of Wyoming history.
"Fracking Pennsylvania Shale: Environmental, Economic and Social Lessons" by Timothy J. Considine, Professor of Economics & Finance. Director, Center for Energy Economics and Public Policy, School of Energy Resources, University of Wyoming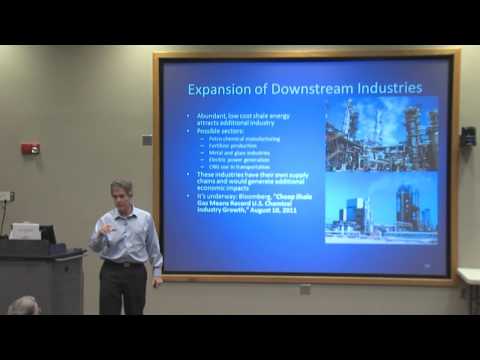 Hydraulic fracturing and other production technologies have unlocked large reserves of oil and natural gas once considered too costly to produce. These new reserves could supply U.S. natural gas consumption for decades. But how to do this safely and profitably? Dr. Considine has spent the last four years studying the drilling of Pennsylvania's Marcellus Shale formation, weighing the costs of production against the price of gas, the impacts on the people, forests, water and air above the formation against steps taken to mitigate such impacts. What does this new data and analysis reveal for future projects?