The SHArK Project
(Solar Hydrogen Activity Research Kit)
Dedicated to splitting water with sunlight
---
Dr. Parkinson's Research Group Web Site
School of Energy Resources
Energy Innovation Center (EIC)
1000 E. University Ave.
Dept. 3012
1020 E. Lewis St.
Shipping & Receiving:
16th & Gibbon
Laramie, WY 82071
Phone: 307-766-6897
Fax: 307-766-6701

Trish Steger
Executive Admin. Assistant
EIC 339
Phone: 307-766-6897
Email:
psteger@uwyo.edu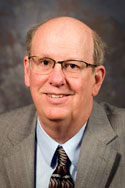 Dr. Bruce Parkinson
Dr. Bruce Parkinson is the J. E. Warren Professor of Energy and Environment and an SER Professor of Chemistry in the Department of Chemistry. He received his Ph.D. from the California Institute of Technology. Dr. Parkinson is an internationally renowned photoelectrochemist who leads a research group that investigates novel methods to harness solar energy. He is expert in developing and evaluating novel materials with photovoltaic properties that convert solar energy into useable energy forms. He is also expert in surface chemistry and removing sulfur from fossil fuels. Dr. Parkinson has published extensively in professional journals, and holds four U.S. patents.
Education
Ph.D. California Institute of Technology 1977
B.S. Iowa State University 1972
Peer-Reviewed Publications
Sambur, JB, Novet, T and Parkinson, BA. 2010. Multiple exciton collection in a sensitized photovoltaic system. Science 330: 63-66.