Alumni Profile
May 31, 2019
Desa Inskeep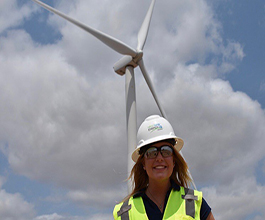 Meet Desa from Alpine, Wy. She graduated this May with a degree in Energy Resource Management and Development.
In the spring of my freshman year, I joined Kappa Kappa Gamma sorority, and I have made lasting memories and friendships with my sorority sisters ever since. I have also had the opportunity to hold several leadership positions and participate in philanthropy events. I would encourage prospective students to check out the fraternity and sorority community, because it has given me a home away from home and a great support system.
Involvement with the Wyoming Student Chapter of Professional Land Managers has given me opportunities and a chance to learn more about other students in my field of study. We are a group of students interested in the real estate of energy, and we meet to discuss current conditions of the energy industry, take field trips and participate in community involvement, networking events and fun events outside of class.
Last summer, I had the opportunity to intern for NextEra Energy in Juno Beach, Fla. As a girl who grew up in the small town of Alpine, I was ecstatic to have the opportunity to intern for NextEra Energy, which is a Fortune 200 Company and the No. 1 generator of wind and solar energy in the world. During the internship, I worked in the land services department and learned about the development process for renewable energy projects. The internship was a great opportunity to gain both personal and professional growth in an environment that was foreign to me.
I accepted a job offer with NextEra Energy before my senior year of college started, and I am excited to begin my career in the real estate of energy upon my graduation from UW.
I would recommend UW because it has a low student-faculty ratio, it's economical to attend, and the group of students is better than that of any other university. I am incredibly grateful to have had the opportunity to attend UW for the past four years.
Learn more about Desa's UW experience in the UWyo Spring magazine.