Professor Tara Righetti Publishes Article on Split Estates in the International Journal of the Commons
October 7, 2020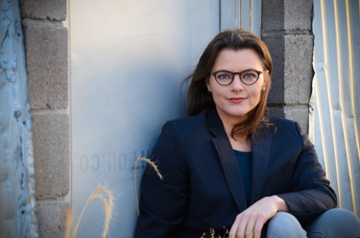 Professor Tara Righetti published an article about split estates with the International Journal of the Commons
Professor Tara Righetti of the School of Energy Resources recently published an article with the International Journal of the Commons in a special edition of the publication. The Journal is an interdisciplinary, peer-reviewed resource, dedicated to furthering the understanding of institutions for use and management of shared natural resources. It is an initiative of the International Association for the Study of the Commons (IASC).
Her article, "Liberating Split Estates," examines split estates as a limited commons. It considers how legal evolutions have modified the scope of the common law implied servitude, and the mineral estate's dominance and opportunities for exit. Her article appears alongside other heavy-hitting legal scholars' contributions, including Carol Rose of Yale Law school and the University of Arizona Law School, and Richard A. Epstein of New York University.
This project builds on Professor Righetti's work concerning governance of fragmented resources and the role of property rules in facilitating self-governance, contracting, and communication.
Professor Righetti comments, "as the scale of resource development changes due to new technologies, coordination between owners may be necessary to permit efficient development and protect individual property interests."
Experts in their individual disciplines, School of Energy Resources faculty members are fully engaged in teaching, research, and outreach activities with an emphasis on energy. SER faculty members are unique in that they are jointly appoint and housed in different departments across campus to help fill the gaps in energy expertise.
Professor Righetti represents the School of Energy Resources in a shared appointment with the University of Wyoming College of Law. She also teaches in the College of Business. She has made major contributions to the legal field through her scholarly research, outreach efforts and teaching, and has brought critical attention to legal issues affecting the Wyoming energy industry.
A renowned expert of oil & gas law in the rocky mountain region, Professor Righetti's scholarship focuses on legal issues related to split estate issues, royalty payments, subsurface trespass, and energy development on public land.
In addition to her most recent publication, she published three other top tier, peer-reviewed articles this year in the Yale Law Journal Forum, the Ohio State Law Review Online, and the Utah Law Review. Article submission to top 100 journals is fiercely competitive, with a rigorous vetting process. All three journals that she published with are among the top 50.
Righetti began working for the University of Wyoming in 2014. Prior to her career in academia, she was the CEO and general counsel of a privately-owned upstream oil and gas company with operations in six states and on the outer continental shelf. In her time at UW, she has helped students advance their research and energy goals by facilitating multiple grant-funded opportunities and has been regularly sought out for her expertise and aid on major energy-related projects in Wyoming. In 2018, she was appointed as a trustee-at-large with the Rocky Mountain Mineral Law Foundation (RMMLF), and most recently, she was awarded tenure at the College of Law and named a Nielson Distinguished Faculty Fellow in the School of Energy Resources.
She is an integral part of the academic programs at SER, teaching core courses for the Energy Resources Management & Development degree. As a Certified Professional Landman, she also served as the Director of the Professional Land Management concentration from January 2016 to August 2020.
The School of Energy Resources is incredibly fortunate to have such a diverse pool of faculty representing the energy initiatives and educational goals of the university and is proud of the accomplishments of the Professor Righetti. 
Professor Righetti shared that the nature of her appointment provides her with the privilege of working with students and faculty from diverse disciplines and at all levels of study at UW.
"The variety of energy expertise among faculty within SER fields has opened doors to exciting interdisciplinary collaborations regarding the intersections of law, regulation, and technology to energy and resource challenges of critical importance to Wyoming."