The Center for Energy Regulation & Policy Analysis at the UW School of Energy Resources Launches Working Paper Platform
November 13, 2020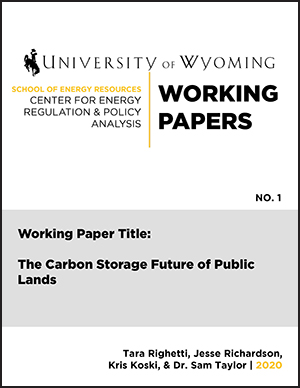 CERPA Working Paper No. 1: Federal Pore Space Utilization for Geologic Carbon Storage by Tara Righetti
The Center for Energy Regulation & Policy Analysis (CERPA) at the University of Wyoming School of Energy Resources launched a new section of its website dedicated to housing "working papers" currently in production through the Center.
Intended as a platform to solicit academic feedback prior to publication, the working paper series features articles, book chapters, and reviews in various stages of completion in the area of energy regulation and policy. Papers in the series have not yet undergone the peer review process.
The authors of the papers are solely responsible for the content of their contributions. Authors may post updated versions of the paper to provide readers with their most current findings as it moves through pre-publication phases.
The first paper to be featured in the series is Federal Pore Space Utilization for Geologic Carbon Storage by Professor Tara Righetti of the UW College of Law and School of Energy Resources. A foremost expert on subsurface property law in the nation, Righetti addresses the challenges and opportunities associated with the utilization of federal pore space, examines existing laws, regulations and guidance on the topic, and outlines potential opportunities for legislative and agency action to encourage geologic storage operations within federal lands. The paper also examines issues associated with split estates and energy development on public lands.
In a secondary capacity, the CERPA working paper series promotes a broader discussion on dynamic research by allowing open access to high-quality research and papers relevant to the state of Wyoming.
"I am eager beyond words to provide substantive content through CERPA," says Kipp Coddington, Director of CERPA. "The road to publication and the peer-review process is often long. This method of delivering information provides timely evidence on policy research aimed at helping the state."
Wyoming stakeholders and interested parties are encouraged to read and discuss material in the working paper series. Comments on papers or questions about their content should be sent directly to the author, at his or her email address.
Papers may be downloaded from this site by individuals for their own use, information, and reference, subject to the ordinary rules governing fair use of professional scholarship. The copyright of a working paper is held by the author or by his or her assignee (Please reference our copyright notice for more details).
Individuals wishing to cite the working paper are requested to do so with the permission of the author in the following format:
Author (Year). Title. Working Paper No. Center for Energy Regulation & Policy Analysis Working Papers.
Downloadable copies of working papers will be removed from the site when they are formally published. After undergoing extensive review, formal publications will be posted separately.
Once a paper has been published elsewhere, it is preferable to cite it in its final, published version, rather than in its working paper version.