The School of Energy Resources Adds Robert Gregory to CORE-CM Team
January 13, 2022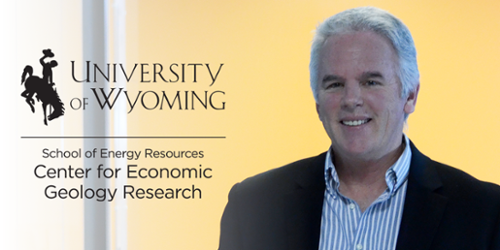 The School of Energy Resource's (SER) Center for Economic Geology Research (CEGR) hired Robert "Bob" Gregory in January 2022 to expand the team of research scientists working on the carbon ore, rare earth and critical mineral (CORE-CM) projects.
Originally from Great Falls, MT, Gregory grew up in Casper and has spent over 37 years in Laramie. After earning a bachelor's degree in Physical and Sedimentary Geology from the University of Wyoming in 1985, he embarked on a 30-year career as a geologist for the Wyoming State Geological Survey (WSGS). He later earned a master's degree from UW in Metamorphic Petrology, graduating in 2009.
Working in various capacities throughout his career with the WSGS, Gregory has experience in geologic mapping, geochemical analysis, and mineral resource evaluation, and brings a wealth of knowledge with him. In particular, he has been a leader in the analysis of rare earth elements (REE), critical minerals (CM), uranium, and industrial minerals. It is his specialization in the ore deposits that make him such a valuable addition to the SER team.
"I am so pleased to welcome Bob to our team," says Erin Phillips, CEGR Senior Research Scientist and Principal Investigator on the CORE-CM project in the Powder River Basin (PRB). "The CORE-CM projects will certainly benefit from Bob's background and experience, and our team is very much looking forward to working with Bob on regional geologic assessments of rare earth elements and critical minerals."
As a new research scientist in CEGR, Gregory will be working on the Department of Energy (DOE) funded CORE-CM projects that launched in fall of 2021 in both the PRB and the Greater Green River and Wind River Basins (GGRB) to assess REE and CM resource potential in Wyoming.
"In the past ten years off and on, I have worked on REE-related projects at the Survey funded mostly by the United States Geologic Survey (USGS) or state legislature," says Gregory. "The move to the School of Energy Resources is a good opportunity at a good time for me because they have some exciting work going on in my wheelhouse."
His work at the WSGS has included co-authoring articles, maps, and reports on coal deposits, oil and gas fields, mineral deposits, diamonds, rare earth elements, and zeolite deposits and occurrences. He has authored or co-authored 10 bedrock geologic maps, with efforts focused on areas in and near uranium mining districts.
Gregory will be utilizing his skills and expertise to analyze expansive coal data and compile analytic data to characterize occurrences and locate REE and CM resources in a variety of geologic settings.
"I'm looking forward to doing a combination of research and analysis to help expand our knowledge and understanding of the nature of REE and CMs," adds Gregory. "This work is important to maximize our chances of finding interesting and significant mineral occurrences and resources."
The School of Energy Resources is pleased to welcome Gregory to the team as it aims to advance and strengthen domestic supplies of REE and CM.