School of Energy Resources Graduates Six Students in Spring Commencement
May 13, 2022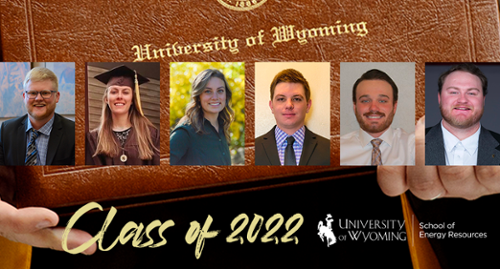 ERMD graduates Isaac Boetthcher, Emily Lantiegne, Juliana Santarelli, Caleb Bowen, Caleb Durgin, Hunter Lee
The School of Energy Resources (SER) is pleased to usher into the professional world a new crew of graduates in the Energy Resource Management and Development (ERMD) degree.
The bachelor of science B.S. degree in ERMD is an interdisciplinary program designed to meet the needs of the energy industry and prepares students for careers in all types of energy development while addressing environmental considerations and working collaboratively with energy law and policy makers. The program offers two concentrations for specialization: professional land management (PLM), and energy and environmental systems (EES).
Representing SER, six students in the ERMD degree will participate in the spring commencement ceremony early Saturday morning before embarking on exciting careers. All ERMD students in the class of 2022 have procured employment prior to graduation.
Graduates Isaac Boettcher, Emily Lantiegne, and Juliana Santarelli have completed their degree within the EES concentration.
Throughout his undergraduate studies, Isaac Boettcher of Idaho Falls, Idaho, was heavily involved the Center for Air Quality, where he worked as an intern. He received valuable experience conducting air quality monitoring as it related to oil and gas development in Wyoming. Following graduation, he will begin working for Jorgensen PC, a construction company engaged in civil engineering, land surveying, and land use planning services. Boettcher will be based in the Pinedale office where he will be involved in environmental impact studies for the organization.
Hailing from Apulia Station, N.Y. Emily Lantiegne worked as a student ambassador for SER, and was instrumental in facilitating the Rocky Mountain Professional Landman Conference in late April. She also completed an internship with Northland Power, Inc. where she was involved with land acquisition projects. Lantiegne has accepted a position with LightEdison, a development service company with a focus on clean electricity infrastructure projects including LED lighting, solar and energy storage.
Juliana Santarelli of Arvada, Colo., earned her ERMD degree with two minors in Rangeland Ecology & Watershed Management and Reclamation & Restoration Ecology. Throughout her undergraduate studies, Santarelli was actively involved in her sorority, Chi Omega, of which she served as president. Additionally, she worked as a construction management intern for the National Renewable Energy Laboratory. Following graduation, Santarelli will be joining the ranks of the Army Corps of Engineers in Cheyenne, WY where she will work in the project management area.
The remaining three ERMD graduates pursued their degrees in the PLM concentration. Caleb Bowen, Caleb Durgin, and Hunter Lee will be working as Landmen and are members of the American Association of Professional Landmen (AAPL).
Caleb Bowen of Sidney, Neb., transferred into the ERMD degree after initially studying chemical engineering. During his senior year, Bowen began working with Three Crowns Petroleum LLC, a private oil and gas development company, as an intern. Following graduation, he will join their team in a permanent capacity as a Landman.  
Caleb Durgin of Gillette, will be joining land services company Pacer Energy in his hometown to start his career. As a landman, he will specialize in mineral title, right-of-way, oil and gas leasing, and surface negotiations. Prior to connecting with Pacer, Durgin spent two summers during his time at UW interning with Peabody Energy.
Hunter Lee of Riverton, has accepted a position as a Title Landman for Rocking WW Minerals, LLC in Sheridan. The company specializes in mineral and royalty acquisitions across the oil and gas producing regions of Wyoming and North Dakota. While in school, Lee capitalized on opportunities to gain hands on experience in the energy industry, spending time working in Wyoming trona production with Genesis Alkali.
Both Durgin and Lee have been exceptionally active students in the PLM program, serving on the executive board for the Student Chapter for Energy Resources. In their capacity as student leaders and mentors, Durgin and Lee helped to revitalize the student club, connect with underclassmen, and promote the program to future students as well as industry partners.
"We have been lucky to have students engage in meaningful internships, even during difficult COVID years, and secure full-time employment prior to graduating," says SER academic director, Kami Danaei. "This speaks volumes to how our degree program is preparing students to enter into a variety of careers and to hit the ground running for their future employers. We are proud of these students and look forward to watching their careers grow and evolve."
In addition to the ERMD degree, SER offers a newly launched, versatile minor that complements many programs at UW. Taeya Lobato of Windsor, Colo., is the sole minor graduate this semester. She completed a degree in Environment and Natural Resources from the Haub School.
Finally, SER is please to recognize the graduate level students that have worked on SER supported projects.

ChooiKim Lau is graduating with a master's degree in UW's Department of Civil and Architectural Engineering and Construction Management. Lau has been the lead student on the coal-derived char bricks developed in the Center for Carbon Capture and Conversion (CCCC). Originally from Alor Setar, Malaysia, Lau obtained her American citizenship and is now a permanent fixture in Laramie, Wyo.
Samir Budhathoki of Dang, Nepal is a doctoral graduate in the UW Department of Petroleum Engineering. He has been actively working on a project in the CCCC converting Powder River Basin coal into a coal char soil amendment as a replacement for bio char in the agriculture industry.
Saurav Pokharel of Katmandu, Nepal earned his master's degree in Mechanical Engineering. Pokharel has been working with mechanical engineering Professor Michael Stoellinger on modeling coal and bio-char conversion in oxy-fuel combustion environments as part of the CCCC.
Earning his Ph.D. in Chemical Engineering, Zuhao Kou of Nanchong, China has been instrumental on the Wyoming CarbonSAFE project in the Center for Economic geology Research (CEGR). His research focused reservoir modeling, multiphase fluid flow, and properties of eolian sandstones to characterize how CO2 will behave in the target formations.
SER's multidisciplinary approach maximizes partnerships and expertise in other UW departments to drive energy education and innovation," says SER executive director Holly Krutka. "As energy issues change, the demand for professionals with a competency in energy resources is greater than ever. SER is dedicated to training those future leaders. We congratulate our graduates on their accomplishments and are confident that they will contribute much to the global energy future."