UW School of Energy Resources Student Presents at Air Sensors International Conference
May 23, 2022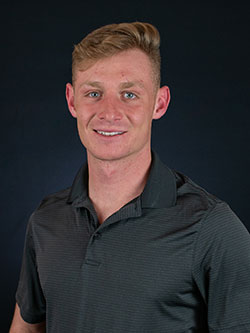 Austin Moon
Austin Moon, a University of Wyoming School of Energy Resources (SER) student, presented a paper co-written with Robert Field, UW atmospheric science associate research professor, at the recent Air Sensors International Conference (ASIC) in Pasadena, Calif.
Hosted by the University of California-Davis, the conference featured various stakeholders to promote and advance air pollution sensors, and to foster community involvement in monitoring air quality.
Since 2018, SER's "Air Quality Management" course and 2B Technologies have collaborated with the AQTreks personal air monitor (PAM). The PAM includes multiple sensors that enable the rapid measurement of air pollutants, including carbon monoxide, particulates and carbon dioxide.
Moon, an SER senior from Cheyenne, is earning his bachelor's degree in energy resource management and development, with a concentration in energy and environmental systems. He was selected from among his peers in the course using the PAM equipment to support his work through further collaborative research with Field.
Moon presented in an ASIC session that focused on youth-led initiatives and efforts to educate and include youth in air monitoring. Moon and Field's research explores the use of the PAM for enhanced air quality education among college-level students. Specifically, their research emphasizes the value of the learn-by-doing technique that was employed in the course.
"The PAM allows individuals to differentiate between different microenvironments that people experience in their lives," Moon says. "A microenvironment can differ drastically from the outside environment, so highlighting how students detect those differences -- and their personal experiences throughout the process -- is a factor in gaining a genuine understanding of pollution exposure."
The most compelling conclusion in the duo's research was the emphasis on the hands-on learning approach and its effectiveness in teaching the students in the course.
"We highlight the benefits of using state-of-the-art technology that allows the student to self-investigate real-world air quality problems to enhance learning outcomes in the field of measurement science," Field says.
The practical approach of teaching students how to use the PAM is consistent with the holistic strategy of the air monitoring program at UW, Field adds.
"'Air Quality Management' provided me with a foundational knowledge of air quality monitoring, systems and protocols, compliance, and health and safety," Moon says. "Air monitoring is an essential part of the energy industry, and this course not only answered why it is necessary, but also how to actually do it. I am so grateful for the opportunity to present on the topic and to share our findings with an enthusiast group of peers."
Specializing in miniaturized equipment for atmospheric and environmental measurements, 2B Technologies is dedicated to the development and commercialization of new analytical instruments that are accessible for widespread use.
Moon represented the project alongside counterparts from the company. Jessa Ellenburg, the director of educational outreach at 2B Technologies, serves as the lead on the AQTreks program and chaired the conference session.
"Austin did an incredible job communicating the unique learning opportunities Dr. Field and UW create for their students," Ellenburg says. "2B Technologies has prioritized community involvement and educational opportunities in air monitoring for over a decade. Seeing Austin's presentation validated our dedication to offering educational products that empower young people to understand their environment. The work UW has done with the PAM makes every minute of our hard work absolutely worth it."