Researchers Complete Cross Well Tomography at Wyoming CarbonSAFE Site
June 30, 2022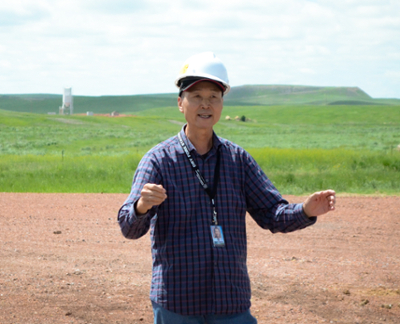 Researchers in the School of Energy Resources (SER) Center for Economic Geology Research (CEGR) completed a cross well tomography analysis as part of the detailed site characterizing for Phase III of the Wyoming CarbonSAFE project.
Led by CEGR Senior Research Scientist John Jiao, the imaging between the two wells adjacent to Basin Electric Power Cooperative's Dry Fork Station was achieved through a seismic survey that was completed on June 10.
"We have two wells drilled and completed to class VI standards that we used to conduct the testing and provide us with a clearer picture of the geology between them," says Jiao. "The data collected will be put into geomodelling software that will help us to better understand the structure changes and reservoir property heterogeneity between the two wells."
In order to conduct the seismic survey, researchers designated one well as the seismic source and the other was equipped with geophone receivers strategically placed at different depths to capture the seismic waves emanating from the source well.
"It was challenging to collect the seismic data because there is a lot of activity in the area making it a noisy site," Jiao explains. "Any noise created by a mining blast or movement of heavy machinery was picked by the sensitive geophones. Fortunately, we can distinguish these sounds, which will actually provide us with a very detailed baseline of activity in the area. We can use this data for the baseline during later injection activity at the site."
The data, which was acquired over four days of testing, will provide details of the structural changes in the geology between the two wells, and will be crucial for additional testing planned later in the summer.
Wyoming CarbonSAFE project partner, Schlumberger, is currently processing the data and will deliver it to CEGR for interpretation and integration into a geologic model.
Additional fluid testing is planned at the site in August in order to test the injectivity, fracture gradient, and the pressure responsivity of the well. The team will inject water into one well and use the other well to monitor fluid flow and pressure response.
"All of these tests are part of a larger effort for environmental testing and baseline monitoring at the site," says CEGR director, Fred McLaughlin. "Our incredible team has been conducting detailed surveys of the soil gas, seismic activity in the basin, and monitoring the ground water. We will already have two years of baseline data before we ever inject CO2. This allows us to define any risks, produce better models, and proceed with a lot more certainty."
Once the seismic data is finalized and the injectivity tests are completed, the team will then perform final mechanical testing of the wells.