UW School of Energy Resources Seeks Proposals Across Hydrogen Energy Supply Chain
July 5, 2022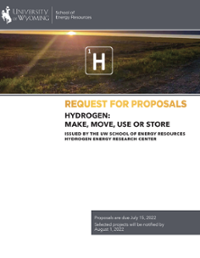 The University of Wyoming School of Energy Resources (SER) is seeking proposals from current UW faculty members on hydrogen energy. Topics of interest for the proposals include all levels of the supply chain, such as hydrogen production, use, transportation and storage.
The opportunity will fund projects up to 15 months in duration and with a maximum budget of $100,000.
SER is focused on energy-driven economic development for Wyoming. To that end, SER recently launched the Hydrogen Energy Research Center (H2ERC) with support from the state of Wyoming and the Anschutz and Williams corporations. H2ERC focuses on applied research to support the growth of a hydrogen industry in Wyoming.
SER leaders say hydrogen is a natural fit for Wyoming energy production, as the state's natural resources and existing infrastructure are well suited to launch a hydrogen economy. Proposals will be considered that evaluate technology, policy and/or economics in the designated topics of interest.
"Harnessing hydrogen is a potentially disruptive technology that could change how we store and consume energy," says Eugene Holubnyak, director of H2ERC. "I am excited to take on this challenge with the bright minds of faculty and students at the University of Wyoming." 
Interested faculty members are invited to submit proposals via email -- as well as any questions -- directly to Holubnyak at eholubny@uwyo.edu with the subject "SER RFP."
For more details on the request, as well as directions for submission, download the full RFP here. The deadline for proposal submissions is July 15. The selected projects will be notified by Aug. 1.