School of Energy Resources Welcomes Kristi Russow as Executive Administrative Assistant
August 1, 2022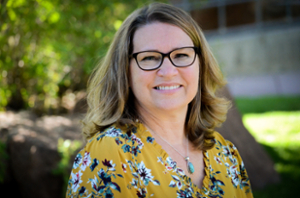 The School of Energy Resources is pleased to welcome Kristi Russow as the latest addition to the team. Russow will serve as the Executive Administrative Assistant to SER Executive Director, Holly Krutka.
While Russow will predominantly be working directly with Dr. Krutka, she brings a background of useful skills and experiences to help assist the wider administrative and research staff.
"I am grateful that Ms. Russow decided to join our team at the School of Energy Resources," says Krutka. "She brings a wealth of experience, expertise and energy that are vital as we grow and continue to drive toward excellence for UW and Wyoming."
Russow came to SER from the University of Wyoming Student Educational Opportunity (SEO) department within Academic Affairs where she spent nearly a decade navigating the nuances of the UW financial and academic systems through her work on federal educational access grants. 
Additionally, she served as the Grant Manager for the Gaining Early Awareness and Readiness for Undergraduate Programs (GEAR UP) as well as the Principal Investigator (PI) on U.S. Department of Education grants housed in SEO's Educational Opportunity Center (EOC).
Originally from Williston, N.D., Russow earned her Associates degree from the University of North Dakota-Williston before completing a Bachelor's degree in Elementary Education from Concordia College in Moorhead, Minn. She later earned a Master's of Educational Administration from South Dakota State University (SDSU).
Prior to moving to Wyoming, she served for 15 years on the faculty at SDSU as a Field Placement Instructor where she managed and supervised prospective teachers and placed them in practical training locations.
"I am thrilled to be part of the School of Energy Resources," says Russow. "I am excited to support everything that SER is trying to accomplish, and I am excited to learn about the different ways that energy impacts Wyoming and contribute all that I have to offer to further that mission."