SER Center for Energy Regulation & Policy Analysis Releases Second Economic Analysis Paper on a Rare Earth Element Industry in Wyoming
August 19, 2022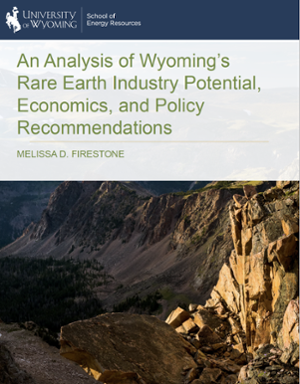 The School of Energy Resources (SER) Center for Energy Regulation & Policy Analysis (CERPA) has published a second resource paper to its website analyzing the economic viability of a Rare Earth Element (REE) and Critical Mineral (CM) industry in Wyoming.
The paper is the second in a two-part series authored by energy economist Melissa Firestone, working under contract with CERPA. The first paper aimed to provide a base understanding of REE, the REE production and extraction process, an overview of the global REE market.
The current paper, "An Analysis of Wyoming's Rare Earth Industry Potential, Economics, and Policy Recommendations," provides a more direct examination of Wyoming's REE resources and their potential.
In addition to addressing possibilities related to the proven Bear Lodge Deposit located in Crook County and owned by Rare Element Resources, Ltd., the paper also explores the economics of extracting REE and CM from other potential conventional deposits, as well as unconventional sources such as coal and coal byproducts, phosphoria formations, and uranium roll-fronts.
"There are several federally funded projects across the U.S. to support and build out REE operations and the potential to scale up production at Bear Lodge presents an opportunity for the state to establish a US based REE industry," Firestone says. "Further bolstering Wyoming's REE prospects and its many unconventional sources of REE has the potential to generate meaningful amounts of domestic purity REE streams."
A second important component the paper addresses is the policy that will be relevant if a REE and CM supply chain is going to be established.
"We know that existing laws and policies in place may pose potential hurdles in getting an REE industry off the ground in Wyoming and nationwide," says SER Executive Director, Holly Krutka. "Our intention with this paper series is to not only show the importance of a domestic REE industry, but also to demonstrate the economic potential and flag the issues that will need addressed for it to become viable. It is our hope that lawmakers in Wyoming will be able to use this paper as a resource for making policy decision down the line."
Founded in 2020 to respond to the energy challenges and opportunities facing the State of Wyoming, CERPA draws upon interdisciplinary energy law, policy, technology and economic experts to conduct world-class energy analyses for the benefit of the State of Wyoming, the intermountain west region and the United States.
To read the current paper as well as other resources released by CERPA, visit the website at www.uwyo.edu/cerpa.