Masters of Natural Science
Mission: To deepen understanding of science concepts and environments that support teaching and learning science
What: A program designed specifically for teachers to expand science content knowledge and appropriate pedagogy for instruction at the middle-level grades

Coursework is offered in Laramie for 4 weeks each June and students may start at any point in the three-year rotation

For Whom? Current teachers who would like to obtain a middle-level science endorsement and have at least 2 years of teaching experience
Why? The content courses can be used as professional development towards meeting the federal definition of a "highly qualified" teacher
Certificate Option
Teachers who are interested in this program, but not in earning a Master's degree, may complete the UW certificate program. This includes completing coursework, which results in an institutional recommendation from UWYO to the professional teaching standards board. For more information about adding an endorsement to a license, visit the
PTSB
website. Required coursework includes:
24 credits of core courses in mathematics and mathematics education
Master's Option
The Master's in Natural Science - Middle Level Science program includes the following coursework and projects:
24 credits of core courses in life sciences, physical sciences, earth sciences, content, pedagogy, assessment, and research
6 credits of appropriate graduate-level science and research courses
Completion of a Plan B (non-thesis) project
Core Courses
The MSC Core Courses are only offered in the summer. The program is on a three-year rotation where four weeks of coursework are offered in June. Courses use interdisciplinary and relevant problems drawn from physical, life, and Earth sciences to explore instructional strategies and research.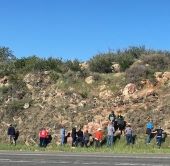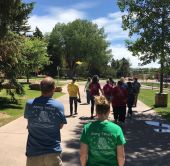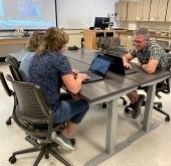 Earth Sciences Rotation (2022,2025)
ASTR 4000 Astronomy for Teachers (2 credits)
NASC 5120 Earth Science in a Global Context (3 credits)
NASC 5300 Natural Science Assessment (2 credits)
NASC 5400 Spatial Data Instruction Technology (1 credit)
Life Sciences Rotation (2023, 2026)
BOT 4790 Field Techniques (1 credit)
ENTO 5601 Insects for Teachers (1 credit)
NASC 5130 Life Sciences in a Global Context (3 credits)
NASC 5660 Standards, Pedagogy and Research (2 credits)
SOC 4890 Global Populations and Environments (1 credit)
Physical Sciences Rotation (2024, 2027)
EE 4800 Energy Policies and Impacts (1 credit)
NASC 5110 Physical Sciences in a Global Context (3 credits)
NASC 5510 Integrated Instructional Strategies (2 credits)
NASC 5600 Math and Stats in Science Teaching (2 credits)
Suggested Courses
NASC 5670

 

Research Methodology (4 credits) is offered synchronously online during the Fall semester in the evening
NASC 5810

 

Middle Level Science and Mathematics Practicum (required for teachers who are not currently teaching middle level science/math; 3 credits) is offered online synchronously in the spring semester of even years (2022, 2024, 2026, etc.)
Application Deadline
Applications are due April 1st. Applicants are encouraged to file early; application reviews and admissions are ongoing.
Scholarships are available as funding allows. Contact the SMTC for information.
This program is a Gainful Employment program.