Division of Social Work's 2017 Distinguished Alumna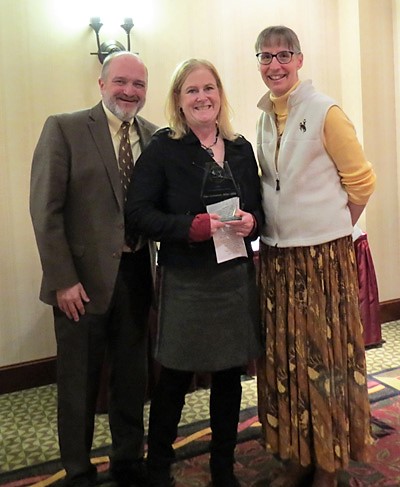 During this year's University of Wyoming 2017 Homecoming week celebrations, the College of Health Sciences (CHS) came together to honor Distinguished Alumni from throughout the college. The Division of Social Work invited Alyce Duckworth, LCSW, to campus to honor her as its Distinguished Alumna.
Alumni from the schools and divisions in the College are honored each year for excellence in and contributions to health and social services. By returning to the UW campus, they are able to share their experiences with and inspire CHS students.
Pictured from left: Interim Dean David Jones, Alyce Duckworth, and Division Director Mary Burman.
Alyce Duckworth MSW, LCSW has 18 years experience as a clinical social worker in mental health. She has worked as a Clinical Supervisor for outpatient therapists, therapy interns and Day Treatment staff. She has also worked a great deal on the "front line" as a therapist with individuals of all ages, families and groups. Alyce is a prolific writer and has authored regular mental health columns for various newspapers in the Denver Metro area for 10 years. The goal of these columns has been to reduce the stigma associated with mental illness and therapy while explaining related concepts in terms that make sense to laypeople in the broader community.
Alyce enjoys public speaking whenever someone will give her a microphone! She has presented in multiple settings, including regional mental health conferences, on many different topics related to trauma and bio-psycho-social functioning. Alyce has consulted with community groups, including local SWAT teams, on managing the trauma reactions of staff and community members to minimize violent outcomes. She enjoys using unorthodox approaches in all her pursuits; including stand-up/improvisational comedy, art, rhythm, right brain activities, and body/mind fusion; to elucidate concepts and promote healing.
Alyce has an sought to deconstruct societal barriers to human well-being while putting the needs and best interests of mental health consumers before ALL other goals. She is currently testing the viability of this ambition in the real world, having co-founded Creekside Collaborative Therapy; A Network of Trauma-Informed Clinicians in Centennial, Colorado. She believes that mind-spirit-body practices can rejuvenate and re-wire the brain, and, accordingly, has been engaged in learning the art of Brazilian Jiu Jitsu for the past 3 ½ + years. In her free time, she can be found sharpening her Brazilian Jiu Jitsu skills, hanging out with friends & family, practicing her stand-up comedy material (on unsuspecting, often captive audiences), and creating multimedia art.