UW Staff Senate
Wyoming Hall, Room 225
Dept. 3413
1000 E. University Ave.
Laramie, WY 82071
Phone: (307) 766-5300
Email:
staffsen@uwyo.edu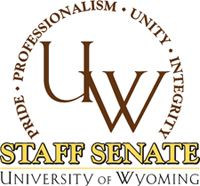 Serving on Staff Senate
Are you or is anyone you know interested in serving on the Staff Senate?
In brief, the responsibilities include:
Representing a constituency of your peers,
Sitting on a sub-committee which meets once a month, and
Having a voice at a monthly Senate meeting.
The Staff Senate is an important actor in the day-to-day life of the university. The Senate investigates issues and avenues that have the potential to make a difference in the ongoing operations of the University. Some of these issues include: fair labor standards and practices, employee benefits, staff development, and formal recognition of employee excellence.
The Staff Senate does make a difference, and it is here to work both for and with you in making the University of Wyoming a great place to work. We ask that you give it some thought and consider serving on Staff Senate or nominating someone who would like to serve.
Serve from "Off-Campus"
With the State of Wyoming as our campus, it's important for UW employees not at the Laramie campus to be informed about issues affecting staff. Two senators, Senate President Jim Logue from IT/Client Support Svcs in Casper, and Beverly Bell from the Outreach Regional Offices in Powell, are actively involved in senate meetings.
Vacancies
Staff Senate currently has division openings in: Academic Affairs, Governmental and Community Affairs, Institutional Advancement, Research & Economic Development, and Student Affairs.  There are also senator-at-large openings for those who would like to serve but who work in a division that is currently full.
If you have questions or would like to serve, please contact Staff Senate at staffsen@uwyo.edu or 766-5300.
Share This Page: