UW Staff Senate
Merica Hall, Room 102
Dept. 3413
1000 E. University Ave.
Laramie, WY 82071
Phone: (307) 766-5300
Email:
staffsen@uwyo.edu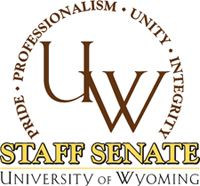 What do you love about working at UW?
Some responses we've received:
"There are so many great places to walk and to relax on campus in the summer. It's a beautiful place."
"We have great benefits."
"I like "Prospector". A terrific resource for those hard to find books or ones that you want to read but not necessarily add to your collection. Especially kids books."
"Summer hours!"
"The tuition waiver is awesome."
"We felt so supported here during our child's recent illness. So many caring folks donated sick leave. Our co-workers and supervisors were so supportive of our need for flexibility as we traveled for treatments and took time to care for our child. UW really is a caring community."
"The great exhibits at the art museum!"
"We get great retirement options here, even with the recent increases in employee contributions."
"Free class each semester!"