Building a Legacy
One of the first faculty members hired to restart the petroleum engineering program, Mohammad Piri went on to spearhead the new High Bay Research Facility.

By Andy Chapman
 

As Mohammad Piri walked along the corridor of the fifth floor of the Engineering Building, his footfalls echoed through the empty, cavernous hallway of what used to be the Department of Petroleum Engineering at the University of Wyoming.
Pick any room, he was told. After all, they were completely empty or storing furniture. It was essentially a ghost town after once hosting a thriving program, shuttered in 1996 when just 26 students were enrolled.

The goal to become a prominent program once again has more clarity now. Piri's vision for a groundbreaking oil and gas research facility has come to fruition in the form of the Center for Innovation for Flow Through Porous Media (COIFPM) at the High Bay Research Facility.
Piri serves as the director of the COIFPM, an especially meaningful position for him. He was among the first faculty hired in 2005 when the university reinstated the petroleum engineering program.

"When I arrived, we had next to nothing," Piri says. "I said to (Wyoming Governor's Energy, Engineering, and STEM Integration Task Force co-chair) Tom Botts that I had to start from the ground up."

Botts quickly interjected: "No, you were below that. You started from the bottom of a ditch."

A Lofty Idea

Originally from Tehran, Iran, Piri earned his undergraduate degree and first master's degree in chemical engineering in his home country. He then took an opportunity to study abroad and earned a Ph.D. from Imperial College in London in 2004, and performed postdoctoral research. He took a position at Princeton University in the civil and environmental engineering department shortly after to work on carbon mitigation projects as a postdoctoral researcher.

This idea for the COIFPM originated from his studies at Imperial College and Princeton. He realized that the theoretical work he was performing had limited prospects in making a difference when it came to actual solutions for problems. Only a few high-end experimental platforms existed that could be used in order to generate experimental data against which the theories could be validated.

Currently, there are vast quantities of hydrocarbons left behind in unconventional and conventional reservoirs, sometimes up to 90 percent. One of the tangible outcomes of the work researchers are doing in the facility is development of safe and effective recovery schemes that allow more oil and gas recovery. If researchers can gain better insight into how hydrocarbons are stored in ultra-tight formations and how they can be realized, more energy can be produced to meet the demands of a growing world population.

"I did modeling and theoretical work, and I continue to do it today, but I started experimental work and had the idea of developing a huge experimental platform with capacity," Piri says. "If I want to make a meaningful difference in this area, I needed help removing the bottleneck for the community, not just the next theory or model or idea that nobody is able to test. I'm very proud. I think we have established the first one of those facilities."

From Humble Beginnings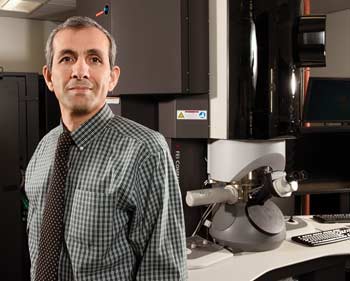 Mohammad Piri, the Thomas and Shelley Botts Endowed Chair in Unconventional Reservoirs in the College of Engineering and Applied Science and a professor in the School of Energy Resources, conducts groundbreaking oil and gas research at the Center for Innovation for Flow Through Porous Media (COIFPM) at the new High Bay Research Facility.
"I was the first faculty the University of Wyoming hired to restart the program after shutting it down in 1996," Piri says. "Of course, I was very excited about it. It was at that time I started thinking about developing a major research facility that would generate high-quality experimental data that we can validate."

Piri began by opening the College of Engineering and Applied Science Encana Research Laboratory. That lab with its capabilities was the only one of its kind in the world, opened in 2008. Then came the Hess Digital Rock Physics Laboratory in 2013.

"That became the platform upon which we started building a lot of other components that today you see being integrated with the High Bay facility," he says. "We saw the success we had with those initiatives."

But those initiatives all had one drawback: limited facility size for research.

"Just before we built Hess, (SER Director) Mark Northam and I started thinking about establishing a facility that would provide not just the capabilities we had established, but also to create massive capacity," Piri says. "A lot of these facilities can handle only a certain amount, thereby creating a bottleneck that limits our ability to solve the technological challenges we face today in the reservoirs. We were discussing this on a whiteboard, and we wrote a proposal together and shared it with the governor's task force as a way to elevate the College of Engineering to Tier-1 status. That's when the whole thing started."

Piri and Northam began raising funding from private and state sources.

"We started planning for a way to have the research capacity that they needed to solve some really important problems," Northam says.

What it Means

A clear vision enabled a facility that not only provides unique capabilities to enable multi-scale research on flow and transport in porous media, but also provides massive capacity to conduct multiple studies. At its essence, that's what makes the facility so transformational.

"This facility, no doubt, will play a major role in helping us attract talent at the university," Piri says. "That's what we want to see: talent at multiple levels, at the research and postdoctoral level and at the graduate level. This facility also will reach the education of our undergraduate students. We are very keen to make sure that happens. High-caliber talent at an institution can take the research to a new level. It is all about having the right people and talent, and then it's about the facility. If we are able to get much higher-quality talent here, we have a much better shot at taking this to a new level, and then we will be able to actually be confident we are developing solutions to the challenges."

Piri is quick to point out that his facility will be useful for many areas, not just oil and gas. The capabilities have direct relevance to other flow through porous media problems in different areas of science and engineering—areas like environmental engineering and sequestration of large quantities of carbon dioxide (CO2) in deep aquifers. That is a key area to mitigate impact of CO2 emissions.

"It is the capabilities and the manner in which they have been integrated here that enable multi-scale flow of transport through porous media in one location," Piri says. "The capacity—the ability to conduct numerous experiments under application relevant conditions. Those two factors together make this a unique facility."

Nothing Came Easy

The challenges have been numerous. Piri was, like any other tenure-track faculty member, on a tenure clock. He had to show real progress in five to six years in order to be tenured, which made his situation a daunting task as a young scientist.

"When I arrived here, I'll be honest—it was scary for a number of reasons," he says. "We didn't have much, and the program didn't have any students. I didn't have very many petroleum engineering colleagues to collaborate with. We didn't have facilities. A lot of the labs on my floor were either inactive, or they were used as storage.

"I was very lucky that I had access to absolutely excellent leaders in the state, and coupled with some of the visionary leaders in the university helped me to start developing initiatives that would allow me to create some momentum."

The department used that momentum to hire faculty and increase enrollment. Piri's optimism grew, and he believes UW is on track to become a premier destination for research and education. As of spring 2017, the department has 257 undergraduate students, 50 graduate students and 14 faculty.

"Are we done growing? Absolutely not. In fact, we have a solid vision of where we want to go from here," Piri adds. "But we are also taking time to look back and see where we started from and where we are now. How did we achieve that? What were the lessons we learned? How can we deploy the lessons moving forward?"

Leaders Step Up

While Piri spearheaded the efforts, he knows it wouldn't have gotten off the ground if not for the contributions of several prominent individuals. It's a long list, which includes Northam, former Wyoming Gov. Dave Freudenthal, current Wyoming Gov. Matt Mead, Greg Hill (president and chief operating officer of Hess Corp.), Botts (former executive vice president of global manufacturing at Shell Downstream Inc.), Chad Deaton (former chief executive officer of Baker Hughes), the governor's task force, UW Board of Trustees and members of university leadership, and UW Foundation President Ben Blalock.

Hill was on a visit to UW, his alma mater, when he first learned of Piri's fledgling work in imaging flow through porous media. He was struck by the potential impact the research could have on recovery in fields like the Permian, Bakken and Eagle Ford. Hill leaned on his experience developing a large field like the Bakken, where the recovery rate is in the high teens, leaving about 80 percent in the ground using current techniques. That's when he proposed partnering with Piri on this research, which led him to persuade Hess to give $25 million to UW to amplify Piri's research and provide the base funding for High Bay.

"The implications are much broader than Wyoming, because it can apply to all unconventional reservoirs around the world," Hill says. "The kinds of things he's doing—no one else is, nor can they. If the breakthroughs happen that are possible, Wyoming has a lot of unconventional reserves. If companies can double recovery, that has huge economic implications.

"His work is becoming a magnet for other companies to invest. One of my hopes is to make Laramie and UW the formative vessel for flow through porous media. He has already gotten us on the world stage, and I'd like to see that grow even further. When you're No. 1, you're a magnet. You can get the best people. We have the opportunity for that."

It's Only the Beginning

Between his hectic travel schedule and research and teaching duties, Piri rarely has time to sit around. But he admits seeing the progress of the facility has allowed him to reflect.

"I'm extremely proud. I know where we started from and where we are today. I am mindful of the fact that excellence requires constant attention to maintenance," he says. "I'm also grateful to the leaders in the state and university and around the world. I did not reach this point on my own.

"I'm grateful to those who have helped me reach this point. I'm mindful that I don't want us to stop at this point. We want to keep going forward and upward. Looking back, it provides a sense of satisfaction that is hard to describe. Seeing the University of Wyoming being considered as a key institution in this area of research gives me a sense of satisfaction that is very hard to explain."