Contact Us
Institutional Communications
Bureau of Mines Building, Room 137
Laramie
Laramie, WY 82071
Phone: (307) 766-2929
Email: cbaldwin@uwyo.edu
UW Receives $500,000 Gift in Ada Cryptocurrency from IOHK
February 14, 2020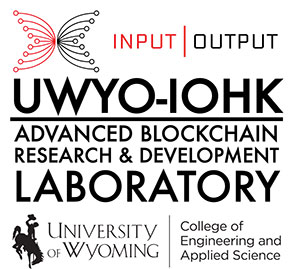 The University of Wyoming has received a gift of $500,000 in Ada cryptocurrency from IOHK (Input Output, iohk.io), a leading international technology company. The gift supports the development of blockchain technology.
The gift is the largest cryptocurrency gift to UW and is among the largest cryptocurrency gifts to a public university. UW is one of the first universities to accept cryptocurrency donations.
"The potential real-world applications of blockchain are limitless, and IOHK's donation of $500,000 to the University of Wyoming's Blockchain Research and Development Lab will go some way in helping to realize that potential -- and also help to bolster Wyoming's burgeoning blockchain revolution at large," says Charles Hoskinson, IOHK founder and CEO. "The Wyoming Blockchain Task Force's supportive business environment is what led IOHK to choose to invest here."
The IOHK gift is being doubled to $1 million by state matching funds and, as part of the legislative match, the university is providing additional supporting funds.
"The University of Wyoming is proud to be at the forefront of blockchain research and education, and we are grateful for this significant financial contribution from IOHK," says UW Acting President Neil Theobald. "This support will help us continue to move forward in a very exciting and promising field of innovation and discovery."
The gift will support the UWYO-IOHK Advanced Blockchain Research and Development Laboratory, which will be housed in UW's Secure Systems Collaborative (www.uwyo.edu/s2c) along with CEDAR, UW's Cybersecurity Education and Research center.
"The College of Engineering and Applied Science warmly embraces this new collaborative relationship with IOHK," says the college's interim dean, Cameron Wright. "This gift will enable students and faculty across multiple departments in the college to work together with IOHK to push the envelope on blockchain technology, including software, hardware and new blockchain applications."
In this UW lab, faculty members and graduate students will develop practical hardware and software applications of blockchain technology in the real-world use cases of cryptography, authentication, supply chain management, cryptocurrency and smart contracts.
Blockchain is a breakthrough in database technology for storing information -- a secure digital ledger for smart contracts and cryptocurrency such as Bitcoin and Ada, IOHK's digital currency. This innovative technology is revolutionizing industries such as banking, law, identity and chain of custody.
The lab will take advantage of UW's existing expertise in blockchain, including Professor James Caldwell and Assistant Professor Mike Borowczak, who will be co-directors of the Advanced Blockchain Research and Development Laboratory, as well as Philip Schlump. It will expand that expertise with visiting faculty and master's, Ph.D. and postdoctoral students.
"This funding and partnership between IOHK and UW provide an unprecedented opportunity for the university and the state of Wyoming to establish ourselves on the leading edge of blockchain technology," Caldwell says. "IOHK is building the blockchain of the future and has done so with a team of exceptional computer scientists from around the world. The UW Department of Computer Science is very pleased to have this opportunity to collaborate in building the future and to apply the technology right here in Wyoming."
"This new endeavor enables UW to recruit and produce professional computer scientists, engineers, researchers and leaders with a unique set of core competencies related to the effective deployment of secure distributed systems," Borowczak says. "From market analysis to fundamental secure hardware architecture and development to algorithmic and contract design to end-user implementations, our students, faculty and researchers will be positioned to define and solve the next generation of blockchain-related challenges as a result of this mutually beneficial partnership with IOHK."
UW's departments of Computer Science, and Electrical and Computer Engineering are working to establish the university as a leader in blockchain education, research and applications.
Based in Denver, Hoskinson has said he feels a moral obligation to Wyoming: His father is a physician in Gillette, and he would like to give back to the state. Hoskinson also was a guest speaker at the 2019 UW Hackathon. Founded in 2015 by Hoskinson and Jeremy Wood, IOHK is committed to using peer-to-peer innovations to provide financial services to the 3 billion people who don't have them. 
Wyoming blockchain legislation in 2018 and 2019 -- with more proposed in 2020 -- has established the state as a leader at the international forefront of this new technology, which promises to dramatically affect the lives of individual citizens, business practices, the day-to-day processes of government, and international trade and relations.
UW alumna Caitlin Long has been leading the charge in supporting Wyoming's blockchain initiatives. Long is a 22-year Wall Street veteran who has been active in Bitcoin and blockchain since 2012. She was a member of the Wyoming Blockchain Task Force.
"It is wonderful for UW and IOHK to partner for blockchain research, as the IOHK team is highly academically focused," Long says. "What an honor that they selected UW."
The legislation puts Wyoming in the unique position of being a focus of the international community of blockchain technologists. As a direct result of the legislation, a number of blockchain companies have shown significant interest in locating in or relocating to Wyoming.
The gift announcement took place today (Friday) at UW's Marian H. Rochelle Gateway Center. Speakers included Hoskinson, Theobald and Wright.
Contact Us
Institutional Communications
Bureau of Mines Building, Room 137
Laramie
Laramie, WY 82071
Phone: (307) 766-2929
Email: cbaldwin@uwyo.edu