Contact Us
Institutional Communications
Bureau of Mines Building, Room 137
Laramie
Laramie, WY 82071
Phone: (307) 766-2929
Email: cbaldwin@uwyo.edu
UW's Kvenild Receives Distinguished Education and Behavioral Sciences Librarian Award
March 9, 2020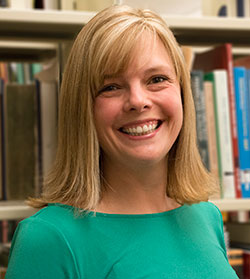 Cass Kvenild
Cass Kvenild, University of Wyoming Libraries associate dean, is the 2020 recipient of the Education and Behavioral Sciences Section (EBSS) Distinguished Education and Behavioral Sciences Librarian Award for her contributions as an education librarian.
The EBSS Distinguished Education and Behavioral Sciences Librarian Award is sponsored by the American Psychological Association and administered by the Association of College & Research Libraries. The award will be presented at the American Library Association annual conference in June.
The award honors librarians who have "demonstrated achievements in their ability to provide service to related professional organizations; significant academic library service in the areas of education and/or behavioral sciences; significant research and publication in areas of academic library services in education and/or behavioral sciences; or planning and implementation of academic library programs in education and/or the behavioral sciences of such quality that they could serve as a model for others."  
"Over the past two decades, Cassandra Kvenild has demonstrated exemplary commitment and excellence in education and behavioral science librarianship at the local, state and national levels. Her scholarship has impacted various areas of librarianship, including distance education, instruction, assessment and cataloging," the EBSS Awards Committee notes of Kvenild's nomination.
Kvenild joined UW Libraries in 2003. During her time at UW, she has served as the distance learning librarian, the head of the Learning Resource Center and the assistant dean of Education and Research Services. She was appointed associate dean in July 2019. In this role, she oversees all operational activities of UW Libraries; facilitates the work of the three large divisions; and provides oversight for the appointment and promotion of library faculty.
Contact Us
Institutional Communications
Bureau of Mines Building, Room 137
Laramie
Laramie, WY 82071
Phone: (307) 766-2929
Email: cbaldwin@uwyo.edu