Contact Us
Institutional Communications
Bureau of Mines Building, Room 137
Laramie
Laramie, WY 82071
Phone: (307) 766-2929
Email: cbaldwin@uwyo.edu
UW Appoints Barrett to Lead Undergraduate Education Efforts
May 18, 2020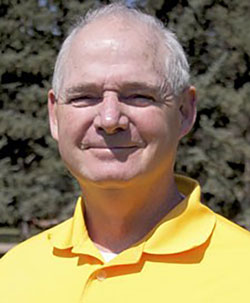 Steven Barrett
An accomplished professor and associate dean in the College of Engineering and Applied Science has been selected to fill the position of associate vice provost for undergraduate education at the University of Wyoming.
Steven Barrett will begin his new duties June 1 and report directly to the provost. In his new role, he will be tasked with facilitating new strategic undergraduate degree initiatives and providing guidance and support for undergraduate faculty and students.
He succeeds Anne Alexander, whom incoming President Ed Seidel has appointed as UW's interim provost.
"I am so happy to be offered this position," Barrett says. "I know I have big shoes to fill. I will continue to serve UW to the best of my ability."
Barrett has been with UW since 1999. He earned a B.S. from the University of Nebraska-Omaha; a master's degree from the University of Idaho; and a Ph.D. in electrical engineering from the University of Texas-Austin. He came to UW after serving as an active-duty faculty member and professor at the U.S. Air Force Academy.
Contact Us
Institutional Communications
Bureau of Mines Building, Room 137
Laramie
Laramie, WY 82071
Phone: (307) 766-2929
Email: cbaldwin@uwyo.edu