Contact Us
Institutional Communications
Bureau of Mines Building, Room 137
Laramie
Laramie, WY 82071
Phone: (307) 766-2929
Email: cbaldwin@uwyo.edu
UW's Denzer Receives Educator Award from Architectural Engineering Institute
May 4, 2020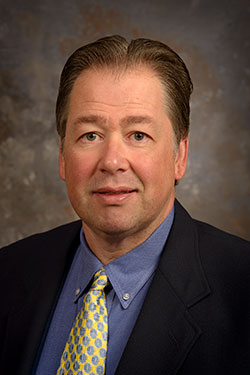 Tony Denzer
Tony Denzer, a University of Wyoming associate professor of civil and architectural engineering, recently received the Architectural Engineering Institute's (AEI) 2019 Outstanding Architectural Engineering Educator Award.
"I was very excited to get the news. It's a great honor to be recognized by AEI," says Denzer, who also is head of the Department of Civil and Architectural Engineering. "I'm always experimenting with different teaching methods, because I want to create the best environment for students to learn."
AEI, part of the American Society of Civil Engineers (ASCE), is the premier organization for architectural engineering. AEI promotes an integrated, multidisciplinary approach to planning, design, construction and operation of buildings by encouraging innovation, collaboration and excellence in practice, education and research of architectural engineering. 
Traditionally, the award is presented during AEI's annual awards banquet; however, ASCE canceled this year's program due to the COVID-19 pandemic.
Because AEI includes academics and professionals, there is a great interchange of ideas and opportunities, Denzer says.
"Since I joined AEI in 2006, it has grown quite a bit, but it is still a close-knit, supportive community," Denzer says.
Denzer joined the UW engineering faculty in 2005, where he rose from assistant professor to associate professor serving the architectural engineering program.
"My role as an educator, over the years, has evolved to stay in step with the ever-changing landscape of our professional practice. New computing tools have revolutionized how buildings are designed, and there's a much stronger emphasis on sustainability," Denzer says. "It takes a lot of effort to stay aware of the cutting edge and bring those practices into the classroom."
In 2015, Denzer became head of the Department of Civil and Architectural Engineering, where he works to open doors, solve problems and connect alumni and industry partners with students, faculty and staff.
"It's so critical that we impart on architectural engineering students that the big picture is to improve the quality of life for individuals and communities, so it's a noble calling," Denzer says. "When you graduate and go to work, the accomplishments will be tangible and direct. It's tremendously satisfying to see a project from conception to completion and, then, see people using it. Professional responsibility is very important, because a poorly designed building can hurt people, but a well-designed building is a gift."
Denzer offers some advice for anyone interested in becoming an educator in the architectural engineering field.
"A friend told me I staple wings onto kids and make them fly," he says. "That's a fun way to think about it."
To learn more about the Department of Civil and Architectural Engineering in the UW College of Engineering and Applied Science, visit www.uwyo.edu/civil/.
Contact Us
Institutional Communications
Bureau of Mines Building, Room 137
Laramie
Laramie, WY 82071
Phone: (307) 766-2929
Email: cbaldwin@uwyo.edu