Contact Us
Institutional Communications
Bureau of Mines Building, Room 137
Laramie
Laramie, WY 82071
Phone: (307) 766-2929
Email: cbaldwin@uwyo.edu
Nga Nguyen Receives UW Engagement Fellowship
June 8, 2020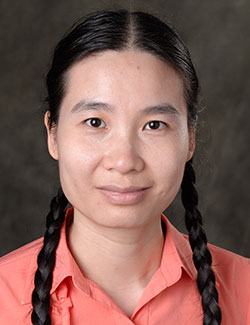 Nga Nguyen
Nga Nguyen, an assistant professor in the University of Wyoming Department of Electrical and Computer Engineering, is among four recipients of the 2020-21 Faculty Engagement Fellowship awards.
She will receive the Office of Engagement and Outreach (OEO) Faculty Engagement Fellowship. Nguyen will work with OEO and the Science Initiative's Rachel Watson to combine her work on renewable energy resources with outreach to Wyoming's K-12 students.
The competition attracted proposals from a broad range of disciplines across UW, from people working in public engagement, engaged teaching, engaged scholarship and outreach focused on community impacts.
The other three UW recipients are Alyssa McElwain, a human development and family sciences program option assistant professor; Tiger Robison, a music education assistant professor; and Reshmi Singh, a social and administrative pharmacy associate professor.
The awards are for faculty members working on projects during the 2020-21 academic year. Fellows receive a stipend of $10,000 and up to $2,000 to support outreach programs and travel expenses. Recipients will work with OEO Director Jean Garrison and members of the UW Engagement Council to develop their projects and organize at least one significant outreach program series both on and off campus. Projects focus on faculty development or enhancing engagement and outreach in their respective fields of study.
This is the second faculty engagement fellowship competition.
"This year, our new cohort of Engagement Fellows comes from a wide variety of backgrounds and presents new ideas and solutions to problems around the state and the world," Garrison says. "We look forward to working with the new fellows and seeing their creative solutions for engagement during this time of uncertainty."
She adds that the fellowships, along with UW's Marvin Millgate Awards for faculty, staff, students and community partners, are the top awards given by OEO.
Nguyen's project, titled "Small Scale Renewable Energy Generations -- Early Education for Children of Wyoming about Renewable Energy Resources," is to educate Wyoming youth about renewable energy resources through classroom visits. The project will give students the ability to create their own renewable energy resource generators.
Nguyen and her team of graduate students will visit five middle schools around the state and engage students through in-class lectures; group activities of assembling a renewable energy resource generator; and group discussions. The goal is to engage with at least 50 students at each visit.
Local school visits are with the assistance and collaboration of UW's Science Initiative Learning Actively Mentoring Program (LAMP), an outreach program that has a strong relationship with Wyoming's K-12 educators. Nguyen will work with Watson, LAMP's director, to engage with more than 250 students during the academic year.
Nguyen also hopes to bring specifically interested students to campus to design and build their own renewable energy resource generators with the help of her team. Students will create small capacity generators that can supply electricity for a lighting system or charging a mobile device with materials supplied through the project.
Students also will use the UW Department of Electrical and Computer Engineering facilities to model their electrical systems to see the impacts of their renewable resource integrations into a small power grid, Nguyen says.
"Through this, students will be able to model carbon, sulfur and nitrogen dioxide emissions of a conventional generator -- with the same capacity as their product -- to see the real impact of renewable energy resources on the environment," she adds. "Students will be encouraged to present results from their projects at their own schools or science fairs."
Contact Us
Institutional Communications
Bureau of Mines Building, Room 137
Laramie
Laramie, WY 82071
Phone: (307) 766-2929
Email: cbaldwin@uwyo.edu