Contact Us
Institutional Communications
Bureau of Mines Building, Room 137
Laramie
Laramie, WY 82071
Phone: (307) 766-2929
Email: cbaldwin@uwyo.edu
Dale Named Interim Dean of UW College of Arts and Sciences
July 16, 2020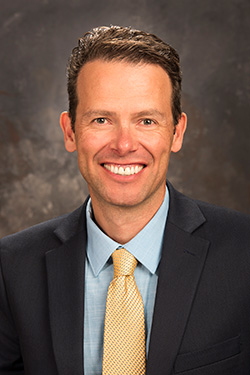 Danny Dale
A longtime University of Wyoming Department of Physics and Astronomy faculty member has been named interim dean of UW's College of Arts and Sciences.
Danny Dale, who has been serving as an associate dean in the college, took the reins this week from Dean Paula Lutz, who is retiring after leading the college for the past seven years. He will serve until a new dean is appointed; three finalists for the position are scheduled to visit campus starting next week.
"Danny is serving as our A&S dean during an incredibly challenging but exciting time for UW. A&S touches every student on campus, and Danny's willingness to step up and serve is a sign that better days are emerging for us already," Interim Provost Anne Alexander says. "He's a first-rate scientist, a collaborative leader, a creative thinker, and a trusted and talented senior faculty member. I'm excited to work with him."
Dale joined UW in 2001 as a professor in the Department of Physics and Astronomy. He served as department head for nine years (2008-2017) and became an associate dean in 2018. He received his Ph.D. and master's degree from Cornell University and his bachelor's degree from the University of Minnesota-Duluth.
His honors at UW have included the Ellbogen Meritorious Classroom Teaching Award and the National Science Foundation CAREER Award.
Contact Us
Institutional Communications
Bureau of Mines Building, Room 137
Laramie
Laramie, WY 82071
Phone: (307) 766-2929
Email: cbaldwin@uwyo.edu