Contact Us
Institutional Communications
Bureau of Mines Building, Room 137
Laramie
Laramie, WY 82071
Phone: (307) 766-2929
Email: cbaldwin@uwyo.edu
UW's Monago Named NADOHE Fellow
July 27, 2020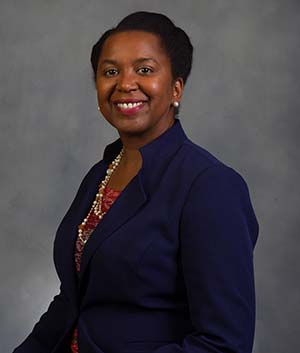 Emily Monago
University of Wyoming Chief Diversity Officer Emily Monago recently was selected as a fellow by the National Association of Diversity Officers in Higher Education (NADOHE).
Monago is one of seven leaders who will participate in the NADOHE's Chief Diversity Officer Fellows Program (CDOFP) for the 2020-21 academic year.
The CDOFP is a professional leadership/mentorship program for new and early career chief diversity officers (CDO). The goal of the program is to provide the fellows with mentoring by senior-level CDOs and guided professional development experiences.
As a fellow, Monago will:
-- Design, in collaboration with her mentor, an individualized CDO leadership enrichment and achievement plan for the fellowship year. This includes creating the plans, goals, objectives, activities, campus site visits, a special project with at least one major deliverable and a budget plan for use of the fellowship award.
-- Visit her mentor's campus for two to three days for on-site learning and enrichment experiences. Due to the ongoing COVID-19 pandemic, the visit will follow guidance for travel from the Centers for Disease Control and Prevention (CDC) and UW.
-- Develop and implement a special project with tangible outcomes to benefit her as CDO and/or the institution.
-- Present to the NADOHE Board of Directors during the NADOHE annual conference about the CDOFP year, incorporating the special project and its outcomes.
-- Participate in a CDOFP assessment.
"I am both excited and honored to serve as one of the seven CDO Fellows in the nation," Monago says. "I am looking forward to completing a special project that will benefit the campus community and partnering with other CDOs nationally. I also am looking forward to being among this distinguished group of new or early career CDO Fellows as we present our collective progress to advance inclusive excellence at our respective campuses and communities at the NADOHE annual conference in March 2021."
As part of the program, mentors will visit the fellows' campuses to better understand the diversity issues and challenges facing them. These campus visits will follow guidance for travel from the CDC and the individual institutions.
Monago's mentor, Charlene Alexander, vice president and CDO at Oregon State University, will visit UW this fall for two to three days. Alexander will evaluate and make recommendations regarding UW's diversity, equity, inclusion and social justice efforts.
"This visit means that UW will have a diversity consultant who will engage in conversations with UW's senior leadership and others to assess our diversity and inclusion efforts and make recommendations -- for free," Monago says. "This is a great benefit for the campus community and a first for the University of Wyoming."
Monago joined UW in 2017 as the university's first CDO. In addition to leading the UW Office of Diversity, Equity and Inclusion, Monago serves as adviser to several diversity programs on campus, including Martin Luther King Jr. Days of Dialogue and the Shepard Symposium. She also provides input in diverse employee and student recruitment and retention efforts.
Before coming to UW, she served as the director of the Office of Multicultural Affairs at Bowling Green State University, and she was the interim administrator in charge of equity, diversity and inclusion programs. She has taught courses in interpersonal communications and worked in Bowling Green's Center for Multicultural and Academic Initiatives from 1999-2010.
Monago received a doctorate in communication studies from Bowling Green in 2008; a master's degree in public administration from Kent State University in 1999; and a bachelor's degree in general studies from Kent State in 1993.
NADOHE serves as the preeminent voice for diversity officers in higher education. Its vision is to lead higher education toward inclusive excellence through institutional transformation.
For more information about NADOHE, visit www.nadohe.org.
Contact Us
Institutional Communications
Bureau of Mines Building, Room 137
Laramie
Laramie, WY 82071
Phone: (307) 766-2929
Email: cbaldwin@uwyo.edu