Contact Us
Institutional Communications
Bureau of Mines Building, Room 137
Laramie
Laramie, WY 82071
Phone: (307) 766-2929
Email: cbaldwin@uwyo.edu
Wyoming 4-H'ers Flex Life Skills in Annual Showcase Competition
October 23, 2020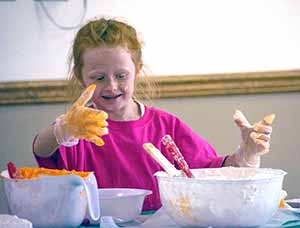 Piper Wolf, of Natrona County, orchestrates frosting during the cake decorating contest at the annual 4-H Showcase Showdown. (UW Photo)
There would be no live radio broadcasts or Wyoming television stations airing videos of standout performances last Saturday from Douglas.
There were no footballs, volleyballs or soccer balls. Youths in the University of Wyoming Extension's 4-H Program scurrying to prepare 20-minute sausage pasta for judges for tasting, judging wool quality, programming robots or decorating cakes with frosting dished from 5-gallon buckets don't make for action footage.
Still, there were moments during the contests meant to build lifelong skills. Mike Harvey, of Glenrock, watched as his 13-year-old daughter, Kennadi, and her team prepared their pasta meal with a memory seared into his heart from his and wife Tammy's 19th anniversary this year.
The couple had planned to celebrate by going out to eat but, because of the coronavirus outbreak, Kennadi invited them to stay home. She and her siblings would prepare dinner.
"Oh, man, chicken parmesan, fresh asparagus and, before we even ate, on the patio she made up cheese and crackers and fruit," Harvey says. "It was really cool. One of my proudest moments was when Kennadi made that dinner. That was probably the best anniversary ever."
More than 152 4-H'ers from across the state registered for this year's Showcase Showdown, pushed back from summer by COVID-19. The annual event, held at the Wyoming State Fairgrounds this year, provided a forum for youths to perform individually or on teams.
Some 4-H'ers thrive on the competition, and others compete for fun, says Mary Louise Wood, a longtime Albany County 4-H educator. The competition is the bonus, but what's important is all of the work done ahead of time to learn different and new skills.
There are many subjects and topics. All have some team involvement, so 4-H'ers have to be able to communicate, in addition to flexing skills.
"They learn people skills, those soft skills employers want people to have, so they have to be able to talk to each other. They've got to be able to think on their feet," Wood says.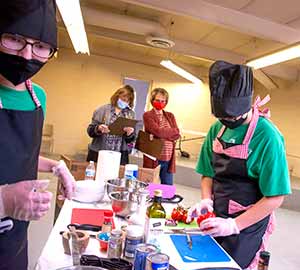 Food cook-off competition judges observe Julia Skinner, left, and Kennadi Harvey, members of the LaBonte Gourmet team of Converse County, prepare their menu item at the 4-H Showcase Showdown. (UW Photo)
She has seen young children starting in 4-H who won't say a word to anyone.
"And it may be that way the first year," she says. But later, "For some of them, they actually will go talk to somebody they don't know, or they will answer a question from a judge or maybe a total stranger from another county. There's that opportunity for them to blossom."
She notes a couple of 4-H'ers in Albany County who are pretty quiet.
"I give them a hard time about being too noisy and, one of these days, they'll get me back," she says.
Some youths want more than kudos for just participating.
"There are those who competition drives them to get better and succeed," Wood says. "Not all of them. Some of them will do it just for the fun of it."
Fremont County 4-H educator Alex Malcolm acknowledges the competition aspect but also emphasizes the camaraderie among 4-H'ers.
"When all of the kids come together and compete in different contests, they enjoy the competition, but it's more of a 'Hey, I'm glad I got to see you. I haven't seen you for four or five months,'" he says. "When you bring in the young ones, it starts that whole aspect of developing those relationships that will last way beyond here.
"It's another tool to build those lifelong relationships."
4-H participation is a different sense of belonging than school, he says.
"Everybody has the same kind of uniqueness, the same kind of background, so it's not nearly as cliquish as the schools where you have the jocks, the cheerleaders or the other kids," Malcolm says. "Everybody's on the same playing field. They develop those relationships and, the more times they come and be involved, the deeper those relationships are."
More information about the Wyoming 4-H Program is at www.uwyo.edu/uwe/programs.
Contact Us
Institutional Communications
Bureau of Mines Building, Room 137
Laramie
Laramie, WY 82071
Phone: (307) 766-2929
Email: cbaldwin@uwyo.edu