Contact Us
Institutional Communications
Bureau of Mines Building, Room 137
Laramie
Laramie, WY 82071
Phone: (307) 766-2929
Email: cbaldwin@uwyo.edu
Godby Appointed Interim Dean of UW College of Business
February 17, 2021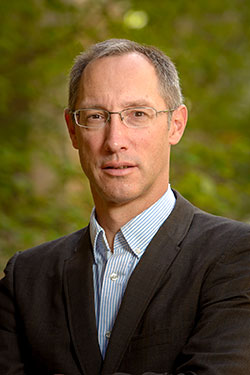 Rob Godby
A longtime University of Wyoming faculty member and expert on the state's economy has been appointed as the interim dean of UW's College of Business.
Rob Godby, an associate professor in the Department of Economics and most recently acting associate dean of the Haub School of Environment and Natural Resources, will take the reins of the College of Business May 1. He succeeds Dean David Sprott, who is leaving UW to become dean of the Drucker School of Management at Claremont Graduate University in California.
Godby's appointment was approved today (Wednesday) by the UW Board of Trustees.
"Dr. Godby is well known in the College of Business, across the university and around the state," Interim Provost Anne Alexander says. "We're confident he will provide excellent leadership for the college and maintain the momentum built during Dean Sprott's time here."
Godby joined the UW faculty in 1997. His research areas include natural resource, energy and environmental economics, industrial organization and macroeconomic policy, and he is often interviewed by national and international news media on energy and macroeconomic issues.
In addition to his role at the Haub School, Godby was deputy director of UW's Center for Energy Regulation and Policy Analysis from 2019-2020; served as the director of the Center for Energy Economics and Public Policy from 2014-19; and has served as a Daniels Fund Ethics Initiative Faculty Fellow.
Godby also is an adjunct faculty member with the MBA program at Pforzheim University in Germany. He chaired the Department of Economics and Finance in UW's College of Business from 2005-2010 and 2015-16.
Outside his academic duties, Godby was appointed to serve on the state of Wyoming's Consensus Revenue Estimating Group in 2019.
"I am honored to have been chosen to serve the university and to help guide the College of Business in this time of transition, both for the state and UW," Godby says. "The College of Business plays a critical role in training our future business leaders, and I look forward to ensuring our students continue to succeed by helping to maintain and expand the high quality of education, scholarship, outreach and leadership the state expects us to provide."
Godby received his formal economics training in Canada, graduating with his Ph.D. from McMaster University in Hamilton, Ontario. He also holds a master's degree in economics from the University of Guelph and a bachelor's degree in economics from Trent University.
Contact Us
Institutional Communications
Bureau of Mines Building, Room 137
Laramie
Laramie, WY 82071
Phone: (307) 766-2929
Email: cbaldwin@uwyo.edu