Contact Us
Institutional Communications
Bureau of Mines Building, Room 137
Laramie
Laramie, WY 82071
Phone: (307) 766-2929
Email: cbaldwin@uwyo.edu
UW Professor Receives Fulbright Award for Energy Research in France
May 5, 2021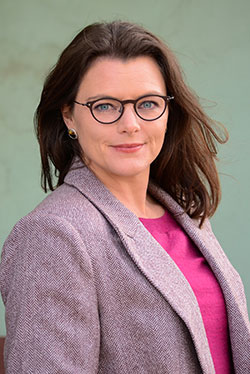 Tara Righetti
Tara Righetti, a professor in the University of Wyoming's School of Energy Resources (SER) and College of Law, has received a Fulbright Scholarship to conduct research related to energy transitions. She will conduct research at the Centre de Recherche Droits et Perspectives du Droit -- Center for Legal Research and Perspectives in Law -- at the University of Lille College of Law in France.
During her 11-month sabbatical from UW, she will collaborate with researchers in Lille to formulate a comparative study of energy, industrial and workforce transition policies in Wyoming and France, with a focus on climate policies, sustainability and the circular economy.
"I am deeply honored to travel to Lille as a Fulbright Scholar," Righetti says. "The award provides an incredible opportunity to develop new collaborations and research regarding energy transitions."
Righetti's current areas of expertise concentrate on legal issues related to split estates, subsurface trespass, energy transition, and carbon capture and sequestration. Her proposed project will build upon her current competencies, while developing new partnerships and expanding her research into international and comparative law.
"Professor Righetti is a leader in understanding complex energy policies and determining how Wyoming could be impacted, and identifying potential approaches to overcome negative outcomes," SER Executive Director Holly Krutka says. "Professor Righetti's choice to study parallel and diverging energy policies in Wyoming and the Hauts-de-France region is timely and important. I was thrilled to learn of her much-deserved recognition as a Fulbright Scholar."
Righetti is among 800 U.S. citizens who will conduct research and/or teach abroad for the 2021-22 academic year through the Fulbright U.S. Scholar Program. Fulbright Scholars engage in cutting-edge research and expand their professional networks, often continuing research collaborations started abroad and laying the groundwork for forging future partnerships between institutions.
Righetti joined the UW faculty in 2014 and has worked to provide important scholarship for her discipline; informative resources for the Wyoming natural resources community; and educational opportunities for students.
Regularly sought out for her expertise and aid on major energy and carbon storage projects nationwide, she is a renowned expert on U.S. energy law. In 2018, she was appointed as a trustee-at-large with the Rocky Mountain Mineral Law Foundation and, most recently, she was awarded tenure in the UW College of Law.
"Professor Righetti's receipt of the Fulbright is an outstanding accomplishment and a unique recognition," UW College of Law Dean Klint Alexander says. "In this special 75th anniversary year of the Fulbright Program, she joins the ranks of many distinguished recipients of this honor who have gone on to become heads of state, judges, ambassadors, foreign ministers and business leaders."
Alexander adds that Righetti's research in France next year will be an opportunity to work collaboratively with international partners in several fields and to "facilitate engagement between the United States and Europe on energy policy development in the 21st century."
The Fulbright Program is the flagship international educational exchange program sponsored by the U.S. government and is designed to forge lasting connections between U.S. residents and the people of other countries; counter misunderstandings; and help people and nations work together toward common goals. Fulbright Scholars address critical global challenges in all disciplines while building relationships, knowledge and leadership in support of the long-term interests of the U.S. 
Since its establishment in 1946, the Fulbright Program has enabled more than 390,000 dedicated and accomplished students, scholars, artists, teachers and professionals of all backgrounds to study, teach and conduct research; exchange ideas; and to find solutions of shared international concerns.
For more information about the Fulbright Scholar Program, visit www.cies.org. To set up an advising appointment, call the UW Center for Global Studies at (307) 766-3677.
Contact Us
Institutional Communications
Bureau of Mines Building, Room 137
Laramie
Laramie, WY 82071
Phone: (307) 766-2929
Email: cbaldwin@uwyo.edu