Contact Us
Institutional Communications
Bureau of Mines Building, Room 137
Laramie
Laramie, WY 82071
Phone: (307) 766-2929
Email: cbaldwin@uwyo.edu
UW's Walker Receives Humanities Stipend for Book Project
June 8, 2021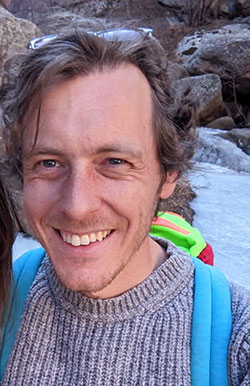 Peter Walker
Peter Walker, a University of Wyoming assistant professor of history, is the recipient of a summer stipend award from the National Endowment for the Humanities (NEH) to work on his book project that focuses on religion and the American Revolution.
Walker is a scholar in the Wyoming Institute for Humanities Research Group Fellowship Program, where he also is working on the new NEH-funded project. The NEH stipend will provide Walker with support this summer to work on his book, titled "The Church Militant: Loyalism, the Church of England, and the American Revolution."
"Dr. Walker's book project is an excellent example of how dynamic and insightful humanities research can be," says Scott Henkel, the humanities research institute director. "By calling upon diverse archival sources and by analyzing the complexity of human political and social dynamics, his book helps us to see the American Revolutionary period in a new light, showing us a deeper and more complicated understanding of our history."
Walker's book shows how some Americans opposed the American Revolution on religious grounds. Many colonial Americans were members of the Church of England. Often, members of this group believed that remaining in the British Empire was the only way to protect their religious liberty, and they became Loyalists for this reason, Walker says. By studying these religiously motivated Loyalists, Walker's book contributes to the understanding of the relationship between American religious communities and the state.
"This relationship has often been a volatile one throughout American history, and it continues to cause political conflicts today," Walker says. "I hope that my book will help us understand those conflicts in a long-term historical perspective. My book shows that this relationship has always been a source of conflict: Even at the nation's founding, Americans disagreed with one another about the proper meaning of religious liberty, the proper relationship between the state and religion, and the proper relationship between religion and politics."
He received his doctoral degree (2016) from Columbia University, and both his master's (2010) and bachelor's (2008) degrees from the University of Oxford. Walker says "the life" of his book began during his doctoral dissertation at Columbia. He plans to publish the book before 2026 -- the 250th anniversary of the U.S. Declaration of Independence.
"This anniversary will be an occasion for Americans to reflect on the meaning of the American Revolution today, and I hope that my book will be a contribution to that discussion," he says.
Through its "A More Perfect Union" initiative, NEH has been funding research on the American Revolution to coincide with the upcoming anniversary.
Each year, the humanities research institute nominates one UW senior faculty member and one junior faculty member for the NEH-sponsored stipend competition. It has been a number of years since a UW faculty member has received the award, Henkel says.
"I want to emphasize that successes like this do not materialize from thin air but, rather, become possible when talented faculty such as Peter combine their hard work with an infrastructure designed to cultivate their success," Henkel says.
Walker says the award allows him to dedicate all of his time this summer to work on his book project.
"For scholars in the humanities, such as myself, having dedicated time to work is by far the most important thing allowing us to produce quality research," he says. "The award also is important to me because it will help to ensure that my work will be recognized and that it will have an impact. Because the NEH's awards are extremely competitive, they carry a certain amount of prestige over and above the dollar value of the award."
The UW Humanities Research Group is funded by UW's College of Arts and Sciences, Office of Research and Economic Development, and other sources, and requires faculty to apply to the program with an application that mirrors applications for federal grant and fellowship programs.
"Every UW faculty member who applies for the institute's programs also has advanced drafts to use for applying to external sources such as the NEH," Henkel says.
About the National Endowment for the Humanities
NEH is an independent federal agency created in 1965. It is one of the largest funders of humanities programs in the United States. NEH grants typically go to cultural institutions, such as museums, archives, libraries, colleges, universities, public television and radio stations, and to individual scholars.
Contact Us
Institutional Communications
Bureau of Mines Building, Room 137
Laramie
Laramie, WY 82071
Phone: (307) 766-2929
Email: cbaldwin@uwyo.edu