Contact Us
Institutional Communications
Bureau of Mines Building, Room 137
Laramie
Laramie, WY 82071
Phone: (307) 766-2929
Email: cbaldwin@uwyo.edu
UW Research Scientist Appointed to Wyoming Board of Professional Geologists
July 26, 2021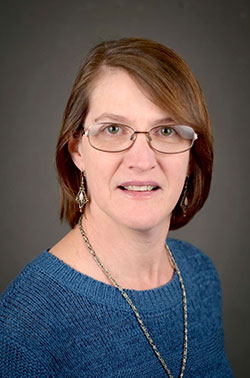 Janet Dewey
A research scientist in the University of Wyoming's Department of Geology and Geophysics has been named to the Governing Board of Wyoming's Board of Professional Geologists.
Janet Dewey, an associate research scientist who has been at UW the past 10 years, was appointed by Gov. Mark Gordon to serve a four-year term on the board, which began earlier this month. She has been a professional geologist for 22 years in Mississippi and acquired a second license for Wyoming in 2018.
Her area of expertise is analytical geochemistry, with current research foci in geochemical reactions in unconventional reservoirs; critical mineral and rare earth element concentrations in deposits of Wyoming; and soil and water quality in forested watersheds. She also directs an analytical facility, located in the Department of Geology and Geophysics, that serves UW graduate and undergraduate students, out-of-state students and researchers from other universities, and Wyoming businesses.
Dewey received her Bachelor of Science degree in geology from Mississippi State University and her Master of Science degree in geology from Auburn University. She served on the Geological Society of America Rocky Mountain Section managing board from 2016-19 in various capacities and was the section chair in 2017-18.
She is one of three authors of the third edition of "Roadside Geology of Wyoming," with an expected publishing date in 2022.
The mission of the Wyoming Board of Professional Geologists is to protect the health, safety and welfare of the public by promoting the practice of geology by professional geologists, and by providing fair and balanced regulation of the geologic profession.
Contact Us
Institutional Communications
Bureau of Mines Building, Room 137
Laramie
Laramie, WY 82071
Phone: (307) 766-2929
Email: cbaldwin@uwyo.edu